What Is WebXR Content?
L&D professionals are dreamers, builders, and doers—but first and foremost, we're listeners. And what we've been hearing from our client-partners is that they recognize the power of immersive learning and want to incorporate VR into their learning portfolio. They've heard the buzz, crunched the numbers, and gotten inspired by the opportunity to immerse their learners in a safe, authentic practice space that speeds up skill acquisition and boosts retention.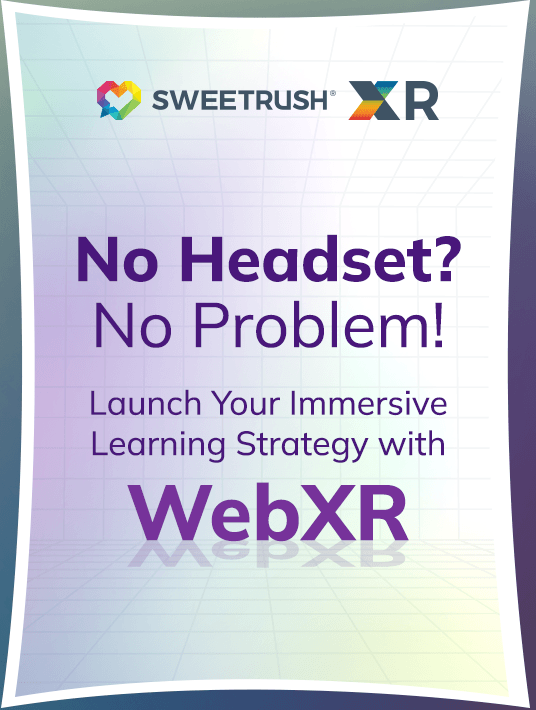 eBook Release
No Headset? No Problem! Launch Your Immersive Learning Strategy With WebXR
Learning innovator, meet WebXR. Discover how this powerful technology helps you bring immersive experiences to every learner, with or without a VR headset.
VR Learning By The Numbers
Learners trained in VR develop soft skills 4x faster than learners trained in the classroom—and feel 40% more confident in applying what they've learned. [1]
Medical staff who learned new procedures in VR had an 80% retention rate one year later—versus 20% one week later using traditional methods. [2]
83% of surgeons trained in VR were ready to perform procedures with little guidance after training—versus a staggering 0% using traditional methods. [1]
They're also sharing a few hesitations:
How can we scale to our vast, distributed workforce?
We're not quite ready to invest in thousands of headsets.
Our LMS doesn't play well with immersive learning.
We need to track data on learners' skills and progress.
Our team thrives on thorny challenges like these! And after plenty of trial and error (cue montage of building, refining, testing, and building again), we created the solution to rule them all:
WebXR, the gateway to immersive learning.
Unlike native VR applications, which need to be downloaded and installed on a VR headset, WebXR experiences are stored in a server, just like any website or web application.
That means that WebXR learning experiences can be accessed via a VR headset or a laptop or desktop computer. There's no need to invest in thousands of VR headsets all at once: Your organization can gradually ramp up its hardware strategy while sharing the benefits of immersion with your entire learner audience.
Thanks to advancements in cloud services, WebXR learning solutions can live in, and launch from, your LMS—and communicate valuable in-experience learner data back and forth.
Best of all, WebXR experiences help us increase access to high-quality immersive learning experiences and high-value skills previously available only to a limited few with access to a headset. Extending the reach of our immersive learning programs prepares more of our people—and our organizations—to meet the changing needs of our industries.
Need help deciding whether a native VR or a WebXR experience is a better fit?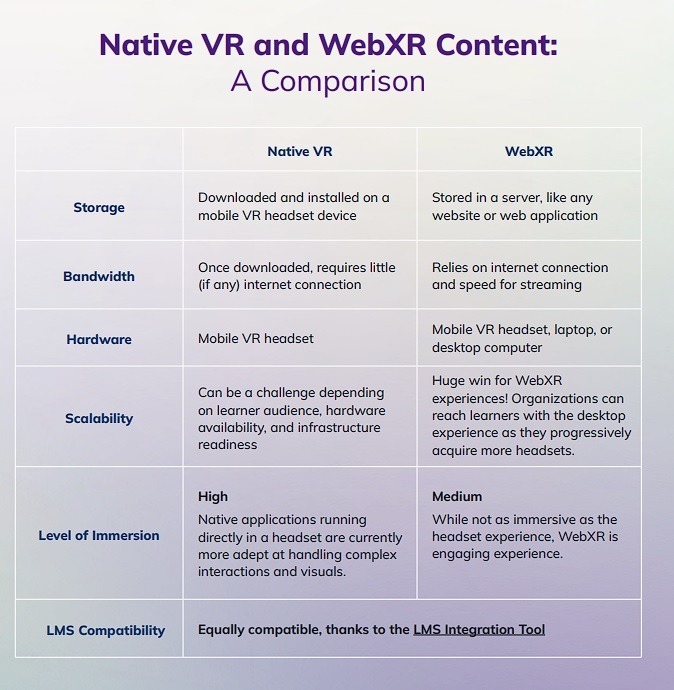 Why Now? Why The Time Is Right For WebXR Content
We've been researching and prototyping with WebXR for about five years…so why are we only debuting it now?
Let's call it convergence. Like a rare solar eclipse, learners and technology are coming together in a unique moment of alignment. Here are the two main forces driving this powerful merger:
Learners Are Evolving
Hybrid work has created more overlap between our work and personal lives. Flexibility and efficiency are top of mind: We want to be able to access information quickly, when we need it, within the flow of life and work.
Yet we also feel nostalgia for some aspects of the office days. How might technology help us balance remote work with our desire for live gatherings with others?
Current forms of media are much less effective for the new workforce of digital natives. They expect experiential, discovery-based learning that leverages new technologies—and L&D leaders are responding to the challenge with more innovative, creative, and bold solutions with great LX.
Job mobility is at an all-time high, and organizations are meeting the talent retention challenge with a renewed focus on skill acquisition and LX. Smart leaders know [3] that organizations that develop their people, keep their people.
Technology Has Matured
Until now, many technologies had been evolving and maturing in isolation. Now, they've begun to converge and complement one another, enabling us to create learning solutions that are more integrated and innovative than ever before.
Once upon a time, we had to install Adobe Flash to engage with 3D content on websites. Now, we've got WebGL, a clever 3D technology that allows web browsers to display advanced graphics without installing external plug-ins.
Major advancements (and increasing affordability) in cloud services allow us to customize content to meet specific needs, integrate different types of web services, and scale and adapt content to meet learner demand. These advancements were also a major help in creating our LMS Integration Tool (LIT), a unique technology that enables us to integrate immersive learning experiences with your organization's LMS.
Broadband technologies are also rapidly evolving, making internet connections faster and enabling learners to experience richer, more dynamic 3D environments that won't take ages to load.
Internet browser advancements facilitate the delivery of more advanced immersive experiences—without downloading any external applications.
And finally, WebXR, a relatively new technology that allows learning innovators to create 360° immersive experiences that can be accessed on a VR headset or a desktop computer.
The takeaway? It's the carpe diem moment for WebXR content.
Want to learn more about how to seize this moment of convergence? Download No Headset? No Problem! Launch Your Immersive Learning Strategy With WebXR today to get better acquainted with all this innovative technology has to offer.
References
[1] What does virtual reality and the metaverse mean for training?
[2] Johnson & Johnson wants to bring VR to doctors-in-training worldwide
[3] 2018 Workplace Learning Report

SweetRush
Our job is to help you achieve your objectives and be successful. Engage us at any point, from analysis to custom development (including e-learning, mobile, gamification, and ILT) to evaluation.