Are You Testing? Here Are 3 Ways To Test And Improve Online Training
Learn how to use quality assurance testing, acceptance testing, and engagement analytics to test online training and improve it.
1. Quality Assurance (QA) testing.
QA testing typically covers two broad areas: Content and functionality.
Testing content at this stage is about checking whether your content matches your style guide.
Testing functionality is technical; does the project behave correctly in all required technical environments?
QA testing can fall under the following categories:
Multi-device testing.
This involves testing your eLearning on each device type. Services like Browser Stack enable you to test in different environments, but if the project needs to run on a touch-screen device, you should test it on the actual device so you can see how the touch screen behaves.Some authoring tools –like Elucidat– can make it easy to quickly test what your training looks like on different screen sizes. Check out Elucidat's responsive slider in action below: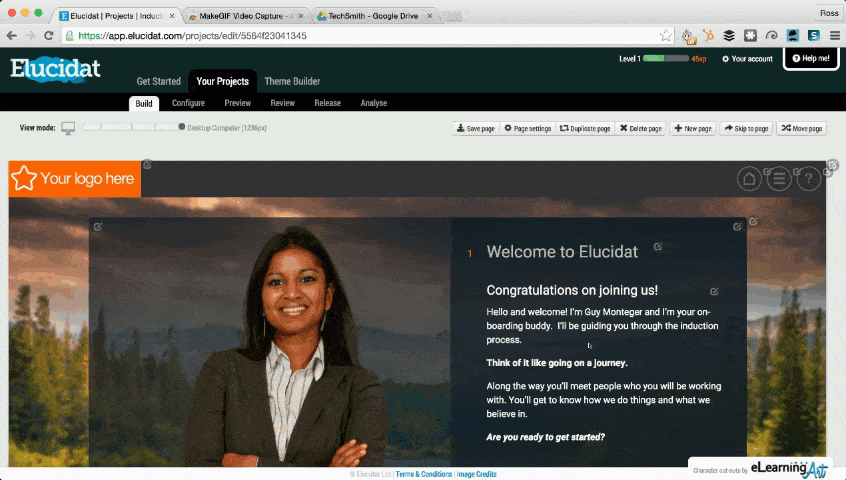 Multi-browser testing.
Browser Stack can also help you quickly test your course on different operating systems and browsers. Remember to test both portrait and landscape views.
Stress testing.
Stress testing is the try to break it approach, seeing how your course performs beyond the specified number of concurrent users. For example, services can help you bombard your course with requests from servers so you can analyze how it handles the increase in traffic. Stress testing is important because you don't want your eLearning to crash when learners are actively completing it.
Localization.
If your course needs to be in different languages, make sure you test to see if the languages are translated correctly. If you're stuck for time, Elucidat's Master Course feature can make it easy to create and test different versions of your course for each language you support.
Related: See how easy it is to handle translations with Elucidat's authoring tool
2. Acceptance testing.
Acceptance testing determines if a course meets the requirements originally set out in the specification phase. Here, you need to test how actual users might interact with the course.
For example, test against the workflow that a group of people might embark on. Acceptance testing ensures the course works in the real world and has the integrity to support a valid learning experience.
Here are some examples of things you might build into your acceptance testing plan:
First impressions: Is it clear what the user is being asked to do?
Navigation: Is the layout intuitive? Could users find what they needed?
Functionality: Did users experience technical issues?
3. Engagement analytics.
Too much eLearning is released and then forgotten. Engagement analytics can provide insights to help you understand how your course is performing. For example, Elucidat's integration with Google Analytics lets you track valuable information about how people use your course and how you can improve it.
Take a look at this screenshot to see what I mean: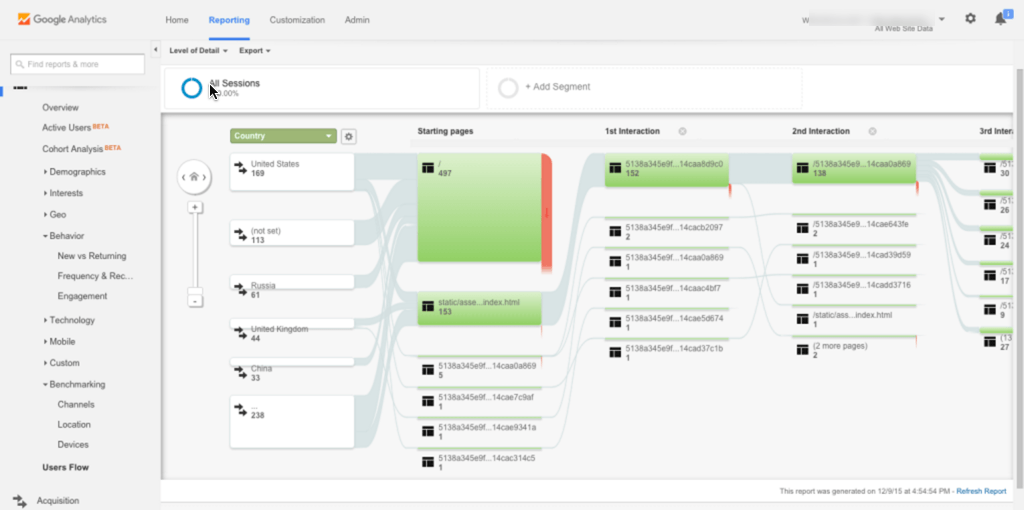 Here are some metrics you should assess from Google Analytics:
How long is someone spending on a page? Spending a long time on pages could indicate the page is hard to understand. 
Are some pages more popular than others? Do learners want to focus more on a specific topic? 
How long does your course take to complete? Does the 10-minute course really take 30 minutes? 
Where are people accessing the course? Mobile or desktop? Office or home?
This data help you tweak and improve the learning experience. You may also use data to visualize correlations and identify interesting trends. For example, you might find that the time of day affects the pass rate. You can use this information to suggest the ideal time for people to work on the course.
Conclusion
If you're not testing and improving your online training on a monthly basis, you risk losing students to competitors. Use QA testing, acceptance testing, and engagement analytics to find new ways to enhance the learner experience. By improving your eLearning, you can increase learner satisfaction, which will help you create a great product that attracts and retains more learners in the future.
Related: The new way to measure the performance of your eLearning