Virtual instructor-led training (VILT), also called virtual classroom training, has become an increasingly popular delivery method for corporate training. According to a survey of 3,000 HR and training executives by On24, 91 percent of those surveyed planned to increase the use of virtual training for applications such as product training, new hire orientation, and sales training.
This shouldn't come as a big surprise, given the major benefit of VILT: it's a cost-effective way to train participants in disparate locations, while still providing the guidance of a live facilitator with opportunities for classroom interaction and peer-based learning. It's the happy marriage of instructor-led training (ILT) and e-Learning.
Yet, while many of the principles of effective in-person classroom training apply to virtual training, there are some important differences. I want to help you avoid the pitfalls I commonly see in instructional design and facilitation.
By applying some simple techniques and design considerations, you'll be on your way to creating and delivering fresh, appealing, and engaging VILT training materials that encourage your participants to discuss and collaborate.
Avoid These 4 Virtual Instructor-Led Training Pitfalls and Get Inspired!
Pitfall #1: Your training event design is neither engaging nor interactive.
It's bad enough to be stuck in a classroom during a long session with the facilitator droning on and reading aloud the bullet points on every slide. But when we are a captive audience, we have little choice but to pay some attention. In the virtual environment, however, the temptation to tune out is ever-present, from new e-mail pings to the next level of Angry Birds.
As a virtual facilitator, you'll likely not even know that you've lost your participants' attention. But if your presentation is not engaging, chances are you have.
This means instructional designers need to create strong, engaging, interactive materials for every virtual training course. Just presenting information is not enough to hold participants' interest. And, let's face it, if they are not paying attention, they are not learning or retaining what you need to teach them, and they certainly won't be looking forward to your next presentation.
Here are some tips to make your training event more engaging:
If the seat time of your course is on the longer side, build in a break every 45–60 minutes. For longer presentations, you might even consider scheduling the event in multiple parts on separate days.
Add multimedia elements to your slide deck or presentation, instead of having a standard slide deck with lots of bulleted points. Add video and audio clips, infographics, animations, mini-games, and fun (but relevant) polling questions.
Create a collaborative environment.

In the beginning of the event, ask participants to send a text chat if they need a break or have a question.
Include breakout rooms in your design. Depending on the delivery platform, facilitators have various options for breaking a large group into several smaller ones to work on activities, brainstorm, etc. Encourage participants to communicate and collaborate within these smaller groups.
Depending on the size of your audience, call on participants to ask questions and / or provide answers. Open-ended questions help participants synthesize and apply the concepts being presented.

Use social media in virtual training.

Create a community space for your training event. Pre-class activities such as reading, questionnaires, and expectation-setting can be accomplished effectively via social media. Wouldn't it be fantastic for you and your learners to post introductions in the community space and learn about each other in advance? Beyond standard introductions, you can also ask what they're hoping to learn, and then tailor your content to meet their needs.
Include post-training exercises to keep the synergy of your training event alive. Encourage learners to continue using the community space to discuss their experiences, share articles, and suggest links to other resources for ongoing learning and networking.
For more ideas, check out my article, 7 Tips for Using Social Media in Classroom Learning.
Pitfall #2: You are not managing the training event effectively.
Ever been in a virtual training event where the first 15 minutes were taken up by technical issues? Here is where virtual instructor-led training technology comes into play. Technology can offer tremendous benefits for interaction and engagement, as I described above, but does require a heightened level of preparation and attention from the facilitator.
Here are some tips to manage your VILT effectively:
In the beginning of the event, request that participants turn off all phones and close their e-mail.
Speak clearly and confidently at a medium pace, varying the pitch of your voice.
Ensure you are familiar with the course content so you can tailor it to the participants' needs and questions.
Continuously scan the chat, video, and other visible pods for questions and comments. If you have a large group, I recommend adding a moderator who can watch for questions and feed them to you. (More on this below.)
Be sure to clear participant statuses, such as Yes, No, and Raised Hands, after use.
If you are using a webcam, before the event, check the lighting, the frame behind you, and how you appear on camera. Remember: participants may not be able to see your hand gestures.
Pitfall #3: You are not prepared to facilitate.
Did the list above seem a bit overwhelming? It can be difficult to focus on delivering the content, scanning the chat, and dealing with the technology of a virtual training event, particularly with larger groups or while using new or complex technology. As with anything, it pays to be prepared. Here are some important preparation considerations, along with my bonus checklist.
Add a moderator to assist you during the event. Especially for larger groups, a moderator can help ensure the session goes smoothly by:
Acting as the timekeeper
Feeding you pertinent questions and comments
Dealing with technical and unexpected challenges offline (Don't keep the group waiting because one person has trouble logging in!)
Be ready! Download my free PDF of facilitator preparation tasks to stay organized before, during, and after your event, which you can find below.
Pitfall #4: You have lost sight of the participant.
Keep your learners engaged with these strategies:
As noted in #1, leverage social learning by asking participants about their topic knowledge before the virtual session. You can gauge their existing knowledge level and fine-tune your presentation accordingly.
At regular intervals, check in with your participants. Remember, in the virtual environment, participants have to rely on auditory content and cannot read your body language as it is being delivered. The opposite is true when it comes to your participants' body language. You cannot see their looks of confusion or tell when they need more time to jot down notes. So, make sure to ask for feedback on the pacing of your delivery and their level of comprehension. Adjust your pace and the content to reflect their feedback.
Encourage participants to relax and note that it is okay to make mistakes during the learning process. Because participants cannot see each other, they may you're your encouragement to participate.
These are the most important techniques I have found to be effective in creating and delivering virtual instructor-led training.
My last words of encouragement: get creative! The only limit is your imagination when it comes to making your virtual training session educational, fun, and memorable.
Bonus material: Free Virtual Instructor-Led Training Facilitator Preparation Tasks Checklist
To help you prepare for you next instructor-led training we've put together a free downloadable checklist for virtual instructor-led training preparation in PDF format! (to download the Free Virtual Instructor-Led Training Facilitator Preparation Tasks Checklist PDF click HERE.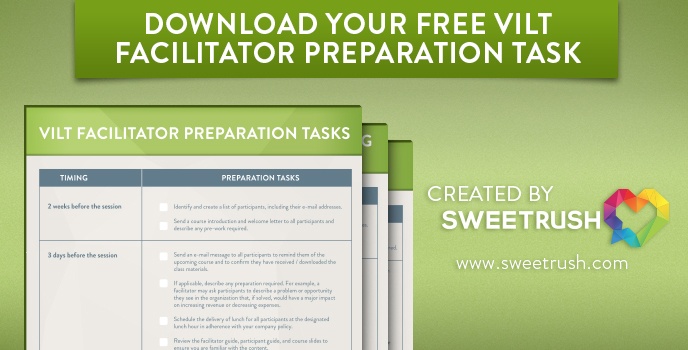 SweetRush
Our job is to help you achieve your objectives and be successful. Engage us at any point, from analysis to custom development (including e-learning, mobile, gamification, and ILT) to evaluation.