8 Advantages Of Investing In An LMS For Training Companies
Learning Management Systems are the pride and joy of training companies. They help you package and promote your virtual products. Without the right LMS, your organization will struggle to survive in this competitive sector. Will any LMS suffice? Or should you look for specialized eLearning software that meets your specific needs even if it involves a significant investment? Here are 8 reasons why you should consider an LMS for training companies to increase profits and gain better business oversight.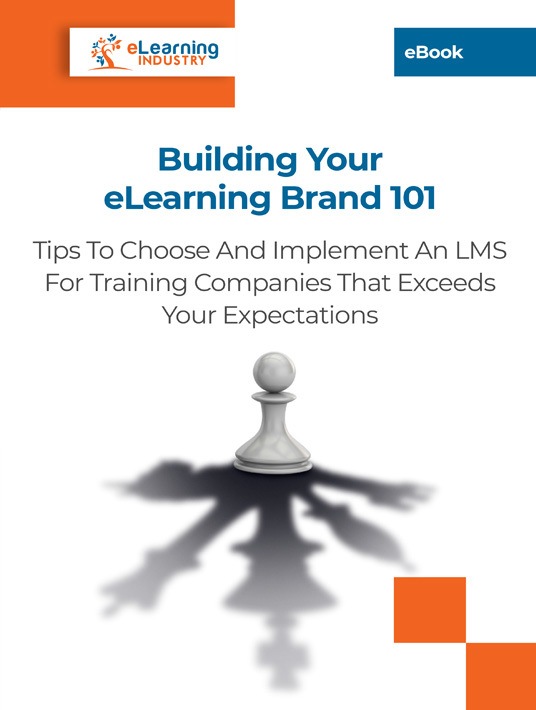 eBook Release
Building Your eLearning Brand 101: Tips To Choose And Implement An LMS For Training Companies That Exceeds Your Expectations
Invest in an LMS that will assist in building your eLearning brand.
1. Create Individual Client Portals
Multi-tenancy support is one of the major selling points of LMS for training companies since you can create different instances or portals for each client or user group. Clients can access their own branded online training content that aligns with their messaging. They can also launch their own online training library and assign users, which further enhances personalization. Some LMS platforms even allow them to create customized settings.
2. Simplify Checkout To Boost Online Sales
Clients should be able to purchase your online training content with ease regardless of whether it's a large organization purchasing bundles for employees or individual online learners enrolling in an online training course. An LMS for training companies has built-in eCommerce features. Online learners add items to their shopping cart or enroll, then they're redirected to the payment gateway. No waiting around for an email with payment instructions or an invoice. Once they pay, they have immediate access to the online training content. This eliminates the lag time, giving them fewer opportunities to change their mind or click away and forget about your online training course. Strike while the iron is hot and their interest is piqued.
3. Incorporate Branding
White labeling is another perk of specialized eLearning software for training companies. Add your logo, color scheme, and company messaging to build brand awareness. Clients know you stand behind your online training content and take pride in your work. But branding also transforms your online training course into a marketing tool. Publish free sneak previews to generate interest and give them a taste of your quality online training content. Branding elements tell them who you are and where they can find more info, like how to enroll. Certain LMSs for training companies also enable you to link your domain to the LMS.
4. Launch A Virtual Storefront
People like things wrapped in neat packages. A little aesthetic appeal goes a long way. LMSs for training companies usually feature virtual storefronts. Customize the layout to make it your own and reflect your brand image. Clients can see what you have to offer and quickly review your packages and pricing. A polished storefront puts your best business foot forward and gives prospects a peak of your design prowess. So, make it count and put your personal touch on the vendor-provided eLearning templates.
5. Offer Subscriptions And Memberships
You don't have to sell your online training content outright in bundles or one-off enrollments. A specialized training company eLearning software supports subscriptions and memberships. Clients can purchase a one-month membership to access your entire online training course catalog. Individual online learners are able to buy a yearly subscription to your certification courses to build professional skills. You can even develop your own membership bundles for certain user groups or career paths. For example, your "skyrocket sales" certification includes 5 online training courses that are usually sold separately.
6. Facilitate Specialized Reporting
Selling eLearning tools are only effective if you know how to engage your target audience. Training company LMS solutions facilitate specialized reporting. They aren't limited to traditional employee completion or participation metrics. You can also track sales, conversions, and click-through rates. For example, determine which marketing sites/tools bring in the most traffic. The reporting benefits also extend to clients, who can monitor employee performance and progress using the built-in metrics.
7. Allow Time-Limited Access
Learners/clients can only access the online training content during the 2-week free trial. Or their user names expire after a month, at which point they must renew their subscription. Time-limited access helps you generate more income from your online training content. Users don't purchase the enrollment outright and can pay less for limited membership. However, if they don't achieve their goals before time runs out, they must re-purchase the product. This equals more money in your training company coffers.
8. Affiliate Sales Tracking
Many training companies rely on external sales channels to bring in new clients/learners. For example, the sales partner embeds a link to the online training course landing page on their popular blog. They get a percentage of the profits, but you gain access to their audience. An untapped audience who already respects their insider knowledge and trusts their recommendations. Training company software features affiliate sales tracking reports so that you can monitor their marketing value, for example, their conversion rates and how many referrals enrolled in your online training course after the free trial period.
LMSs for training companies are custom-tailored to increase sales and monitor relevant KPIs. They make clients feel right at home in their own instances of the platform and speed up the checkout process. This way, your loyal customers can focus on what's truly important, which is bridging skill gaps, training their team, and achieving the online training objectives, allowing you to achieve your own objectives by generating steady revenue and boosting repeat business. You can also customize your pricing packages based on your niche and sales targets. Sell individual subscriptions for trickling income that—hopefully—turns into a deluge. Or opt for one-time enrollments and content bundles for larger organizations. The choice is yours when you invest in specialized eLearning software for training companies.
Finding the ideal LMS for your organization is a must when you need to employ an effective online training strategy with maximum ROI. The eBook Building Your eLearning Brand 101: Tips To Choose And Implement An LMS For Training Companies That Exceeds Your Expectations will help you discover everything you need to know when opting for an LMS for training companies in order to achieve your business objectives.