The Advantages Of Moodle: Why Is Moodle The World's Best LMS?
Developed in 2002 by Martin Dougiamas, Moodle originated as a platform to provide educators with the technology to provide online learning in personalized environments, that foster interaction, inquiry, and collaboration. In private or public Moodle sites, educators, trainers, and employers can create and deliver online courses so their respective audiences can meet and exceed their learning goals.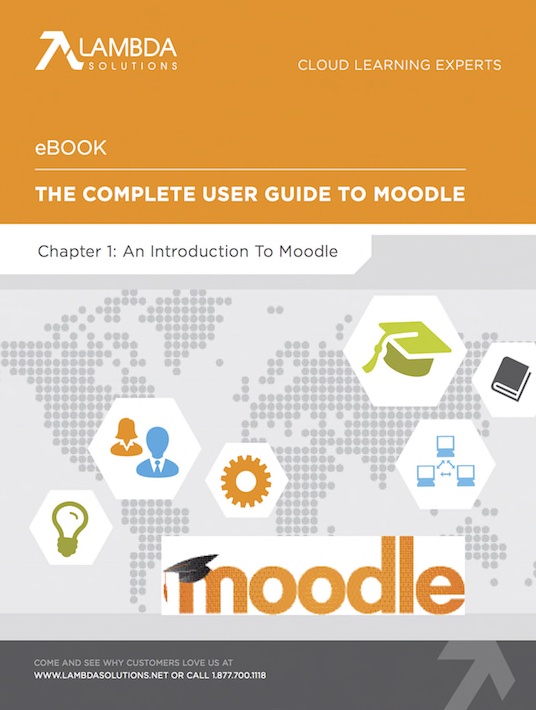 eBook Release
The Complete User Guide To Moodle Chapter 1
Discover how Moodle transitioned from the education to the business world, where it is now an integral business tool for many organizations.
Today, Moodle is used by organizations outside of education to include organizations of all shapes and sizes. Most commonly, Moodle is used by businesses, corporations, hospitals, and nonprofits for online learning, training, and, in some cases, extended business processes. Here is a brief list of everything we've seen Moodle being used for:
Compliance training
Onboarding and related-training
Competency-based training and management
Workplace safety training
Online learning and continued education opportunities
The hiring and interview process
Online course development
Product and service launches
Communities Of Expertise or Communities Of Practice
3 Reasons Why Moodle Is The World's Best LMS
With 68 million users worldwide (larger than UK's population!), Moodle is hands down the most widely used Learning Management System by organizations of all shapes and sizes. But Moodle is not the world's best LMS just because it's so widely used—Moodle is the world's best LMS because it is user-friendly, highly-configurable (flexible), and feature-rich. Did we also mention that Moodle is free?
1. Moodle is Open Source and Free
Yes, you read right. Moodle LMS is free because it is an open source software distributed under the GNU General Public License. In less technical terms, this means that users and organizations have the freedom to run, study, share, and modify the software to meet their unique needs. While some Moodle site owners choose to support Moodle completely on their own, others outsource specific tasks to Moodle Service Providers because it's more cost-effective.
Not only is it more cost-effective to outsource to a Moodle Service Providers, but it also means you will be receiving expert Moodle help for a fraction of the cost of doing so in-house. Below is a list of services that Moodle Service Providers typically offer:
Managed Moodle Cloud Hosting
Moodle Implementation and Set-up
Moodle Integrations and Custom Development
Moodle Plugin Installation
Custom Moodle Plugin Development
Moodle Themes (designing your Moodle site to suit your brand)
Moodle Consulting
Moodle Custom Report Development
2. Moodle is Supported by a Global Community
One of the reasons why Moodle is the world's best LMS is because it is supported by a global community of developers. A large benefit of open source software is that the code is open for scrutiny. This means that developers from all over the world can access the code and modify it so that it is more secure.
It also means that the code is scrutinized by actual Moodle users. The benefit of this is that Moodle is constantly being updated by people who understand what users need for better user experience.
The final benefit of using an LMS that is driven by one of the largest open source teams in the world is that there are an endless amount of learning resources. Within Moodle's Community Forums, you have the ability to connect with other Moodle users and find answers to your questions. With 144 million forum posts and 72 million Moodle learning resources, there is seldom a Moodle question left unanswered!
3. Moodle is Configurable, Highly-Flexible, and Feature-Rich
The leading reason why organizations love Moodle is largely because it is configurable, highly-flexible, and feature-rich. On top of being able to modify Moodle's open source code, there are hundreds of Moodle plugins that allow you to configure Moodle so it performs just the way you like.
With over 500 Moodle plugins developed by the global community, your learners, managers, and administrators have the opportunity to flourish in an environment that makes learning collaborative, engaging, and fun.
If you want to learn more about the advantages of Moodle, download the eBook The Complete User Guide To Moodle Chapter 1.