The Best Uses Of Moodle (Continued): Product And Service Launches, Hiring And Interview Processes, And Forming Communities Of Practice
In the first part of this article, we discussed how to leverage Moodle for compliance training, competency training & management, and eLearning course development. Here, we'll explore 3 more ways of utilizing the world's leading open source Learning Management System.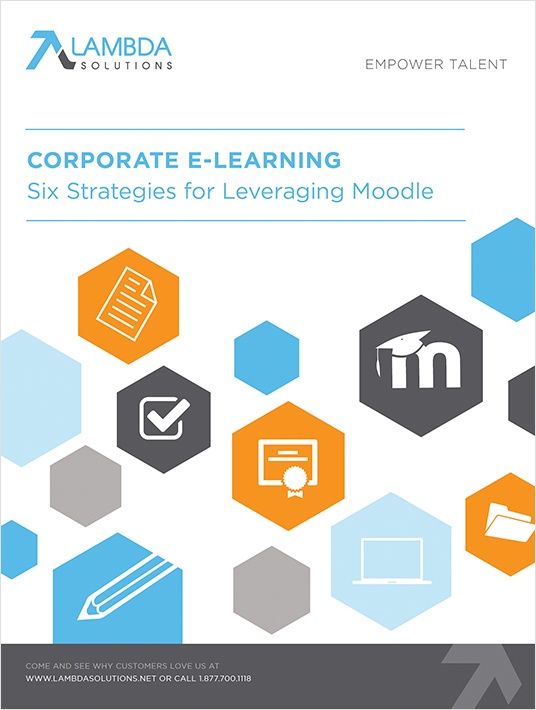 eBook Release
Corporate eLearning: Six Strategies For Leveraging Moodle
Discover the best ways to utilize Moodle, the world's leading open source Learning Management System.
4. Leveraging Moodle For Product And Service Launches
Central to any business is the level of understanding your employees have about the products and/or services you provide. In today's global economy, competition is steep making it a necessity that your people are experts in the value your organization provides and how your products deliver that value. Ensuring your people have strong product knowledge is one of the key pillars for providing a positive customer experience. It is also important because it ensures that sales executives can communicate the product or service value to customers in a way that resonates with their business objectives. At the bare minimum, it is important that employees can answer the following questions:
What purpose does your product or service provide for your customer segments?
How is the product or service described? What are the benefits in relation to shape, size, color, function, time to delivery and process?
How does a potential buyer receive it? What is the mode of delivery?
How much does it cost and what are the parameters for usage?
In today's business world, products and services are being updated, modified or changed at an ever increasing rate so it is important to understand that product knowledge training is not a one-time event. Rather, product knowledge is an ongoing education initiative that changes as new clients emerge, new features develop or new knowledge is discovered. While this may seem like an obvious organizational initiative, the reality is that few organizations execute well on this. In order to do so, it is important to provide employees with the right resources and learning opportunities via training and knowledge communities. Moodle has many tools to help you do this.
The one we will be discussing here is the Moodle Course Module. Additional tools in Moodle that help with product or service knowledge training include the Glossary Module, Moodle Chat Module, and the Database Activity Module. The glossary module allows you to create pages that link off to important terminology in your product training courses. The chat module, on the other hand, allows for real-time discussion and knowledge sharing between learners and the database activity module allows you to store documents that can be easily linked and accessed through your Moodle courses.
Using The Moodle Course Module For Product Training
Depending on an employees' role in your organization their product training may differ. For example, your sales team needs product information regarding descriptions, benefits and updates, whereas your support staff needs access to this information, in addition to deeper knowledge such as the history of bug fixes or product timelines. The finance department, on the other hand, needs access to managerial accounting information such as costs of goods sold, delivery and support. While it is an option to create product knowledge training specifically for every functional department in Moodle, it is much more efficient to use Moodle's topic structure feature to allow each role to focus on the information they need.
To do this in Moodle, administrators and managers have the option to set up courses within the course category, topics format, which allows you to organize a product knowledge courses based on the resources and activities needed for each functional role in your organization. This method is particularly helpful because it does not restrict employees from understanding your product or service from a holistic perspective.
5. Utilizing Moodle For The Hiring And Interview Process
Before you even begin training your employees, you must have employees. Having a committed team on board is essential to any organization, and the hiring process is a big part of that. Moodle can be used as an HR tool, where applicants can send in their resumes, and employers can screen them.
Here's A Look Into How It Works
Create A Course.
As a Moodle Admin, you can create a course (just like how you would for a class), that is solely for assisting the hiring process. You can create a different "Course", for each position you are hiring for. You can label each section within the course to make it very clear to applicants what they are to be doing in each section[1].
Accept resumes.
You can include a section where applicants can upload files – this is where they should submit their CV's/Resumes. You can also add a time range in which submissions will be accepted[2] (e.g. From x date to y date).
Assess applications.
You can see which applicants are acceptable and which ones do not fit. Within this step, there are a few different features of Moodle that you can benefit from.
Having A Committed Team On Board Is Essential To Any Organization!
First, set a minimum grade an applicant must receive in order to be considered for the job. When you are going through the resumes, you can include a grading component where you can rank each applicant. An email will be sent to all applicants once they have been graded, with a link to the page where they can review their score and feedback.
For individuals who qualify for the position (i.e. they received a grade higher than, or equal to the one you decided would be your minimum for approval), provide them with the next steps to take. If you have the latest version of Moodle, you can ensure that only those applicants that received a qualifying grade can access these next features[3].
You can create competency tests for these qualified applicants to complete, which gives further insight into whether or not they will be a good fit with your organization. This may include personality tests, aptitude tests, and reading comprehension depending on the competencies you are looking for in the successful applicant.
6. Forming Communities Of Practice In Moodle
Communities of practice (CoPs) are informal groups of people within the business community that have common goals, and interests, who work together to teach each other, and learn from one another. These people have a shared passion, or concern about a certain topic, and work collectively to reach their goals. There are 4 types of communities of practice, each one defined by their own strategic devices.
Helping Communities
"Best Practice" Communities
Knowledge Sharing Communities
Innovation Communities.
Each of these communities will require different design, different features, and different course structures within Moodle. We will go through the different features of Moodle that CoPs benefit the most from.
Anyone who has been a part of a group project will know first-hand that without a moderator, things can go awry. Moderators are necessary in group settings to keep everyone on track. Through Moodle, you can establish who your moderator will be, and what their privileges will include[4].
Wikis are online documents that group members can collaborate and contribute to individually, but which forms a piece of work as a whole. Think of Wikipedia–each page in Wikipedia is created by community members, who add information as they see fit. Each community member can contribute information, edit information, and remove information that they believe to be incorrect or irrelevant.
In the case of wikis in Moodle, however, only members enrolled in the course are able to access and contribute to the documents. Another tool commonly used in Moodle is glossaries of keywords and terms that are common within the field each group is working in.
CoPs can also build their own library database of references[5]. In this section of the course, you can enable each member to upload a number of references (with a minimum number of your choice). You can also set the page up so that members can only view another's submissions after they have submitted their own. This is usually common within graded courses, but in community groups it may not be necessary.
If you want to learn more about taking advantage of your Moodle Learning Management System, download the eBook Corporate eLearning: Six Strategies For Leveraging Moodle.
References:
Cole, J., Cole, J., & Henrick, G, Moodle 2.0 for Business (Olton, Birmingham: Packt Publishing, 2011)
Ibid.
Ibid.
Ibid.
Ibid