The Best Uses Of Moodle: Compliance Training, Competency Training & Management, And eLearning Course Development
Looking for a Learning Management System that meets your organization's learning needs? Read on to find the benefits you will gain from implementing Moodle.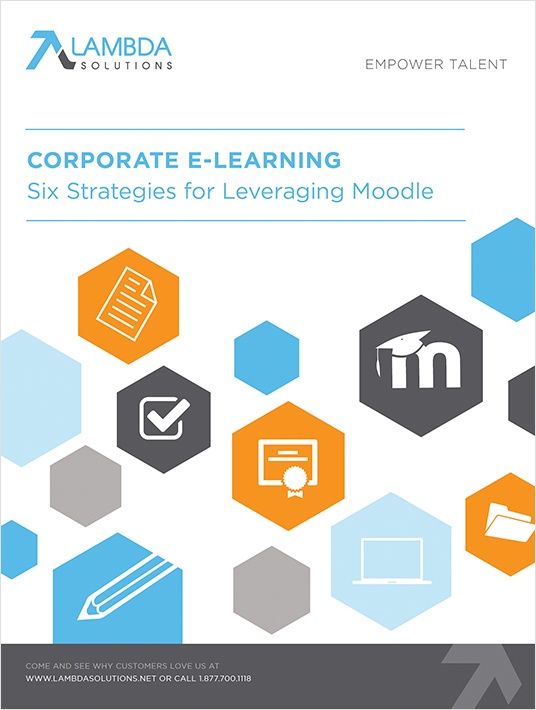 eBook Release
Corporate eLearning: Six Strategies For Leveraging Moodle
Discover the best ways to utilize Moodle, the world's leading open source Learning Management System.
1. Delivering And Managing Compliance Training In Moodle
Many organizations do not have the resources to hire full-time compliance officers or buy and implement governance, risk, and compliance software suites. However, they do usually have training programs to ensure employees understand how to be compliant with industry and or government regulations.
With the advent of hosted, open Learning and Talent Management Systems such as Moodle, executives in mid-sized companies can tackle compliance training and get the benefit of aligning individual employee performance with corporate strategy – producing a serious competitive advantage. Here, we will outline how to use the Moodle Lesson Module to effectively deliver and manage compliance training.
Using The Lesson And Quiz Module For Compliance Training
The Lesson Module is an excellent tool for compliance training because it allows compliance managers to provide content and graded questions that are automatically graded[1]. It is also an excellent tool to help solidify the learning as the trainee progresses through content.
To begin, ensure you have a clear idea of the learning outcomes that you want to achieve at the end of the lesson. For example, will it be graded and a linear learning experience? Or will it be ungraded and non-linear so that employees can go back and review the content? Once you have decided on the direction you want to take, you can begin creating your lesson's various pages.
With the content editor, there is plenty of room to get creative with your lessons! Embedding videos, pictures, and links to additional resources allows the learner to benefit from multiple ways to absorb the material.
Within each content page, you also have the option to include questions to test the employees understanding of the content. Moodle provides you the ability to choose between multiple choice, essay, matching, numerical, short answer, or true/false questions. While all of these are great tools to test learning, if your goal is to have all questions graded automatically, we would not suggest using the essay question option as it requires responses to be manually graded. Having the questions automatically graded helps when training large batches of employees due to the compliance manager's ability to view the progress, completion, and scores of each employee.
At the end of the lesson, compliance managers have the option to direct employees to a timed and secure quiz. Depending on when you want employees to gain access to the quiz you also have the option to provide time frames of when it will be available.
Equipped with the ability to choose question formats of all those listed above, compliance trainers can ensure that knowledge is tested appropriately. For example, if needing to test employees on how they would respond in specific scenarios—an essay question may be best so they aren't prompted with a set of options. On the contrary, if you are looking to test on specific legislation change to financial reporting, a multiple choice question may be better suited.
Depending on the learning that one wants to occur during the quiz itself, there are also options to provide feedback as the learner goes. We often find that this is a great method to help employees learn as they are provided with the correct answer immediately after discovering they answered incorrectly. If you want a more traditional approach where the students get no feedback and only one chance to take the quiz, this is possible too!
2. Leveraging Moodle For Competency Training And Management
More and more organizations are implementing competency-based training because it helps to prioritize training dollars and ultimately, it achieves results[2]. Research tells us that some individuals are up to 20 times more productive than others[3]. If you could have your pick of these hyper-productive employees, wouldn't you? Lucky for you, with competency-based training you can.
When you match both individual competencies with job competency models you effectively put talent in positions where they will flourish. Coupled with this, by simultaneously focusing on developing the employee's competencies, you will come closer to closing the gap to the competency model so that the employee reaches his or her ultimate potential. When this happens the individual will have reached a level of self-actualization wherein benefit to the company continues to multiply. The Moodle Outcomes Module provides an excellent system for defining, tracking, and assessing employee competencies right within your LMS.
Developing A Competency-Based Training Program With Moodle Outcomes
With the Moodle Outcomes Module, training managers are equipped with a process for defining competencies that are linked to a series of numbers or letters to determine the learner's level of understanding of said competency. Unlike grades, which may be composed of test scores, participation points, attendance, and projects—outcomes, like competencies, assess a series of statements which can be provided at the end of a course along with the overall grade.
Before setting up your competency program in Moodle, it is important to have clearly identified the competencies that are achieved with the completion of the courses and/ or activities.
Once these have been defined, it is a matter of going through the various activities and assigning competencies that are achieved once completed. Activities can cover single or multiple competencies and can be set so they are only achieved once a student has attained a certain level of understanding—this level of understanding is defined by either completion of an activity or course or a set of minimum scores.
Once a learner has completed a competency training program, a manager can then pull a competency report that outlines the competencies achieved and their overall average which can be measured through multiple grade items. If your organization is already using a competency-based model, these reports are great because they identify employees who are eligible for internal positions and the specific competencies that align with the role.
3. Seamless eLearning Course Development In Moodle
Different people learn best with different learning methods, which is why many people cannot excel in traditional learning systems. Textbook learning is not the right fit for everyone, but it is for some. This creates the need to integrate traditional and non-traditional methods to create one hybrid learning module. This is where eLearning comes in. eLearning is beneficial because it addresses the learning needs of non-traditional learners, but does not exclude those who work well in traditional settings. It is truly the best of both worlds. There are various components of eLearning that make it both beneficial, and effective.
eLearning allows you to incorporate different activities that not only assist the learning process, but are also considered primary sources of content. These activities will fall into one of two categories—synchronous or asynchronous[4]. These two activities are good examples of the harmony between traditional and non-traditional learning methods.
Synchronous activities are happening in real time, and require all participants to be present. This includes video conferencing, polling, instant messaging, games, and whiteboards.
Asynchronous activities can be done independently, at any time. This includes contributing to Wikis or blogs, participating in discussion forums, watching videos, listening to audio, going over slides, and composing emails[5]. Allowing students to access to material on their own time means they can work at their own pace. Now let's move onto the real meat of eLearning.
There are different features and components that your eLearning course will include. These are content, mentorship, communication/collaboration, and virtual learning. Let's discuss this further.
Content includes any and all resources that you will use in your course. With eLearning, content can be administered through technology, so students can access the materials on the device of their choosing. This can include written material, textbook material, external articles, videos, and video conferences[6].
Mentorship can come from administrators or peers. This is possible with video conferences, instant messaging, email, and question boxes. Learners can ask their questions, or express their concerns, and receive instant feedback.
Just because learners are not in physical proximity, does not mean that there is not an opportunity to communicate and collaborate with peers. This is possible through features like discussion boards and group chats. Learners can engage with their peers, ask each other questions, share ideas, and work together. This collaborative effort is essential to the quality of eLearning. Not only does it allow learners to ask their questions, it allows learners to motivate one another.
Virtual learning is the learning that occurs when content is administered through virtual means. This is possible with video conferencing, PowerPoint, as well as visuals and audio.
Stay tuned for the second part of this article, where we'll explore how to leverage Moodle for product & service launches, hiring & interview processes, and forming communities of practice.
If you want to learn more about taking advantage of your Moodle Learning Management System, download the eBook Corporate eLearning: Six Strategies For Leveraging Moodle.
References:
Cole, J., Cole, J., & Henrick, G, Moodle 2.0 for Business (Olton, Birmingham: Packt Publishing, 2011)
Graeme Dobson, A Guide to Writing Competency Based Training Materials (Melbourne: Commonwealth of Australia, 2003)
William J. Rothwell and Jim M. Graber, Competency Based Training Basics (New York: ASTD, 2010)
Rice, W., Moodle 2.0 E-Learning Course Development (Olton, Birmingham: Packt Publishing, 2011)
Ibid.
Ibid.