Generating B2B Leads For eLearning Companies With An eBook
You can usually create an eBook for less than the cost of a full-page print ad, but production costs are far from being the only reason why you should. An eBook is considered premium content. While this means it takes longer to create, it also means you're creating something with a much higher value than other elements of your content marketing.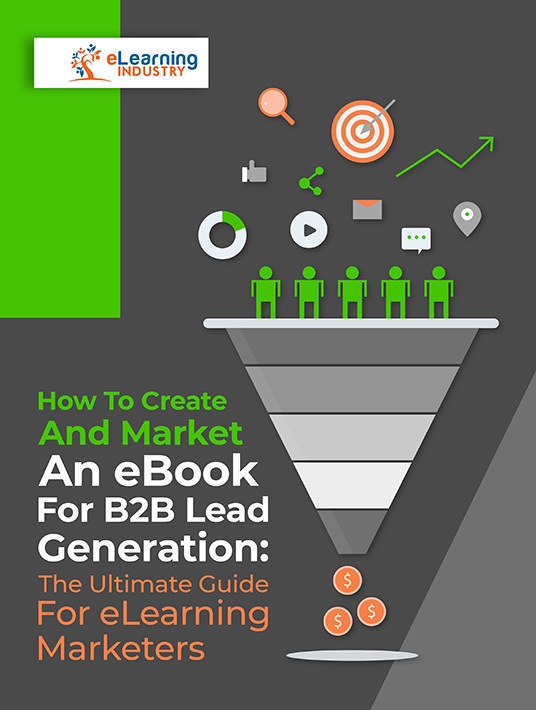 eBook Release
How To Create And Market An eBook For B2B Lead Generation: The Ultimate Guide For eLearning Marketers
Learn how you can optimize the B2B lead generation process and its ROI while discovering tips on quantity vs. quality.
The planning and marketing of your eBook largely determine how beneficial it will be to your business. If it's carefully planned, well-designed, and accurately targeted to the right audience, then the ROI will far outweigh what you invest in it.
Know that an eBook can't seem like just another, albeit longer, advertisement, though. If it does, your audience won't be inclined to download it or read it. Creating an eBook gives you the freedom to dictate the information you capture and the tone with which you deliver it. Then, you can freely use that content, both piecemeal and in its entirety, to maximize its reach. Once you do this, that reach can bring about leads. Leads can turn into conversions.
4 Steps To Generate The Most Leads With Your eBook
There are a few essential practices to ensure that the eBook you create reaches as many people as possible and turns readers into leads.
1. Target Your eBook To The Right Audience
Before creating any content, you have to do your research. Your eBook is meant to provide the most value in order to generate B2B leads, so it's worth putting in the legwork to determine as much as you can about the buyer personas of the people you're targeting. In as much detail as possible, outline your audience's demographics, interests, and goals. Don't stop there, though. Note the challenges you might face in meeting those goals.
After you've done this research, list all of the keywords related to the details that you collected about your audience. Keep these details and keywords handy when crafting your eBook, or provide them to whomever you hire to create it, to ensure every page contains them and maintains a consistent tone.
The content should speak about things that affect your audience or things they care about. Tailor the messaging to reference whatever those things may be. Recognize what is most important in their lives, careers, and communities, and position yourself as a valuable resource within those specific contexts. This is what will set you apart.
2. Tailor Your eBook
Once you have as much data as you can get about your audience, it will take some finessing to create an eBook that consistently tailors to it. The key is to break down each data point about your audience into topics or categories and then use those to guide the flow of each page. Your business exists to answer a need or solve a pain point that your consumers face. This means your eBook should be a key tool in convincing them that you can deliver on that promise.
Remember, though, that you can only be seen as a credible solution if you speak in a way that relates to your audience. Use the appropriate language. If your audience is full of tech specialists, use industry jargon. If not, avoid talking specs and instead focus on how your product or service can enhance the user experience. No matter how you say what you say, show respect for your readers by communicating your points clearly and in a way that makes sense to them.
3. Structure Your eBook
There is no single, definitive way to structure an eBook. However, you should aim to organize it in a way that makes it easy for readers to follow from beginning to end and is easy to skim through in a hurry. One idea might be to structure it like a novel, with short chapters and a few relevant graphics. You could also break it down like a series of blog posts, segmented by subheadings and bullet points.
The nature of your eBook's content and the specific purpose you want it to serve will play an important role in how you choose to structure it. If your goal is to generate B2B leads, it'll be important to strategically include a Call-To-Action on certain pages. Every CTA, whether it encourages readers to explore more of your website, leads them to make a purchase, or educates them, has to be relevant to the page it's on and placed in such a way that it seems more natural than advertorial.
4. Promote Your eBook To Generate B2B Leads
You want your eBook to reach readers beyond the defined primary audience you initially targeted. Because these books are digital, they have some distinct advantages when the time comes to promote them. You can break down and parcel out excerpts and chapters and then share them across all of the channels you use to engage with potential customers.
Before diving into promotion, be sure to build an editorial calendar. Map out the timeline for writing and publishing your eBook. Schedule times to promote it, taking into consideration everything from buyer personas to social media shares.
Assuming you invested in creating a wholly original eBook, promoting the content in bits and pieces can significantly boost its reach. You can share different parts of it that deal with specific concerns and distribute the content gradually as a series of blog posts, social media posts, and/or webinars. In each iteration, craft a unique, contextually relevant CTA to prompt readers to download the eBook in its entirety.
Consider This Before You Go
You can craft the greatest eBook ever written, but remember that its greatness doesn't matter if no one reads it. These tips will help to ensure that that doesn't happen when you create and promote your next eBook.
The more planning you do for your eBook, the more B2B leads you can generate with it once it's published. Be confident that you can successfully manage everything on a schedule before adding anything else to it. Reinforce the calendar with resources for finding topics and content ideas as you schedule what you'll promote and when. Take your eBook's creation and promotion seriously, and your audience will, too.
eLearning marketers may sometimes feel overwhelmed when they're in the process of finding the best ways to create and market an eBook for B2B lead generation. Download our free eBook How To Create And Market An eBook For B2B Lead Generation: The Ultimate Guide For eLearning Marketers to discover how to create and market a B2B lead generation eBook that addresses the topic with the authority of an eLearning marketing expert but in a friendly tone.