How To Write An eLearning Press Release: Ideal Length, Formatting And Release Time
All successful eLearning press releases share three common traits: they are newsworthy, concise, and free of sales gimmicks. Your readers are looking for facts, stats, and a unique news angle that draws them in. What they are NOT looking for, is an opinion piece that tries to push them into making a purchase. This is why writing an eLearning press release is somewhat of a science. You have to pitch your eLearning event, product or service, without actually pitching it. In fact, the ultimate goal is to leave your eLearning readership with the information they need and a credible, authoritative perception of your brand image. Here are all the eLearning press release basics that you should bear in mind.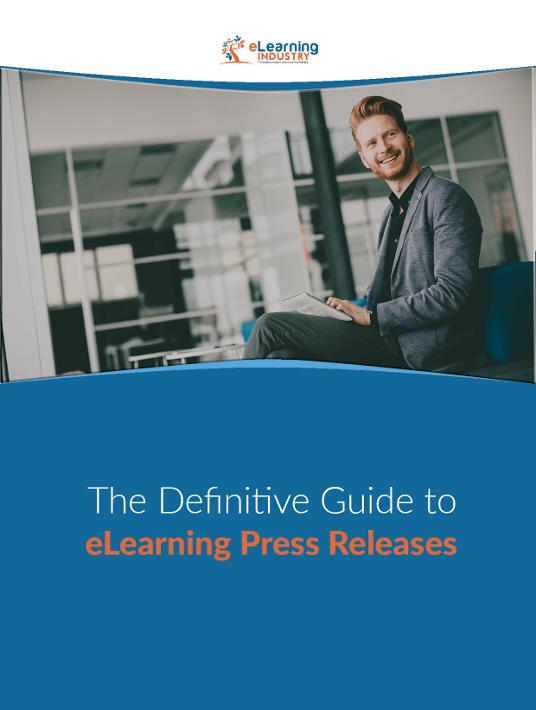 eBook Release
The Definitive Guide to eLearning Press Releases
Download our free eBook and start optimizing your eLearning Press Releases.
Ideal eLearning Press Release Length
The length of your eLearning press release greatly depends on the subject matter and the amount of factual data, stats, and quotes. However, it should be no longer than two printed pages. The goal is to keep the word count between 300 and 500, or a single page. This makes it easy for journalists and readers to quickly peruse the story. Here are 3 tips to help you create a concise eLearning press release that still contains all of the need-to-know info:
1. Minimize the fluff.
Try not to include complicated jargon, vivid imagery, metaphors, clichés, or any other content that might be considered "fluff". Carefully edit your eLearning press release before submitting it and omit any fillers that don't offer any real value to your story.
2. Leave out the sales gimmicks.
Instead of putting in marketing gimmicks or sales pitches, just stick to the facts and stats that support your story. Remember that readers are looking for information, tips, or advice that can help them to some extent.
3. Choose key elements of your story.
You don't have to include every detail in your eLearning press release. In fact, you can include contact information and hyperlinks that readers can use to get more information, which also increases traffic to your eLearning website or your sales page.
eLearning Press Release Formatting
To ensure that you include all of the pertinent details and grab the reader's attention as soon as possible, it's wise to follow the basic press release formatting guidelines when creating your eLearning news release. Here are the 5 essential elements, in order of how they should appear in an effective eLearning press release:
1. Date
Write "Immediate Release" or "Embargoed Until (date of release)" at the top of your release, along with the date you are submitting the eLearning press release to the distribution service.
2. Headline
Choose a headline that is catchy, but direct, and gives your readers a sense of what's in store for them. The objective is to pique their interest so that they continue reading. You should also include a subhead right below the headline in italics if you need to provide more details or any clarifications.
3. Body
This consists of the opening paragraph, which is the most important, as well as two or three proceeding paragraphs. The opening paragraph should feature all of the key points, including the 5 W's of the story: who, what, where, why, and when. The paragraphs that follow must include all of the supportive evidence, such as facts, quotes, and statistics.
4. Boilerplate
A line or two near the end of the eLearning press release that mentions the name of the author of your organization. This can also include your brand messaging, qualifications, achievements, and mission statement.
5. Contact information 
Include your phone number, email address, website URL, and other important contact details at the bottom of your eLearning press release. You may also want to include social media links, as well as the name of the person or company submitting the eLearning press release and the individual who will be handling all of the media's inquiries.
Immediate Release vs. Embargo
As mentioned earlier, there are two date distribution options that you can type at the top of your eLearning news release:
1. Immediate Release

Your eLearning press release will be published as soon as it has been approved by the eLearning editors. Keep in mind that this does not account for any issues that may prevent the distribution service from approving the eLearning press release, such as formatting errors or controversial subject matter that must be omitted. This is typically the best option, as it allows eLearning journalists to publish your story as soon as possible instead of waiting until the embargo date.
2. Embargoed Until

This indicates that you would like to postpone the publication of your eLearning press release until the specified date. eLearning journalists and news organizations can still contact you about the eLearning press release to ask questions and gather more information, but they are unable to publish the information to the public until the embargo date. This option should be a last resort, as news outlets prefer to publish stories right away and may forget about your eLearning press release by the time the embargo date rolls around.
If you do not add a date indicator to your eLearning press release, most distribution sites will assume that is for immediate release and publish it as soon as it's approved. This is one of the primary reasons why it's wise to wait until you get back from vacation or a leave of absence before you submit your eLearning press release, as you'll need to be available for media inquiries.
Follow this guide to write a winning eLearning press release and gain maximum eLearning exposure. Also, keep in mind that a newsworthy angle is all-important. So, even if you are covering a story that has been explored before, adding a new spin can make it fresh again. Be sure to download our Free eBook "The Definitive Guide to eLearning Press Releases" and start optimizing your Press Releases.
Would you like your eLearning press release highlighted in our weekly email newsletter? Submit your press release today to get in front of more than 90,000 subscribed eLearning Professionals.