What Is A Digital Touchpoint?
Before we analyze why omnichannel marketing is so important, let us refresh our memories. Earlier, we established that prospective students engage with more than 1,000 digital touchpoints before filling out their first lead form. A digital touchpoint is when a prospective student engages with a piece of digital content that plays a role in their next decision in their educational paths.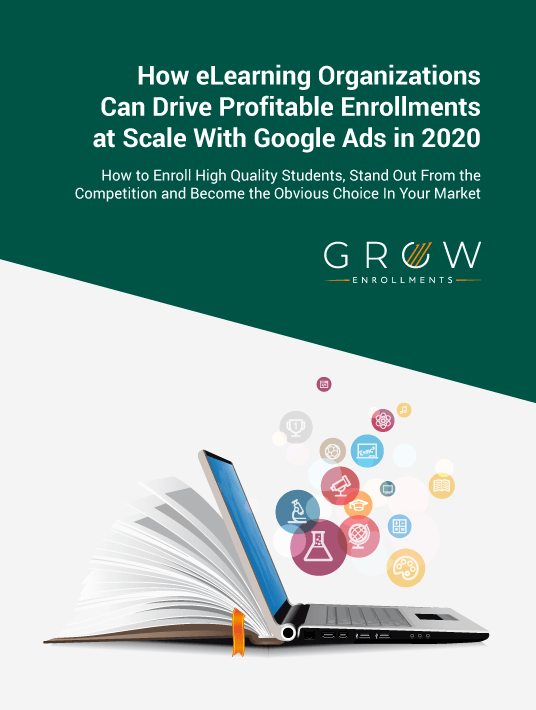 eBook Release
How eLearning Organizations Can Drive Profitable Enrollments At Scale With Google Ads In 2020
This eBook will help you drive profitable enrollments at scale with Google Ads.
Video content, blog articles, social media posts, research reports, testimonials, eBooks, and course details can all be the setting of digital touchpoints. As digital marketers, we can showcase our brand as the top choice, regardless of the channel and where the prospective student is in the funnel.
How many digital touchpoints do you think you are currently serving on? How many more enrollments do you think you could acquire if you were able to be a part of most of those touchpoints?
Developing an omnichannel approach allows you to be at the right place at the right time. Below, we provide strategies and explain the importance of an omnichannel digital marketing approach.
Cold Traffic Introduction: Awareness (Top Of Funnel)
As prospective students browse the web, data is being sent back to Google, where it gets filtered into different audiences. This data allows education marketers to target prospective students at specific points in their omnichannel marketing funnel. The first stage of the funnel is known as "Awareness."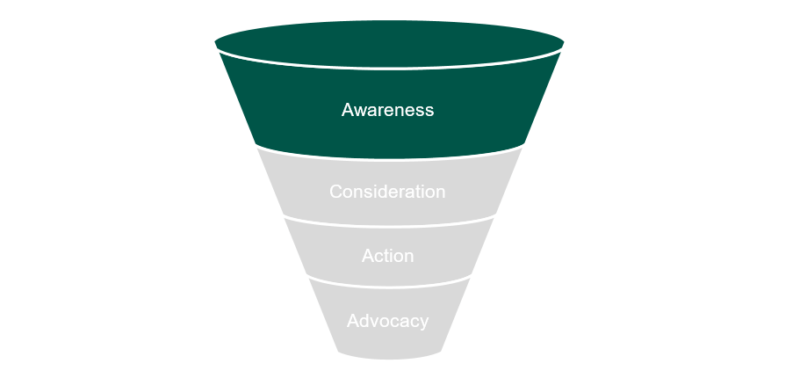 Τhis is merely an introduction to your education company and the prospective student's desired program. The two audiences that fit under the Awareness stage are Affinity and Custom Affinity. These audiences can represent prospective students who are considering a career change, prospective students looking to advance their current career, recent high school graduates, or college graduates looking for post-secondary online learning options.
For example, John Don has an interest in a new career in data science. He wants to learn the required skills but doesn't know where to start. He starts researching with an intent to learn more about data science. In this case, we have the opportunity to lead John into a video content sequence that provides value-based content, instead of trying to enroll him right away.
83% of prospective students watch YouTube 3x a day. Engaging prospective students during the Awareness phase makes them 60% more likely to fill out a lead form.
Action: Create Affinity Audiences/custom Affinity Audiences based on the programs you are trying to promote with YouTube/display advertising.
If your goal is to target John Don who is looking for a new career in data science, your Affinity Audience could be technophiles in the 24-35 range. You can also layer on some Custom Affinities by including prospects who have been reading about data science or have used apps related to those categories. Keep in mind, a Custom Affinity for a website will be based on site content, not site visitors.
You can find the full list of Affinity Audiences here.  More details on Custom Affinity here.
Action Part 2: Launch high funnel YouTube campaigns that target prospective students who have just begun the research phase. Make sure to set a high frequency per user for these audiences. This way, even if a prospective student doesn't engage with your content, they will have your company in their head when they are ready to make a decision.
Also, your creative should be catchy and brand-focused. This will make it easier for prospective students to remember your company and programs. As for targeting, you can build Affinity Audiences for users who are searching high funnel research terms, such as "what is data science," "data science skills," or even "data science growth."
(For more ideas on campaign structure and strategies please see the "Structure and Strategy" section.)
Warm Traffic Presence: Consideration (Mid-Funnel)
Once the prospective student passes the Awareness phase, several scenarios may transpire, all of which are below: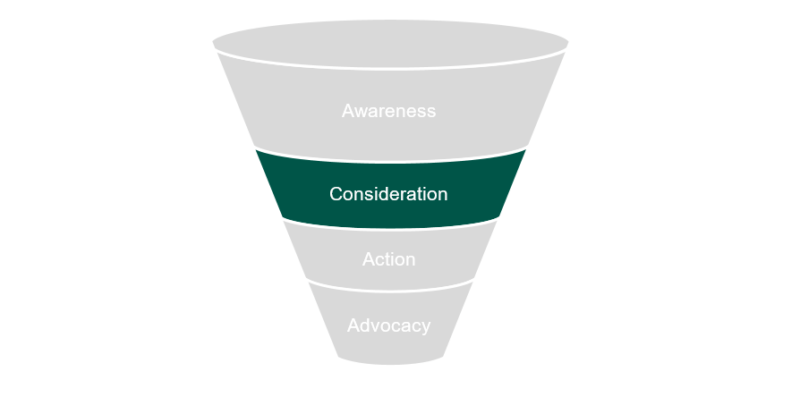 SEM
56% of prospective students begin researching names of programs or education companies on Google after passing the Awareness phase. If your Awareness strategy was effective, you will see an increase in prospective students searching for your company (which is what we want) rather than a generic term like "data science online course." It's imperative to be active on Google search (branded and non-branded) so we can engage prospective students in the mid-funnel stage and capture the lead.
Action: Launch branded and non-branded campaigns with the goal of driving high quality leads through your enrollment process.
Also, layer search audiences to improve visibility for prospective students. This gives you the opportunity to add additional bidding modifiers.
(For ideas on campaign structure and strategies, please see below.)
YouTube
83% of prospective students watch YouTube an average of 3+ times a day. The sheer popularity of YouTube with prospective students is all the reason we need to include this channel in our strategy across all funnel steps. Prospective students are 60% more likely to move up in their journey (or down the funnel) after watching videos related to their desired program. This makes YouTube particularly important for In-Market Audiences, who are actively researching and on the verge of making an enrollment decision.
Action: Create In-Market YouTube strategies with creative that resonates with prospective students who intend to follow through on their research and submit a lead form.
You can find the full list of In-Market Audiences here.
Very Warm Traffic: Action (Bottom Of Funnel)
Bottom funnel prospective students fall into one of two categories: those who have submitted a lead form and those who have not.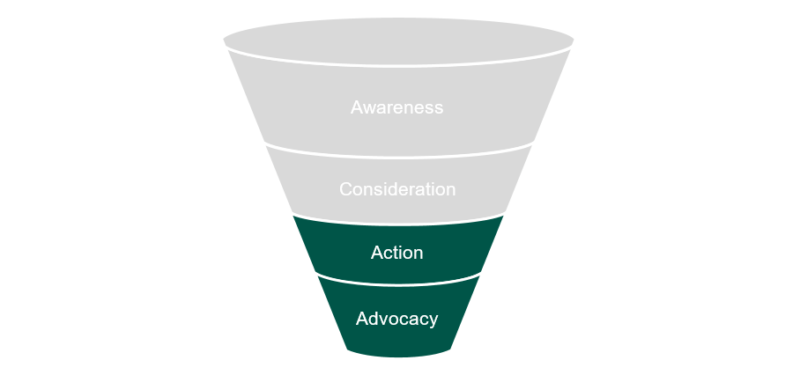 Not Submitted A Lead Form
Remarketing Audience
Reconnect with prospective students who have previously engaged with your company and turn them into students. These prospective students have shown interest, but are close to taking action on requesting more information. Therefore, we must continue to provide valuable content to drive them back to our website.
Action: Create remarketing audiences broken out by segments of days and launch action-driven video content. Possible ideas for content can include USPs, success stories, promotions, etc.
Custom Intent
Reach prospective students who are actively searching for your company on Google in order to drive action on YouTube.
Custom Intent is one of the most powerful strategies you can utilize on YouTube. It allows you to create an audience based on specific keywords that prospective students searched on Google but did not click your ad. This gives us the opportunity to advertise to prospective students who are very likely to make an enrollment decision.
Action: Put together a list of 50 keywords that each has at least 1M impressions per month in order to launch a Custom Intent YouTube campaign. The creative should be focused on bottom-of-the-funnel, action-driven content.
Submitted A Lead Form
Lead Form Submission (Re-Engagement)
Our work on the omnichannel digital marketing front is not done once a prospective student fills out a lead form. The next step is to add these students to the "completed lead form" custom audience. We want to continue advertising to this audience to show them what it looks like to be a student at your education company.
Prospective students fill out an average of 6+ lead forms before making an enrollment decision. Re-engagement strategies allow us to turn more leads into enrollments instead of just adding as many leads as possible to the top of the funnel.
Action: Create a "completed lead form" custom audience. Then, create a specific ad group for this initiative and launch action-driven content to reinforce their decision to request more information. Content ideas can include testimonials, success stories, etc.
Similar Audiences
Utilizing similar audiences allows the Google algorithm to look for prospective students that fit closely with your current student base or other prospects who have already filled out a lead form, submitted an application, or enrolled. These targets are extremely valuable because of their high interest in your program.
Omnichannel Marketing Is Just One Step Out Of Many
There are many things you can do besides omnichannel marketing to help your organization. Is increasing enrollment important to you and your organization? Are you looking for ways to increase digital engagement? If yes, make sure to read How eLearning Organizations Can Drive Profitable Enrollments At Scale With Google Ads In 2020 and harness the amazing power of Google Ads to help enrollment grow.