The Latest Trends In Student Digital Engagement
In order to create a Google Ads strategy that will increase digital engagement, we first analyzed how prospective students are researching education companies online.
With this data, we can determine:
How students are conducting their research (which devices, channels, etc.)
What students are researching (which questions they are asking, which keywords they are searching, which YouTube videos they are watching, which blog articles they are reading, etc.)
How students are making the decision to choose one opportunity over another.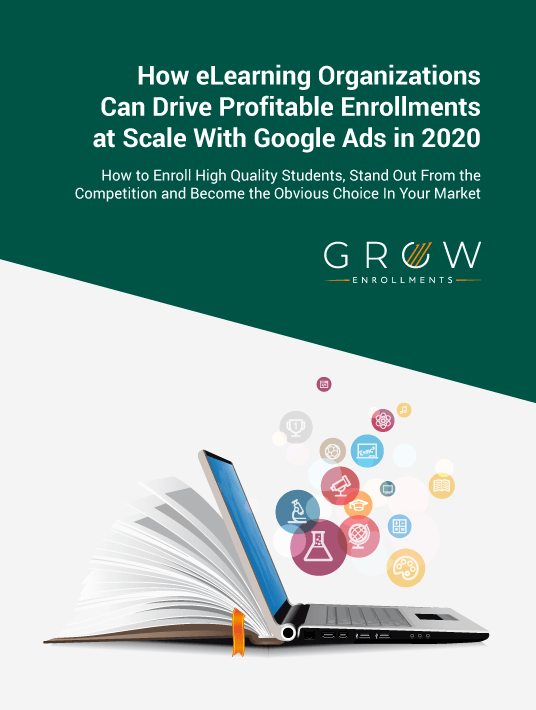 eBook Release
How eLearning Organizations Can Drive Profitable Enrollments At Scale With Google Ads In 2020
This eBook will help you drive profitable enrollments at scale with Google Ads.
Answering these questions gives us a thorough understanding of the latest digital engagement trends for prospective students. Throughout this article, we will reference the following data points:
On average, prospective students engage with more than 1,000 digital touchpoints while researching programs in a 6-week period before filling out a lead form.
In Q4 of 2019, certification program-related queries grew more than 15% YoY.
In Q4 2019, the average CPC with an "online" modifier was $22, which is 5X greater than the average CPC for terms without the "online" modifier.
Prospective students are 60% more likely to move down the funnel after watching online videos related to their desired program.
83% of prospective students watch YouTube videos an average 3+ times a day.
Post-lead submission students engage in 1.5x as many digital activities as pre-lead submission students.
56% of prospective students begin their research on Google.
Students who enroll are 2X more likely to fill out 3+ lead forms, compared to students who do not enroll.
Increase Digital Engagement: Audience Overview For Search, YouTube And Display
With prospective students moving through different stages of their research funnel and using multiple platforms in the process, understanding the type of audience categories that Google Ads has to offer will provide the clarity you need to make smarter strategic decisions that will help you increase digital engagement.
This also allows you to better anticipate your prospects' interests and preferences while delivering the right marketing message at exactly the right time, whether you're using Search, Display, or YouTube.
YouTube/Display
For YouTube/Display, we have the ability to strategically connect with prospective students at every stage of the journey.
Below are all the available audiences that advertisers can utilize on both channels:
Detailed demographics
Target prospective students through basic information like parenting stages, homeownership status, marital status, and education.
Affinity
Target prospective students through interests and lifestyle choices. Google distinguishes users who are truly passionate about a topic from those who have expressed slight interest at best.
Custom affinity
Target prospective students based on their interactions across Google Search, Maps, YouTube, and Android app download data.
Life events
Target prospective students as they approach important milestones and are more likely to make major purchases.
In-market
Target prospective students who are actively researching and intend to enroll in any education company.
Custom intent
Target prospective students who are actively researching your programs on Google.com, so you can then advertise to them on YouTube.
Customer match
Cross-sell or upsell students who are currently enrolled in your program.
Remarketing
Reconnect with prospective students who have previously engaged with your education company to get them to enroll.
Similar audience
Broaden your targeting by reaching prospective students who share the characteristics associated with any of the previous audience types.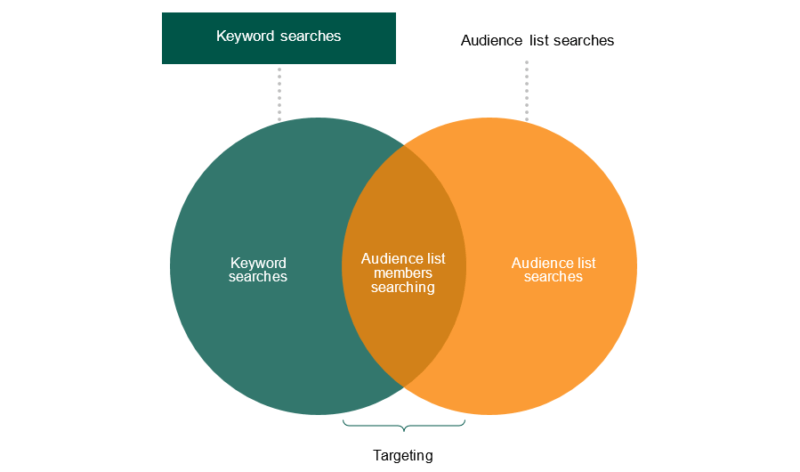 Search Audience Options
Remarketing Lists for Search Ads (RLSA)
This audience allows you to modify bids on search traffic from previous website visitors. You can also segment bidding even further by separating previous website visitors based on levels of site engagement (viewed specific pages, interacted with lead forms, spent at least a certain amount of time on the site, etc.).
Customer match
These are audiences created by pulling student email addresses from CRM systems.
Similar audiences
You create a list of audiences (application submissions, enrollments, etc.) and then Google advertises to people who are similar to these audiences.
Using Audiences With Search
How does audience targeting affect your search strategy in the first place? There are 3 main benefits to layering on audiences to your search campaigns:
Variable bidding
Bid up or down based on expected or known audience value or priority
Query expansion
Advertise on a broader set of queries based on additional audience relevance signals
Creative customization
Maximize add relevance by customizing language or offers by audience types
The Future Of Google Ads And How To Prepare For It
Over the past 7 years, I've watched Google Ads—previously known as AdWords—gradually decrease the amount of control it provides over how your money is being spent.
The future of Google Ads is focused on audiences and automation. I believe Google will soon remove the ability to bid on keywords for PPC and completely transition to audiences, like YouTube and Display.
That might come as a huge shock to some people. But over the past few years, Google has already moved in this direction by removing more and more control from Exact, Phrase and BMM match types.
Google's first major step toward my prediction will be removing Exact, with Phrase/BMM following shortly after. The only remaining option, Broad, will last another two years at most.
After that, Google will fully transition to an audience and automation-based approach across all channels, as their technology continues to improve.
The best way to prepare for these shifts in SEM is to start building your strategies with an audience mindset and transition from manual to automation bidding. The more test and learn you accomplish today, the more success you will find in the future.
In Conclusion
Is increasing enrollment important to you and your organization? Are you looking for ways to increase digital engagement? If yes, make sure to read How eLearning Organizations Can Drive Profitable Enrollments At Scale With Google Ads In 2020, and harness the amazing power of Google Ads to help enrollment grow.
Originally published at www.growenrollments.com.