3 Ways To Optimize B2B Lead Generation Process Using Marketing Automation
When it's time to execute your eBook marketing strategy, you have an important decision to make about how you'll do it.
There are a couple of possible approaches to take. If it's right for you, you can opt to manually create, send, and track emails in tandem with coordinated social media posts and digital advertisements. Manual execution can work if you're looking to send one-size-fits-all messages to all prospects on every platform. But when you want to create personalized marketing messages for your prospects that recognize their needs and stages in the buyer journey, doing it yourself isn't just exhausting. It's almost impossible to sustain or scale.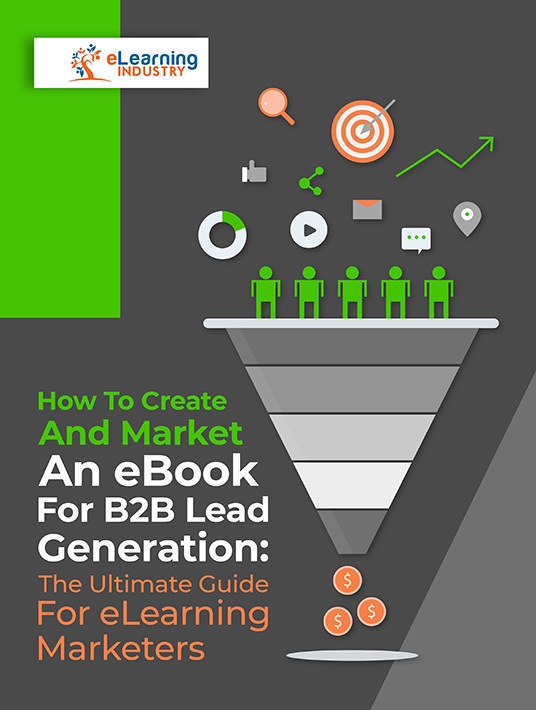 eBook Release
How To Create And Market An eBook For B2B Lead Generation: The Ultimate Guide For eLearning Marketers
Learn how you can optimize the B2B lead generation process and its ROI while discovering tips on quantity vs. quality.
For this reason, you might want to reconsider using marketing automation technology. This technology automates key tasks and enables the creation of more complex, tailored message flows based on how target-customers respond or don't. Done well, marketing automation technology helps to customize and optimize your eBook marketing strategy.
Today, a growing number of marketers are choosing to do things this way. About 51% of businesses have some type of marketing automation in place, and 55% of marketing leaders plan to invest in even more marketing technology going forward [1].
Every brand's strategic objectives differ. On the other hand, the basic benefits of marketing automation solutions are clear. It can also be one of the most powerful tools in promoting your eBook.
The Marketing Automation Advantage For Your B2B Lead Generation Process
Companies often turn to automation to improve the efficiency of their marketing and sales teams and create natural alignment between the two [2][3]. Manual processes can get out of sync and result in frustrations about the quality of leads. As well as the timeliness of handoffs. Marketing automation technology, though, uses data to help sales and marketing identify the best leads. Furthermore, to better prioritize how they spend their time and resources on them moving forward.
Because this technology is so holistic, it can help engage prospects at every step of the buyer journey. It even does the work of sending follow-up messages to those who have downloaded your eBook but still have yet to make a purchase [4].
Marketing automation for your B2B lead generation process also simplifies how you capture data. It helps you put that information to work immediately. Integrate tracking and analytics into the distribution platforms you use to promote your eBook. Then, marketers can gain important insights into how messages are performing and which messages customer segments are responding to. The investment in this technology pays off by giving you improved targeting capabilities to determine who you should work to get your eBook in front of, predictive analytics, and the ability to directly link leads to specific marketing and sales tactics.
The benefits of automation reach beyond interdepartmental alignment and data itself, though. For businesses of all sizes, resources are typically finite. Marketing automation technology eases this burden and gives time back to employees. Tactical processes that might have taken hours before take only minutes with automation [5]. Instead of handling repetitive, time-consuming tasks, marketers have time to focus on enhanced strategy and content development. In other words, marketing professionals can spend more of their time doing what they do best and have the data to back it up.
How to Reap The Benefits Of Automation
When you're ready to build a marketing campaign to target, reach, and convert the right audiences into leads, marketing automation is an essential tool. Follow these 3 best practices when determining how to implement and integrate automation tools to their fullest potential when promoting your eBook.
1. Tailor The Triggers
Marketing automation technology makes customization possible as you try to get your eBook to the right audiences. For instance, by creating automated email workflows, the messages you send can recognize a particular prospect's stage in the buyer journey and how he or she has interacted with your content [6]. Workflows can be triggered based on when a reader clicks through to one of your landing pages from an ad. Or when a reader completes a form on your website. Things like the number of web visits or page views, measurements of social media engagement, or previous downloads of your content can also be triggers.
Email automation enables you to tailor your marketing outreach efforts based on user preferences, too, which can help drive open and click-through rates. If you do tailor to users, make sure you build permission capabilities into all of your processes for data gathering. When you give prospects the opportunity to opt into the messages they receive and the frequency of those messages, they're more likely to be receptive going forward [7]. Marketing automation technology helps you get prospects to know and trust you. Best of all, it handles the brunt of the workload of customizing your eBook campaign.
2. Drip, Drip, Drip
Marketing content is never a one-and-done tactic. Instead, it's about delivering messages that align with the profiles of your target audience and nurture relationships over time. And delivering those messages at a regular cadence. Automation technology makes creating effective, relevant and targeted long-term drip campaigns possible. These consistent communications allow you to nurture leads that are in the middle of your funnel and move them toward the bottom. Using automation technology also allows you to send customized samples from your eBook in these email campaigns to keep leads engaged.
Prospects start by expressing an interest in what you have to say by downloading your eBook. Or by attending a webinar you host. Once they move from being a prospect to being a qualified lead, though, this technology will enable your workflow to offer them more in-depth content. Like case studies or product demos, that more directly encourage conversion.
3. Turn Data Into Insights, And Then Into Action
How can you optimize the capabilities of your marketing automation technology? This is determined by how you turn the wealth of information it gives you into actionable insights. When you integrate automation tools with your CRM software, you have the ability to see how visitors came to your website. How long they were on it, and what they clicked while there. You can then put these insights into practice. Just share them with your sales team to help it identify targets and structure its outreach efforts.
Along with the comprehensive target profile data that marketing automation tools can collect, it can also help you score leads and know which to prioritize for ongoing marketing efforts and sales follow-ups. This lets salespeople focus on the leads with the highest likelihood of conversion. The marketing team can continue to nurture others that need a bit more convincing or even need to be re-engaged.
By integrating your CRM and automation technology, you're also able to calculate your ROI. In addition, you can have access to numbers that back up your marketing efforts. Ultimately, the technology lets you see which campaigns turn leads into conversions and which don't. This helps you create marketing messages and communicate with leads based on facts and knowledge of what works.
In today's complex, multichannel marketing world, your success depends on reaching the right potential customer with the right messages, at the right time. Your eBook is designed to deliver valuable content to prospects, and your marketing strategy is crafted to reach them. Marketing automation technology is the engine that powers campaign execution. It also maximizes the potential of data to transform eBook downloads into high-quality conversions.
eLearning marketers may sometimes feel overwhelmed when they're in the process of finding the best ways to create and market an eBook for B2B lead generation. Download our free eBook How To Create And Market An eBook For B2B Lead Generation: The Ultimate Guide For eLearning Marketers to discover how to create and market a B2B lead generation eBook that addresses the topic with the authority of an eLearning marketing expert but in a friendly tone.
References:
[1] The Ultimate Marketing Automation Statistics Overview
[2] Power Up Your Digital Marketing: 23 Reasons To Automate
[3] Ch. 4: Why Use Marketing Automation For Your Business?
[4] How To Boost eBook Sales With Email Marketing Automation
[5] Why Automation Is Vital To Any Marketing Strategy
[6] 13 Email Workflows You Should Be Using In Your Marketing Automation