A Complete Guide To LMS Websites
Few industries are as competitive as the market for Learning Management Systems, Learning Experience Platforms, and other types of training platforms. There are no real leaders and new systems are sprouting up all the time.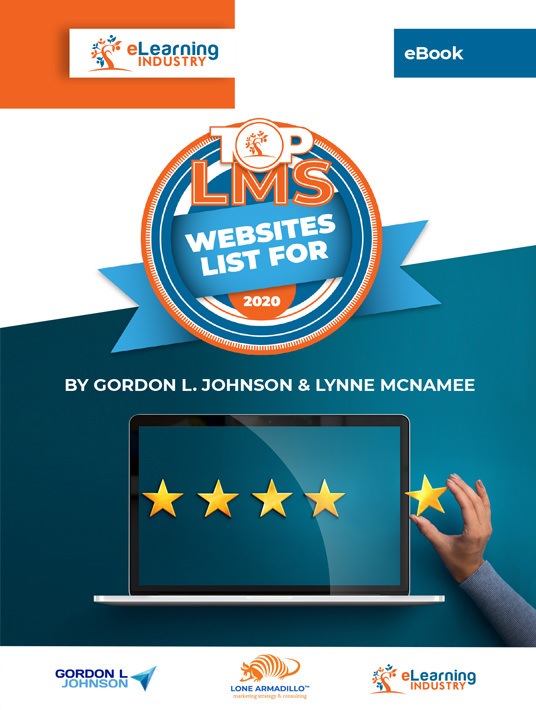 eBook Release
Top LMS Websites For 2020
Discover website SEO, content, and design best practices. Drive traffic, generate leads, and engage prospects by following the example of top LMS websites.
Many of them are willing to buy market share and "give it away" to get new customers. Because of this, great marketing becomes essential in order to be competitive. This includes your messaging, lead generation, branding, and your salespeople. If you are mediocre in any of these areas, you end up having to sell on price.
The Almighty Website
When buyers search for a new learning system or whatever you call your learning technology, they will visit your website before they ever talk to you. They might have heard of you from someone or met you at a conference, but 90% of your first impression is your website.
Think of your website as your screening interview if you were looking for a job. The goal of a screening interview is to find reasons to eliminate candidates and reduce the list down to the top few.
It is the same when your prospects look for a learning system. When they visit sites, they hope for a perfect fit. If you do not look like a good fit, and worse, if your site looks shabby, then it does not matter how perfect you would be for them.
They probably will not contact you and you may never know they were ever looking at you.
Who Has The Best LMS Websites?
Knowing how all-important your website is and how much it means for your prospects to find your site, Lynne McNamee of Lone Armadillo and I set out on a mission to find which LMS companies have the best sites and the best Search Engine Optimization to generate traffic.
Lynne and I are both long-time marketing consultants in the learning technology marketplace and have spent many years helping companies improve marketing strategy, generate more leads and most importantly, build a web presence that generates traffic and conversions.
Before starting our research, Lynne and I did not know which of the LMS companies had the best web presence. We spent the last 3 months researching the top 350 LMS vendors: their sites, value propositions, messaging, mobile presence, and their SEO.
Here is what we learned.
Do You Want To Improve SEO For Your Website?
Discover the latest SEO best practices and strategies that will help you boost the organic traffic of your company website.
Search Engine Optimization (SEO)
Nothing is more important than making it easy for qualified LMS buyers to find your website. If they do not find it, then your website's design, content, and messaging do not matter.
It also does not matter how great your product is since they'll never see it if they can't find you on a simple Google search. To avoid such pitfalls and make sure your website is competitive and among the best, download the eBook Top LMS Websites For 2020 for expert tips on website marketing.
At the end of the day, half your battle is attracting people to your website. When Lynne and I put together the criteria for our overall rankings, we weighted SEO as 40% of the overall score.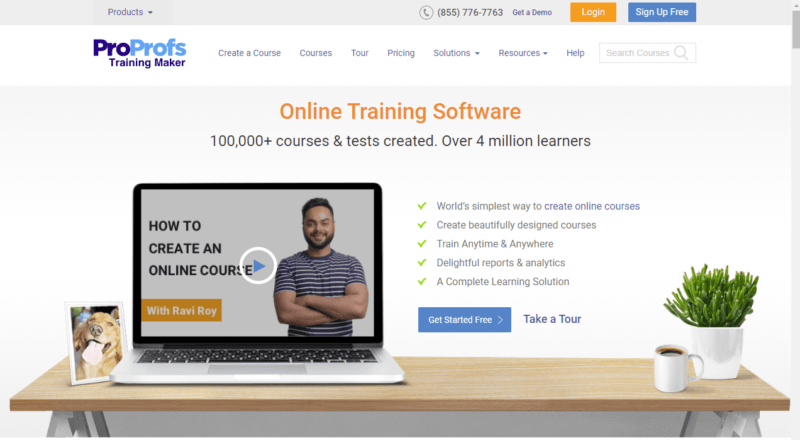 Number 1 LMS Website For SEO: ProProfs
Top 10 LMS Websites For SEO
Top 10 LMS Website Content
Once buyers get to your site, then the fun starts. You must convince them that your product is the right fit. This is much harder than you might think, but it is easier if you focus your value proposition on who you really are.
The mistake many LMS companies make is to try to be all things for all prospects and not focus in on what makes them great. What you really are is what matters.
This makes the potential market size smaller, but it will give you a much higher win percentage, happier customers and it will eliminate most of your competitors.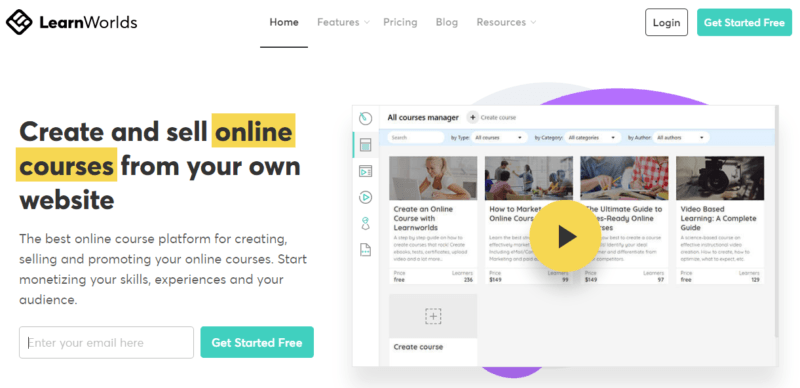 Number 1 LMS Website Content: LearnWorlds
Top 10 LMS Websites Content
Free Content Marketing Course | Learn from Top Experts
Learn how to design a content marketing strategy that leverages multiple tactics. Get the best SEO tips to increase your ranking.
Top 10 LMS Website Designs
This may sound counter-intuitive, but we put design behind SEO and content in our ranking criteria because it is not as important at converting website traffic into leads and opportunities.
Design is important. Your website must look good and give the impression that your company is professional. But it is not that hard to achieve good designs with so many high-quality website templates available.
However, some of the websites we found were head and shoulders above the rest, achieved a powerful first impression, and created the perception of a modern software product.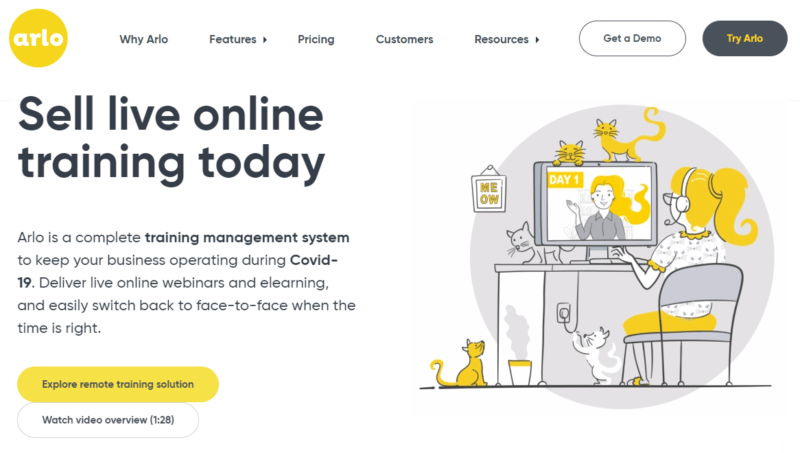 Number 1 LMS Website Design: Arlo
Top 10 LMS Website Designs
Overall Top 10 LMS Websites
When we began this research 3 months ago, our goal was to find the best of the best. We assumed the best LMS websites would come from traditional big LMS companies that had huge marketing budgets. Another possibility was that the best sites would come from the startups who have big funding.
But we were surprised at how many LMS vendors are doing amazing things with small budgets. This is a very good thing and should give everyone hope that it does not take a big marketing budget and a large staff of designers and writers to develop a great site.
What it takes, more than anything else, is focus. Focus on your SEO since it is as important as paid advertising. If your website is not right and your SEO is not right, most of your money will be wasted.
We are proud to announce the top 10 LMS websites of 2020!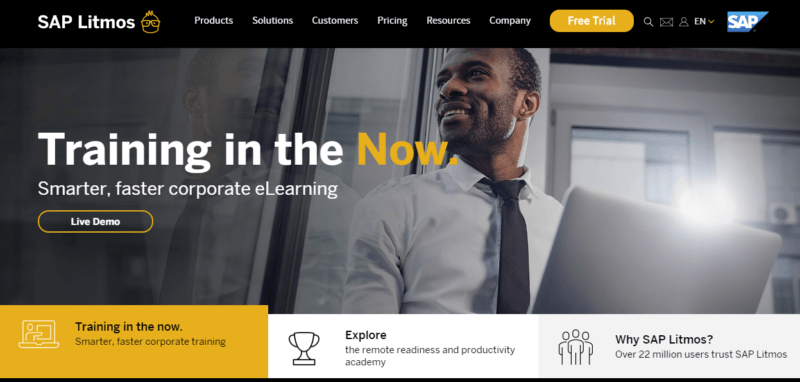 Best Overall LMS Website: Litmos
Top LMS Websites 2020—Gold Award
Top LMS Websites 2020—Silver Award
Top LMS Websites 2020—Bronze Award
Do you also want to be considered among the leaders in your niche? Join the webinar How To Build A Powerful LMS Website: Lessons From The Top 10 LMS Websites In Content, Design, And SEO and find out how to build an effective marketing strategy by following its insider tips and best practices. You can also download the eBook Top LMS Websites For 2020 to learn everything you need in order to win the hearts of LMS buyers.