Instructional Design Strategies That Pair Perfectly With Rapid eLearning
Just because rapid eLearning is all about high-speed course development, it doesn't mean it compromises on instructional design. We have some interesting new-age instructional strategies to help you create engaging eLearning courses with the help of rapid eLearning.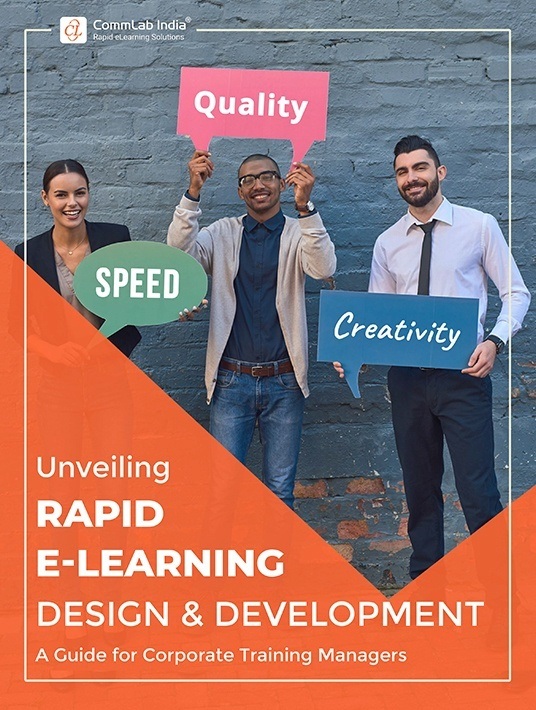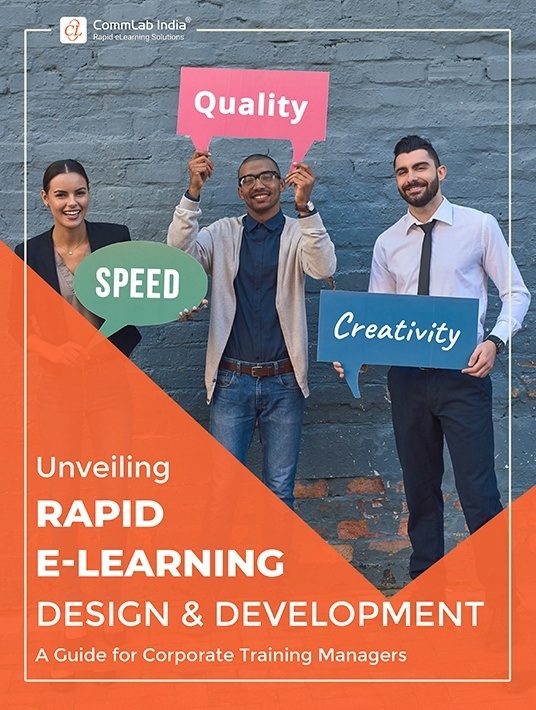 eBook Release
Unveiling Rapid eLearning Design And Development – A Guide For Corporate Training Managers
Discover what rapid eLearning is, how to align it with your business goals, and which tools you need for the task!
6 Instructional Design Strategies For Immersive eLearning
1. Scenarios
Learning happens best when it provides proper context and encourages learners to take action. Scenario-based eLearning provides the said context to learners in the form of simulated job-related situations where learners have to judge a situation, use the information they have at hand, and make the best possible choice to solve the problem. It helps learners with situational awareness, critical thinking, and decision making.
Scenarios are very useful to teach topics where there are no right or wrong actions. They also help bring about behavioral changes in learners. Soft-skill and compliance training are good examples of where scenarios can be used as an instructional strategy.
2. Guided Learning
The strategy of guided learning uses a 'coach/ mentor' along with voiceovers. This coach/ mentor (who can be a senior, a manager, or anyone that learners can relate to in the job context) essentially performs the role of a virtual instructor and guides the learners through the course.
3. Learning Through Exploration And Discovery (LEAD)
This learning strategy uses a learning 'journey' map to give learners the freedom to explore the course at their own pace. Images and/or icons are used on the map as visual indicators to show learners their progress and the destination ahead.
It is a very effective strategy for onboarding training where learners need to know a variety of information (all of it equally important) and can afford to choose their own learning path.
4. Simulations
If scenarios give learners a context similar to their job environment, simulations mimic them in a virtual setting. This high-level learning strategy helps learners gain hands-on experience in a risk-free environment. Most software training is simulation-based.
Authoring tools help develop simulations in 3 phases – Watch, Try, Do.
In the 'Watch' phase, learners are shown how to execute different tasks in a software with instruction callouts..
In the 'Try' phase, learners execute the steps on their own, aided by prompts and hints.
In the 'Do' phase, learners execute the steps without any guidance.
5. Storytelling
Storytelling is one of the most common instructional strategies used in eLearning. The essence of storytelling lies in its ability to connect with learners emotionally, build empathy, and make even the most boring training subject interesting. Case studies and comic strips are the best examples of storytelling in eLearning.
Case studies present a detailed account of a situation or a person's experience in resolving a particular problem/situation. Comic strips do the same, albeit with a more informal and humorous tone.
6. Gamification
Gamification is another very popular instructional strategy used in eLearning courses. It involves the use of game elements – points, levels, rewards, timers – to facilitate effective knowledge transfer, build an emotional connection, elicit responses from learners, foster competition, and help retain knowledge longer. It is a popular tool of edutainment where fun and learning are provided together for a more engaging learning experience.
All these instructional design strategies can be incorporated easily in rapid eLearning courses, thanks to authoring tools. Authoring tools offer templates and asset libraries with images, icons, characters (in various poses), backgrounds, and more. Tools like iSpring have inbuilt features (such as the TalkMaster) to build scenarios easily. Adobe Captivate is a sure way to ace simulations.
Conclusion
Want to learn more about how to use rapid authoring software to develop top notch content? Download the eBook Unveiling Rapid eLearning Design And Development – A Guide For Corporate Training Managers to find the right tools and ID methodologies to launch a rapid eLearning development strategy today. You can also join the webinar to master the essentials of high-impact learning for your teams.
References:
CommLab India Rapid eLearning Solutions
Working with multiple outsourcing vendors can be stressful, and a waste of time & money. With CommLab India Rapid eLearning Solutions, all your online training needs are taken care of, rapidly and economically.