What Are The Perks Of Telecommunications Online Training?
In short, delivering your courses online can help your organization address the major challenges outlined in the previous article, providing fast, cost-effective training. Let's take a closer look at the four main benefits you'll get from eLearning for telecommunications.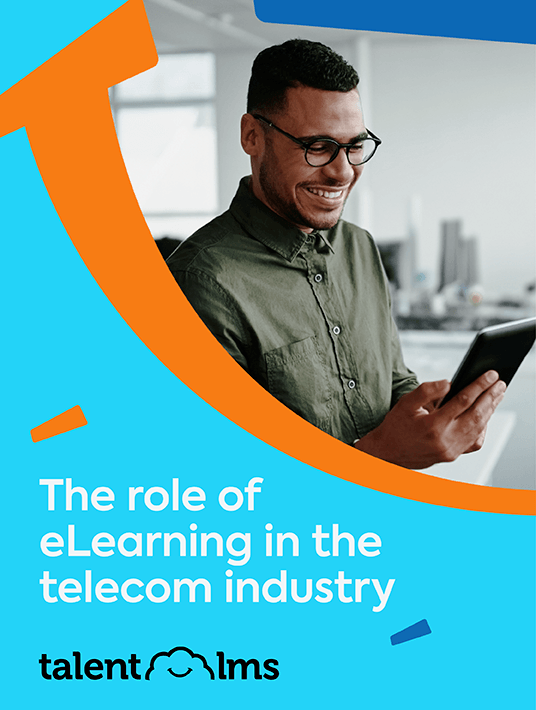 eBook Release
The Role Of eLearning In The Telecom Industry
Explore how online training can help telecom companies build strong teams.
4 Benefits Of eLearning For Telecommunications
1. It's Scalable
Traditional classroom learning isn't feasible for every training offering. Many telecom companies have hundreds to thousands of employees scattered across regions. The costs of travel alone to get them in one place for training are limiting—to say nothing of the costs in time away from work They're too hefty to be useful.
On the other hand, eLearning is scalable, making it easy to accommodate large, distributed teams. Presented on devices like computers, laptops, tablets, and smartphones, it can reach an unlimited number of employees. And because it's not tied to any one location, it can reach them where they are.
Employees in different cities, countries, and time zones can easily join a virtual training session, attend a webinar, or take an online course. Without constraints of place and time, eLearning provides an elegant way to reach everyone in your organization at a minimal cost.
2. It's Flexible
Because eLearning is free of the constraints of time and place, employees have immense freedom in how and when they access it. Busy salespeople and customer service agents can find a time to engage that doesn't interrupt their regular customer interactions. Technicians and engineers can time the training so that it doesn't take them away from a project during a critical phase. In fact, because online learning can be accessed through a variety of devices, employees can learn from anywhere. They may find it more convenient to review lessons outside regular working hours, for example, over lunch or during their commute.
In a traditional classroom setting, employees pulled away from their desks may be distracted thinking about what's going on back on the job. The ability to access training wherever and whenever makes it far more likely employees will be able to focus and learn. When they can choose how and when to log on, they can learn at a time free of distraction, when they're able to give the lessons their full attention.
3. It Can Target Specific Roles
Everyone in your organization may need to be updated on changes to products or processes. But the effects and implications of those changes may look very different for a technical engineer than for a customer service representative.
An engineer will probably need to understand how to implement new technology. A salesperson will need to know how to talk about it and understand how it fits into customers' daily work or processes. A customer service agent, in turn, will also need a keen understanding of problem-solving and troubleshooting.
Online learning allows you to tailor training by department. You can roll out the same information in role-specific courses. An online format gives you a menu of options that let you customize your training for each department. You can offer training on the new tech to everyone, but build branching courses customized to each department. Then you can assign employees to the training that fits their role.
With this kind of branching, you not only get vital information out to your team members. You also set them up to succeed in their roles.
4. It's Consistent
Online courses provide a consistent training experience across teams and organizations. When your training is centralized in one platform, you can guarantee employees in every location will get the same quality of learning.
Subsidiaries and branches of an organization need to comply with the same standards, technologies, and protocols used throughout the company. And there's no better way to communicate that and ensure the message is received by all than through eLearning. The quality of traditional training is often trainer-dependent. Ideally, everyone would learn from an enthusiastic and well-informed trainer. Unfortunately, any fluctuations in trainer ability or knowledge also translate to variation in user experience.
Online learning removes that barrier, letting you design training that will be presented identically to each employee. It also allows you to emphasize company-specific protocols and policies. You can share information and then clarify how the information you've shared supports company values.
Conclusion
Online training can help you achieve your training strategy goals by offering scalable, targeted content through flexible delivery. Another big draw of eLearning is its ability to provide consistent, quality training across all learners. But to reap all these benefits, you'll need to host your training through a dynamic learning management system.
Download the eBook The Role Of eLearning In The Telecom Industry to learn how to launch an L&D strategy that boosts performance and supports your telecommuting telecom teams!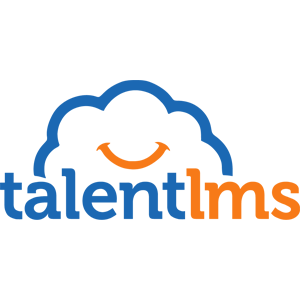 TalentLMS
Easy to learn, easy to use, and easy to like, TalentLMS is designed to get a "yes" from everyone, including C-level execs, budget heads, and busy employees. Now, instead of checking out, your whole organization leans into training.