LMS Features That Address Your Telecom Training Needs
A good LMS will not only be able to host your training. It will provide options for enrolling employees and tracking learning progress. It will give you feedback that allows you to understand your training's strengths and improve it where you see weaknesses. And it will let you make rapid changes and additions to your training strategy and communicate them quickly with employees.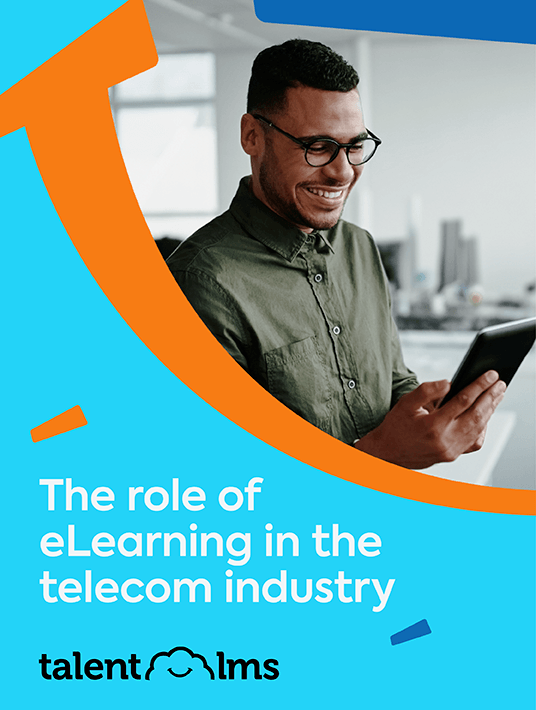 eBook Release
The Role Of eLearning In The Telecom Industry
Explore how online training can help telecom companies build strong teams.
8 Features Your LMS Should Have
Not every LMS is created equal, and you'll want to find one that supports your custom content and your roll-out strategy. Consider the following eight features you'll want to look for in your training LMS.
1. Customization
Training should be seen as a positive part of the employee experience, not something employees are required to do in addition to their regular work duties. To tie the employee development and work together, find an LMS that lets you brand the training experience with your own logos, colors, and voice.
Help learners see the connections between courses and job success by customizing the look and feel of your training platform through the whole process. Brand everything from initial login and registration to engaging with the content to external communication about programs and training needs. You add value and familiarity by making the interface your own.
2. Learner Personalization
One of the benefits of eLearning is that it can be tailored to specific roles. Besides customizing how a training program and your training platform will look, you can also create custom content based on specific needs. For example, if you're incorporating a new product, you can create one version of the product training focused on skills that will help salespeople talk about it with customers. You can also offer another version that will focus on product implementation for more technical roles.
Your LMS should be able to host all these versions but also help you get the right training to the right people. It should give you the tools to specify a learner's role in the organization and automatically curate their training experience and learning path. You should be able to manage what each employee sees and which training courses they get invited to. For example, a technical engineer should be able to easily find training around the implementation of new tech. A salesperson should see a menu populated with sales and customer-service-related content.
When you zero in to focus on the skills each role needs, it's much easier for your organization to stay current on upskilling. And when you provide everyone with the most useful information, you help them do their jobs more effectively. A personalized approach maximizes the change in behavior that helps your organization thrive amid industry changes.
3. User-Friendly Content Management
Your learning system should simplify the learning experience to make the admin and the use seamless. Signing in and navigating training shouldn't be a distraction or worse, a source of frustration that keeps people from learning.
A good LMS will have a user-friendly interface that makes it easy and intuitive for employees to log in, track progress, and know exactly what they need to do next. It will create a unified experience for all your employees regardless of location, department, or affiliate company. That means the look and feel of navigation are consistent across all courses and training initiatives they log into.
In a similar vein, a well-designed system will also make it easy for administrators to implement your training strategy. The interface should be just as straightforward for those who moderate the training as it is for those who go through it. Make sure they have clear direction as they log in and navigate adding new content or generate reports and manage data.
4. Mobile-Friendly Learning
Telecom employees—like many individuals these days—are likely used to accessing information and conducting business via smartphone and other smart devices. Training should be no different. Many LMS options provide mobile functionality that lets you design your training to be available on the go. There are a number of benefits that come with mobile-friendly learning. For example:
Mobile learning apps make training anytime, anywhere more convenient.
They're also built for quick, engaging, and interactive training.
Employees report that they're motivated to upskill because they enjoy learning new things. Having continual access in a convenient format helps keep your employees happy and learning.
Using your LMS to provide mobile training helps further ingrain learning as part of the employee experience.
5. Tracking And Reporting
Creating the right content is only part of the equation for successful training. You also need to have some way to measure whether the training is working. And the most effective way to measure success is to generate and analyze training metrics.
An effective learning management system will have the ability to track learning activity and produce automatic reports. You can use these reports to see things like:
Login information to see how often people are interacting with their training
Assessment scores that indicate how well they're learning the content
Milestones that tell you how quickly they're moving through the content
Completion rates that tell you whether they're finishing courses and assignments
Metrics like these give you a sense of how your training's going. Any gaps in the results you expected indicate places the training program needs to be improved or revised. You'll be able to respond to these needs much more quickly if you're regularly monitoring reports.
6. Automatic Notifications And Communication
Automated communication is a great way of ensuring your training strategy keeps moving forward. Using your LMS to send messages about content and expectations directly to employees' inboxes keeps everyone in the loop and on schedule.
For example, when you're working on a timeline to get everyone up to speed quickly, your system can proactively notify people when they're due to complete a course. Or, it can let them know when a new training course that might interest them is available. Your LMS can also keep people on track by sending out reminders about training to those who have a pause in their activity.
Communication is key in helping employees know what's expected of them. Automating it will help keep your training initiative on track—and make sure that nothing falls through the cracks.
7. Quick Integration And Implementation
New content often needs to be updated and distributed quickly to keep up with the changes in the industry. When customers are demanding new tech or global policies or processes change, you want to get people educated and need to act on the content right away.
Your LMS should support these efforts by making it easy to change existing content or drop new lessons into the platform. You want an interface that's easy to build in and that lets you go live with your changes quickly. Telecom companies need to be agile enough to respond to changes in the market and in the organization. Access to quick training integration and implementation help you do just that.
8. Gamification
It's been proven that a little friendly competition goes a long way toward making learning more engaging. Employees report a high willingness to spend more time interacting with software that's gamified.
Look for an LMS that offers gamification features so that your content appeals to people's competitive sides. You can incentivize learners by adding a leaderboard so they can compare progress, awarding badges or points as they complete challenges, and running contests. A bit of play adds interest and keeps learners engaged.
Conclusion
When your LMS has the right features, you can use them to deliver accessible training and engage learners. The next step toward a successful training strategy is creating the right content, which we cover in our ultimate guide.
Download the eBook The Role Of eLearning In The Telecom Industry to learn how to launch an L&D strategy that boosts performance and supports your telecommuting telecom teams!
References: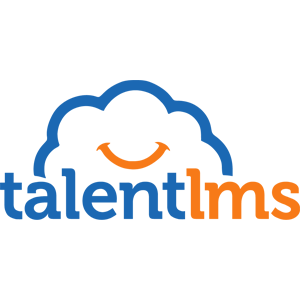 TalentLMS
Easy to learn, easy to use, and easy to like, TalentLMS is designed to get a "yes" from everyone, including C-level execs, budget heads, and busy employees. Now, instead of checking out, your whole organization leans into training.