A 6-Step Guide To Calculating Learning Management System ROI
An LMS is a useful tool that has gained popularity in recent years, and for good reason. eLearning has become the norm and it's slowly replacing traditional classroom setups thanks to its anytime, anywhere access and personalization options. For businesses and large organizations, this system is an efficient tool for offering online training courses to staff members on a global scale. Departmental orientation, health, and safety training, as well as skills training, are now being handled effortlessly through LMS platforms. Considering an LMS is a big investment for any company, calculating Learning Management System ROI is crucial. So, let's take a closer look at how to calculate LMS returns step by step.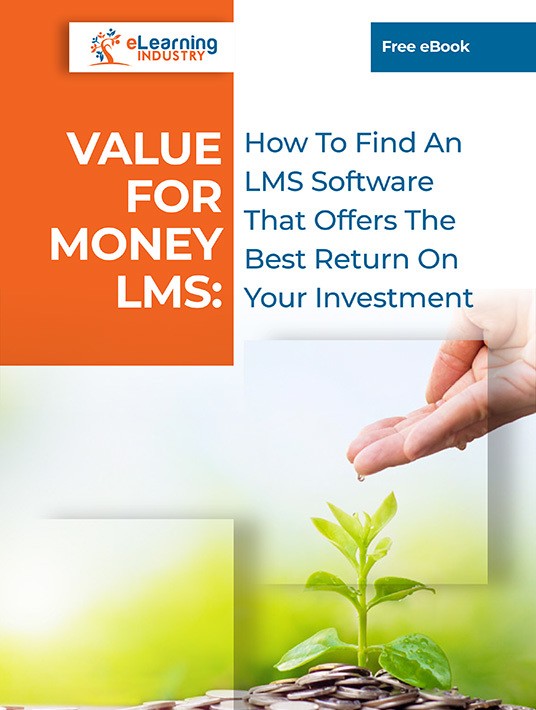 eBook Release
Value For Money LMS: How To Find A Platform That Offers The Best Return On Your Investment
Discover all you need to know about the importance of finding a value for money LMS platform that offers the best ROI.
1. Calculate Time-Savings Versus Traditional Training
Time is money. An LMS prioritizes employees' time and enables them to be more efficient as they learn. Employees can access online training modules at their own convenience. This saves the business the trouble of organizing training days and orientation weeks. By having an online training program instead of in-person sessions, you are effectively delivering training courses while saving time. Managing paperwork is also a time-consuming activity for any company. Online training courses allow efficient management of data to the extent of having a real-time eLearning assessment of employee skills. Moreover, online training results in faster, shorter compliance and proficiency periods. It's often more difficult to calculate this LMS benefit when calculating Learning Management System ROI. However, you can evaluate payroll hours for online training versus traditional training. Or estimate employee seat time for each online training course/activity, then compare it to on-site training sessions.
2. Review Previous L&D Expense Sheets
In any company, a reduction in expenses translates to increased revenues. An LMS cuts down on training expenses, such as printed training materials and site-rental fees. Moreover, the instructor may require transportation and accommodation, which eats into a company's budget. An online training module only requires a computer or a mobile device. The online instructor can give real-time training at his/her convenience. Finally, the training offered through an LMS allows employees to achieve and maintain compliance more efficiently. Since the system keeps records, a training audit eliminates chances of non-compliance penalties against the company. When calculating Learning Management System ROI, start by reviewing your previous L&D and compliance expense sheets to determine exactly how much your traditional training program costs. Then subtract all the aforementioned expenses, such as printing hundreds of manuals or booking a training venue. Choosing a value for money LMS can help reduce your costs even more.
3. Factor-In Employee Retention Rates
Employees with access to professional development opportunities are more likely to stay in a company. A high employee turnover results in increased costs for orientation and training. Moreover, a new employee is not as efficient as an employee who is familiar with the inner workings of a company. Through an LMS, businesses retain their top talent and can continue to cultivate their unique abilities, which gives your organization an advantage over its competitors. Moreover, a high-performance culture cultivates A-players who have positive effects on daily work-flow. An LMS can generate in-house certifications for internal positions. These are good incentives for employees to develop their skills. Specialized roles can also benefit from internal certifications that set employees up for the next steps in their careers.
4. Consider Compatibility And Data Integration Costs
Your new LMS may not mesh with your current third-party tools or support a compatible format. In which case, you will have to foot the bill for replacement software. There's also the matter of data integration time and resources to consider. For example, how long will it take your L&D team to migrate your existing resources and user data to the new system? Will they require any additional tools or staff members to tackle the task? It is wise to plan ahead and choose efficiently. If you opt for a value for money LMS you can save a lot of money in the long run.
5. Determine The LMS Learning Curve
In some cases, your L&D team may require extensive training to utilize the new LMS and its features. This is yet another cost to factor when calculating Learning Management System ROI. The same goes for your audience. Will they require online training tutorials or one-on-one training sessions to help them acclimate to the new platform? If so, how much time will it take, and how many resources should you allocate to the LMS orientation process?
6. Assess The Costs Of Running An LMS
Your choice of LMS also determines the returns you will get from your investment. There is a broad range of systems on the market and each has its pros and cons. LMS solutions that are cloud-based are cost-effective. They save on the expenses of having an in-house data storage system that requires expensive technical infrastructure. A cloud-based LMS has zero installation and maintenance costs. The system is so simple that extra training is not necessary. However, some cloud-based Learning Management Systems may have a higher total cost of ownership over time. An on-premises LMS gives the owner full control and is cost-effective in the long run, since you pay for licensing fees up-front. In either case, you must also factor in maintenance and online training content development/upkeep costs, which are often overlooked when developing an LMS implementation budget.
Implementing an LMS is a significant investment for any business. Thus, it must make economic sense. This system is put in place not just to deliver online training courses but also save on costs. Unfortunately, not all LMS investments offer good returns. To get an estimate of the value of your LMS you must consider the functionality and efficiency of your software. It should save time and money, cut logistical costs, and lower your employee turnover. It must also be affordable to maintain in the long run. Take a big-picture approach. When you assess its price and running costs in five years' time, it should have earned more than it spent.
Our downloadable eBook Value For Money Learning Management Systems can help you find an LMS that offers the best value for money. It features tips to conduct a training needs analysis beforehand, as well as insider secrets to determine if your current system is worth the investment.