LMS Perceived Usefulness: How The Right System Can Improve Work Performance And L&D ROI
LMS perceived usefulness pertains to the impact the system has on a team member's job performance or productivity. For example, how much your admins will benefit from the tool's reporting features, given that it will help them track employee progress more efficiently. It is also one of the pillars of the Technology Acceptance Model (TAM), which was introduced by Davis, Bagozzi, & Warshaw in 1989. According to TAM, LMS perceived usefulness encompasses both the attitude or pre-existing beliefs toward the software, as well as its intended use. Ease of use also plays into the perceptions that users have regarding the Learning Management System. Thus, it's a crucial factor to consider when selecting a new LMS for your online training program. Here are 7 ways that the ideal LMS can improve work performance and your L&D ROI.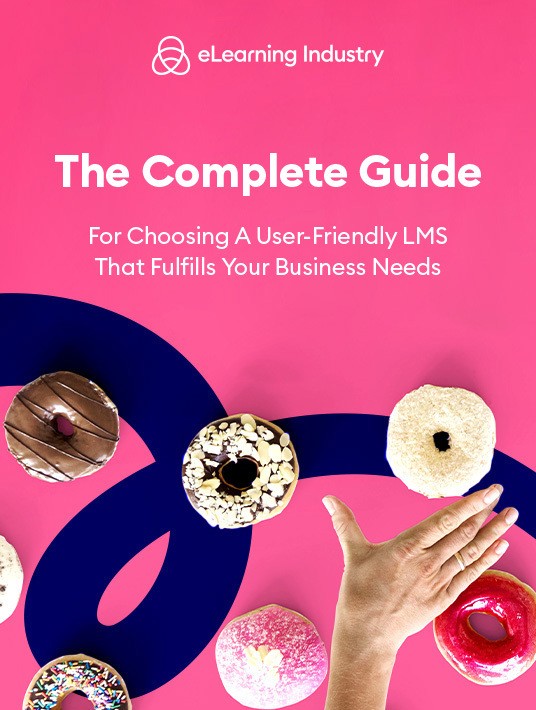 eBook Release
The Complete Guide For Choosing A User-Friendly LMS That Fulfills Your Business Needs
Discover the importance of the Net Promoter Score, how to use LMS user reviews & ratings to find the ideal LMS, the importance of LMS Perceived usefulness and its impact on work performance and L&D ROI.
1. Employees Can Access Training Support Resources On Any Device
Your employees should be able to get the online training materials they need whenever they need them. The right LMS gives them access to vital resources on any device or browser, thanks to responsive design features. Thus, they are able to improve work performance and focus on skill gaps whenever it's most convenient. This also offers a better return on your investment, given that employees are more productive on the job and spend less time in formal training. This is particularly important for "moment of need" support resources that employees must be able to access on the job.
2. Streamlines The Design And Development Process By Enhancing Usability
A crucial component of LMS perceived usefulness is how it will impact your L&D team's workflow. A user-friendly LMS will improve work performance and allow your L&D team to develop and deploy online training courses more effectively. As a result, they can offer your employees continual support and create new online training resources that meet their evolving needs, rather than being forced to work with an LMS that requires a significant learning curve, or provides an inconsistent User Experience every time they log in to the platform.
3. Admins Can Monitor Employee Performance And Skill Gaps With Ease
Reporting and analytics are a standout feature of Learning Management Systems, which gives admins the ability to track individual performance and the overall effectiveness of the online training program. The right system can help your HR managers and supervisors pinpoint areas for improvement, such as skill and knowledge gaps, then offer supplemental training tools to those who require further additional support. They can continually monitor performance through reports and data visualizations to verify employee's progress.
4. Improves Employee Participation By Removing Navigation Roadblocks
A high percentage of employees already dread online training because they perceive it to be tedious and time consuming. Not to mention, irrelevant to their personal goals and objectives. However, the ideal system can help boost participation by removing navigation roadblocks and personalizing the L&D process. They don't have to worry about confusing controls or IT bugs preventing them from getting the information they require. Instead, they can just focus on improving their skills and building their knowledge.
5. Support Services Help Users Maximize The Features And Functions
An LMS that's worth the investment provides you with the ideal level of support so that you get the most from the platform. For example, the vendor offers phone support with experienced techs, or a forum where you can access online training tutorials and get tips from other users. Support services allow you to maximize the usability of the features and functions. Thereby, improving your ROI and enabling your team to use the tool for their respective job responsibilities. This enhances the felicity derived from the platform, thanks to the fact that users can discover new and improved applications for the software. For example, how to improve the role assignment functionality of the tool to create personalized training paths.
6. Reduces Employee Turnover Rates
This benefit applies to both your front and back-end users. Admins and developers are more satisfied with the LMS because it helps rather than hinders their work process. They can simply log into the platform and take care of tasks without having to overcome accessibility issues or complicated dashboards that make it difficult for them to locate vital reports or training modules. Employees who participate in online training can quickly get the resources they need to be more confident in the workplace and improve work performance. This translates into higher employee retention rates, which means a decrease in new hire onboarding costs. You get to retain your top talent and keep cultivating their skills, instead of investing time and resources into finding replacements.
7. Allows Organizations To Gather Actionable Feedback With Intuitive LMS Reporting
The perfect LMS for your organization gives your HR managers and admins the metrics they need to gather actionable insights. There are data visualizations to help them spot patterns and determine if there is an issue with the strategy or individual performance. They can also customize LMS reports and delivery methods to ensure that they have access to relevant analytics in a timely manner. In some cases, they might even be able to pin certain metrics to their dashboards in order to keep a close watch on gaps and training goals.
Keep in mind that LMS perceived usefulness and real-world use are two entirely different things. You might perceive the tool to be intuitive and performance-boosting. However, you must test drive the platform to see if it achieves the desired results and delivers a good User Experience.
Does your current LMS pass the test, or is it time to look for a new system that can deliver a better User Experience? Download our free eBook The Complete Guide For Choosing A User-Friendly LMS That Fulfills Your Business Needs to learn everything you need to know to find a well designed and usable LMS that fulfills your business needs. It also features tips to user ratings and reviews to find the ideal system, in addition to insider secrets to invest in an LMS that offers the best LMS User Experience.
References
Davis, F. D., Bagozzi, R. P., and Warshaw, P. R. 1989. "User acceptance of computer technology: A comparison of two theoretical models." Management Science, 35(8), 982-1003.