How To Use An LMS Online Directory To Choose A User-Friendly LMS For Your Organization
Whether you're looking for a replacement platform or finally making the switch from traditional training, finding the right LMS can be stressful. You know what your organization is looking for and how much you're willing to spend. But where do you even begin the search for a well-designed and usable system that meets all your requirements? Here are 8 tips to use an LMS online directory to select a user-friendly LMS that has all the features you need.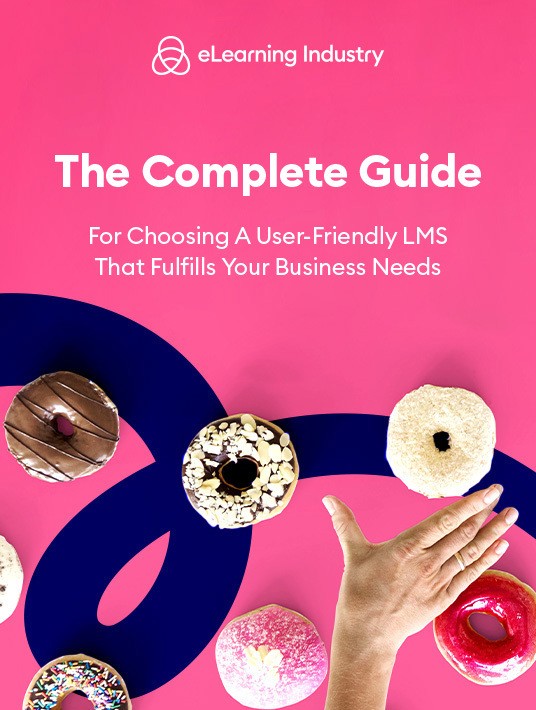 eBook Release
The Complete Guide For Choosing A User-Friendly LMS That Fulfills Your Business Needs
Discover the importance of the Net Promoter Score, how to use LMS user reviews & ratings to find the ideal LMS, the importance of LMS Perceived usefulness and its impact on work performance and L&D ROI.
1. Filter The Search Results By Use Case
The quality of User Experience your new LMS offers greatly depends on the intended use. Why do you need the tool in the first place to achieve the desired outcomes? eLearning Industry's directory allows you to filter your search by use case, including academic learning, employee training, extended enterprise, and customer training. As such, you're able to narrow the results with a click to find a tool that aligns with your team's talents and expertise. For example, a Learning Management System that offers all the features and functionality your staff needs to deploy effective "channel training" resources.
2. Identify Essential Features Your Team Needs To Achieve Their Objectives
Take the search filtering a step further by selecting specific features that your developers, admins, and online learners require. For best results, gather feedback from your team beforehand to clarify their objectives. This allows you to narrow the directory listings based on relevant LMS selling points, ranging from gamification and report scheduling to certification expiration and self-registration. Another perk of this search filter is improved resource allocation. You can find a user-friendly LMS that only offers the features you need to achieve your business objectives instead of going over budget. Especially since each listing includes a detailed breakdown of all features and functions the tool has to offer.
3. Analyze User Reviews And Ratings
Users who are already familiar with the tool can offer valuable insights into the strengths and weaknesses of the system. Namely, whether it's usable and offers a positive LMS User Experience. The reviews also feature a user profile, which allows you to determine whether the respondent's needs are similar to your own. This includes their industry, company size, and primary focus. For example, a user who has the same level of LMS experience and intended use can offer greater insight, as opposed to a reviewer with a completely different use case.
4. Weigh Each Scoring Component Individually
eLearning Industry's directory features a built-in scoring system. This score is based on a variety of crucial factors, including system usability, perceived usefulness, and the Net Promoter Score (NPS). All these elements are factored into the total score, which is based on a weighted algorithm. The ratings/reviews also feature customer experience and "likelihood to recommend" scores. Take a closer look at each individual component to see how the system stacks up against your business needs.
5. Evaluate The UX Pros And Cons Of Each Platform
Wouldn't it be great if you could quickly evaluate the strong and weak suits of the system? Our LMS online directory gives reviewers the opportunity to share what they liked best and disliked most about the tool. Thus, you can conveniently view the pros and cons of each platform. Look for reviews that mention elements of the LMS UX, such as ease of use or accessibility. Then determine if the benefits are worth the investment or the drawbacks are a deal-breaker. For example, a user mentions that the Learning Management System is difficult to navigate for inexperienced users or the UI involves a steep learning curve. Thus, you may need to re-evaluate whether the tool is a good match for your team based on their skills and expertise.
6. Narrow Down The Choices By Spec Support To Avoid Compatibility Obstacles
You don't want to invest in a new LMS only to discover that it doesn't mesh with your existing software. One of the perks of using an LMS online directory is that you get to size-up the specs before making your final decision. This ranges from support specs and platforms to deployment type. You can even quickly evaluate their support services to determine if the vendor offers the assistance you need to maximize functionality. For example, whether they provide an online FAQ and user community.
7. Compare The Top Tools' Usability And UX
Our LMS online directory offers an added perk, which is the ability to compare your top contenders'  features at a glance. You can compare up to 3 tools at once to see how they fared in 5 crucial areas: user satisfaction, performance review, pricing, overview, and features. You can also get a free quote from each vendor and visit their sites to learn more about their product.
8. Peruse The List Of The Top 20 LMS Solutions That Deliver The Best UX
eLearning Industry's online directory also features a top 20 list to help you choose the ideal system for your organization's needs. You'll find the 20 most intuitive, user-friendly LMS platforms on the market today. The rankings are based on key components of the overall LMS User Experience, including the system usability scale, perceived usefulness, and the Net Promoter Score.
A free LMS online directory can help you save time when looking for a user-friendly LMS by quickly compiling a list of top candidates. The key is using all the filters, rating/reviews, and comparison checklists to your advantage. You can also use the directory to research an LMS platform you're already considering to determine if it's worth a test drive.
Does your current LMS pass the test, or is it time to look for a new system that can deliver a better User Experience? Download our free eBook The Complete Guide For Choosing A User-Friendly LMS That Fulfills Your Business Needs for tips on how to choose a usable LMS that fulfills your business goals. It also features insider secrets to find an LMS that delivers the best LMS user experience, as well as key UX terms that every eLearning professional should know before buying their next LMS.