How To Avoid The Pitfalls Of eLearning Content Development Outsourcing
While some organizations avoid outsourcing because of myths and misconceptions, others have justified concerns. Will they hand over the corporate eLearning project only to realize that the eLearning content provider is unqualified or sneaks in hidden fees? Is their team going to mesh with yours? What happens if the communication starts to break down? The struggle is real. You've chosen to hire an eLearning content development company to make things easier. But these challenges only complicate the process. Thankfully, there are ways to surpass the obstacles and form a professional partnership with your new eLearning vendor.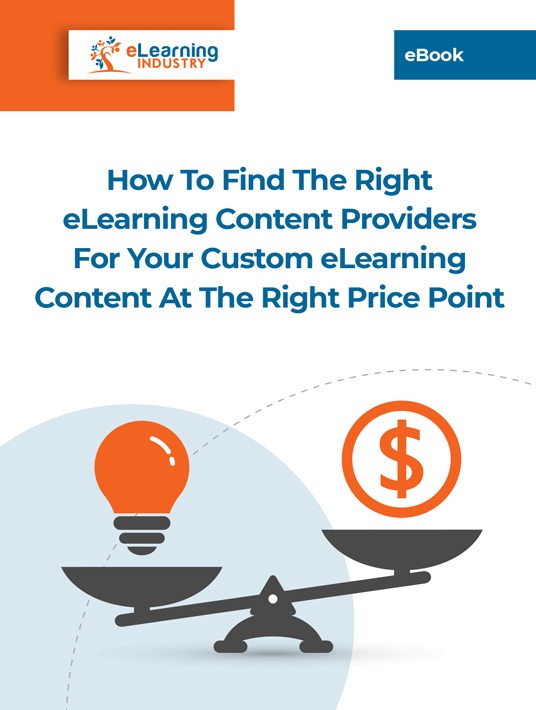 eBook Release
How To Find The Right eLearning Providers For Your Custom eLearning Content At The Right Price Point
Discover all you need to know about custom eLearning content.
1. Lack Of Creative Control
You're putting it all in their hands. As capable as those hands might be, the lack of control still puts you on edge. You aren't the one creating the online training content or making important decisions. This takes the stress off your team but also runs the risk of regret. Will you regret putting this company in charge of the creative aspects of your corporate eLearning project? The best way to avoid this challenge is to set boundaries. Make it known that you still want to provide eLearning feedback and give them a list of must-haves beforehand. Better yet, develop a style guide and/or an online training storyboard so that they know what you expect. It may require more work on your end but you get to retain more control of the aesthetics, themes, etc.
2. Going Over Budget
Every corporate eLearning project has the potential to go over budget. However, you can tighten those purse strings at any time when you develop eLearning content in-house. You also have direct oversight regarding the expense sheet. When you hire eLearning content development companies, you may run into hidden fees or unexpected charges. For example, it takes them longer to complete the corporate eLearning project or they require additional resources. This is why it's crucial to clarify your budget and get everything in writing. Set milestones and verify what's included in the package.
3. Professional Conflicts
Personalities can create conflicts in their own right. Even if everyone is on the same page and understands the corporate eLearning project requirements. For this reason, you must ensure that the eLearning vendor's staff and yours can collaborate and communicate. They might not share the same interests, but they must be able to work together to achieve shared goals. Host a pre-project meeting so that everyone can introduce themselves and clarify their expectations and roles.
4. Revisions And Updates
Does the eLearning vendor welcome your input? Or do they maintain a closed-door policy when it comes to company involvement? In this case, you just have to wait and see what they produce when all is said and done. This is a challenge that makes many organizations swear off outsourcing. eLearning companies should provide you with periodic updates and invite your eLearning feedback. Make certain this is all outlined in your agreement. Otherwise, you may have to wait until the very end to suggest improvements, which results in launch delays.
5. The Online Training Content Doesn't Reflect Your Brand Image
They touch on all the key points regarding the subject matter. But the online training content doesn't align with your image. As such, it might feel disjointed and out of place when you add it to your online training library or existing online training course. The most effective way to prevent this problem is to host a brand orientation meeting with the eLearning vendor. Share what your brand is all about and give the custom eLearning content provider some online training material to work with. For instance, encourage them to visit your site, show samples of past online training resources, and provide marketing material. Even a peek of your landing page can help them form a complete picture of your brand image and messaging.
6. The eLearning Vendor Doesn't Specialize In Your Industry
The eLearning vendor you've chosen is in your price bracket and knows the topic inside-out. The only problem is that they don't specialize in your industry. Thus, they understand the topic but not how it pertains to your niche. For example, the unique compliance challenges your employees may face when performing the task. Ensure that the eLearning vendor has worked in your industry before or is willing to deal with the learning curve. They must be able to familiarize themselves with your industry's guidelines and potential online training hurdles. To avoid this pitfall entirely, use an online directory to search for eLearning vendors with a proven track record.
7. Contractual Confusion
You signed the contract before they began working on your custom eLearning content. Halfway through the corporate eLearning project, you run into a problem. Maybe they aren't actively communicating with your team. Or there's an issue with the turnaround time. Firstly, ensure the contract maps out every aspect of the eLearning content development process, including price, time frames, and both parties' obligations. Then discuss the main points with the eLearning vendor so that everyone knows their responsibilities and roles. Now is the time to clarify ambiguities and adjust the wording to prevent future conflicts. If you're working with the same eLearning vendor on multiple corporate eLearning projects, re-evaluate the contract every time to make sure both sides still agree on the terms. Especially if there's a significant time gap between the tasks.
Hiring an eLearning content development company doesn't have to be stressful, resource-draining or conflict-ridden. The secret is to develop selection criteria and meet with the eLearning vendor to clarify the terms of the contract. Often, challenges arise from simple misunderstandings or lack of ongoing communication. You assume that things will go one way and the eLearning vendor has another idea in mind. This is bound to happen when two businesses enter into a partnership and bring their unique ideologies and work habits into the mix.
Custom eLearning content development can be fraught with obstacles if you don't get everything written and clarify your concerns. Download the eBook How To Find The Right eLearning Providers For Your Custom eLearning Content At The Right Price Point to discover all you need to know about custom eLearning content.