Choosing The Right eLearning Methods
Lately, we have been using the Instructional Design model called ADDIE Model which has five phases: Analysis, Design, Develop, Implementation, and Evaluation. My favorite is Analysis Phase which plays a very important role in training delivery and performing all kind of analyses like need, task, topic and training evaluation.
Learning Content Types
There are many Content Types focused on eLearning. Those are totally based on the need analysis and the type of learners. Let us start, with the type of contents we are creating while we think of eLearning as an option. Here are the most common Learning Content Types:
Learner-centred content.
eLearning curriculum should be relevant and specific to learner's needs, roles and responsibilities in professional life. This kind of content like skills, knowledge and all kind of learning media provided to keep the focus on learner's end.
Engaging content.
Instructional methods and techniques should be used creatively to develop an engaging and motivating learning experience. It depends upon developing the storyboard that has to be based on a very engaging way of learning programs.
Interactive content.
Frequent learner interaction is needed to sustain attention and promote learning. Scenario based learning is a good example for this kind of learning media.
Personalization.
Self-paced courses should be customizable to reflect learner's interests and needs; in instructor‑led courses, tutors and facilitators should be able to follow the learners' progress and performance individually.
The Learning Pyramid
Designing Learning Contents also depends upon the type of eLearning methods which we choose on the analysis phase. Now let us know the details about the learning pyramid with following diagram: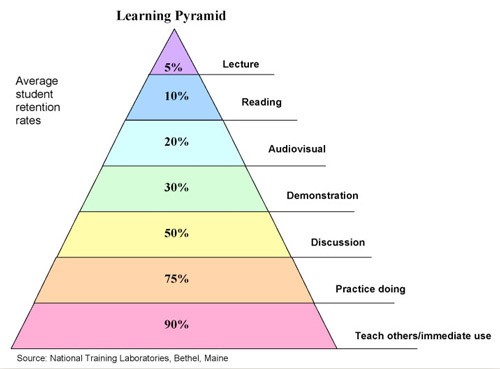 The Learning Pyramid, researched and created by the National Training Laboratories in Betel, Maine. It illustrates the percentage of learner recall that is associated with various approaches. The first four levels lecture, reading, audiovisual and demonstration are the passive learning methods. In contrast, the bottom three levels discussion group, practice by doing and teach others are participatory (active) learning methods.
The Learning Pyramid really helps me to identify the right methods when choosing eLearning methods. I insist you to refer to this pyramid on your analysis phase while you are choosing the right eLearning methods.
Many types of eLearning can be created with advanced development tools, which are suited to the needs of the modern workplace learners. There are various types of eLearning solutions that can be employed to train the learners. Choose the type that best suits the needs of the learner, keeping in mind the available technologies that would help them access eLearning methods. Most of the eLearning methods are Synchronous and Asynchronous in nature, It depends upon the learner's need and the learning objectives you choose.
Synchronous and Asynchronous Learning
Synchronous Learning.
Synchronous events take place in real time. Synchronous communication between two people requires them to both be present at a given time. Examples of Synchronous Learning are chat and IM, video and audio conference, live webcasting, application sharing, whiteboard, polling, and virtual classrooms. This I will not cover in detail as these are basic methods that most of the organizations are already familiar with.
Asynchronous Learning.
Asynchronous events are time-independent. A self-paced course is an example of Asynchronous Learning because online learning takes place at any time. E-mail or discussion forums are examples of asynchronous communication tools. In such cases, students ideally complete the course at their own pace, by using a Learning Platform like an LMS. Examples of Asynchronous Learning are Self-paced (SCORM), Audio/Video, E-mail, Discussion forum, Wiki/Blog, Webcasting/Conferencing, CBT and WBT, Simulations, Game-based learning.
Most of the Instructional Designers now choose the Learning Methods from the Asynchronous mode of learning. Here, I present you the following areas where you can choose eLearning methods based on your requirement and Learning Pyramid Analysis.
Self-study.
Nowadays this is the most common method which uses wiki, blog and any reading material like ppt, pdf files to offer the initial knowledge to the employees. This also allows Subject Matter experts to the group of learners on the classroom training to resolve their queries and doubts.
Video/audio tape: This is the second most common method to create demo video to train the learners. It also helps to create one way of learning assets which help the learner know about the basics by watching.
CBTs and WBTs.
In this type of learning, E-Courses are made available to the learners in the form of a CD or a Computer-based training (CBT), which can be run on the learner's system. E- courses can also be made available through Web-based training (WBT), which utilize the internet as a platform like  a Learning Management System. The courses are self-paced, and the learner has no interaction with an instructor or fellow learners. This works very well for adult learners who are more motivated to learn, in order to learn new skills, update their resumes and attain professional excellence.
Blended eLearning /Instructor-led (ILT).
This combines both the Synchronous and the Asynchronous ways of learning. Some training, like soft-skills or sales training, have to have a face-to-face component in order to be truly impactful. A blended approach works best here -where the classroom is utilized to conduct exercises and interactions. These exercises cannot be conducted in eLearning delivery as peer interaction is limited. Short e-courses can be created to help learners prepare a background for the lesson before they come to class.
Mobile Learning.
The easy availability and affordability of mobile devices has created the space for mobile-enabled learning or mobile learning. Simply converting e-courses to mobile compatible modules is not enough. The capabilities of the mobile device, including disk space, internet connectivity, and the screen size has to be taken into consideration. Authoring tools like captivate 8 provide responsive designs for the e-course. This is a huge benefit, as it cuts down the costs of production as well as the time taken to develop e-courses for mobile delivery.
Social Learning.
The impact of social media is very strong and it can be utilized for corporate learning as well. More and more organizations are realizing the true power of social learning and encouraging their employees to interact more within themselves and other like-minded people. Employees collaborate and network on social platforms to discuss problems, queries, and experiences. Social collaboration platforms are also built within the LMS so that the learners do not have to discuss on public platforms and the learning which emerges from mutual collaboration resides and grows within the LMS.
Simulation.
Simulation eLearning is highly interactive and relies heavily upon graphics, video, audio. Importantly, there are often custom simulations videos or games, which could very well include 3D components. New software training is an example of a course that often includes a high degree of interactivity and simulations.
Game-based learning.
Games are considered to be fun by all, but they can be a powerful medium of experiential learning as well. Nowadays many organizations focus on the term Gamification which helps them to increase employee productivity and knowledge by motivating them to learn with game-based courses. Such courses focus on creating engagement and motivation for the learners to learn the things while they play.
Choosing the right eLearning Methods, totally depends upon the proper need analysis of the organization and upon the nature of the audiences and their collaboration methods. Knowing all of the benefits of choosing the right eLearning methods for your needs, you may want to think about implementing it when designing your next eLearning course. It can not only make the development process more streamlined and productive, but it will also provide a better eLearning experience for your audience.