A Corporate Compliance Training Program Is Focused On These 4 Essential Elements
Reputation and trust are extremely important for organisations to obtain and keep, which is why corporate compliance training is so valuable.
With clients, customers, employees, and stakeholders expecting greater transparency and ethical conduct, organisations must have a compliance training program in place in order to reduce risk, keep everyone up-to-date, maintain trust, and minimise the chance of violating the law.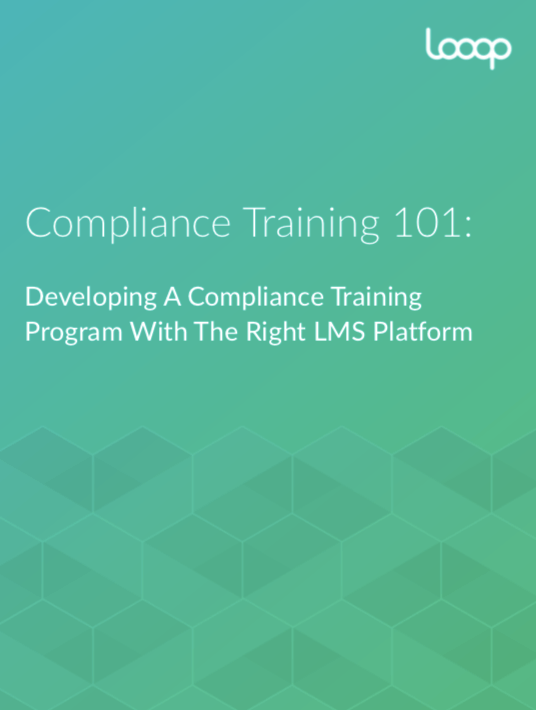 eBook Release
Compliance Training 101: Developing A Compliance Training Program With The Right LMS Platform
Discover the value of Compliance training, what your Compliance program should include, and how a NextGen LMS can support your organisation
Compliance training programs are often seen as extremely challenging to implement and deliver. However, when done correctly, the benefits are huge for an organisation. Set your compliance training on the right track by focussing on these 4 essential elements:
1. Correct Leadership
Having a well-informed leadership team is essential before implementing your training.
They need to have knowledge of the organisation's goals and culture, as well as the relevant laws to best support the business to manage risk, maintain a positive reputation, and avoid penalties or lawsuits. Without this, the company is left vulnerable and likely to miss regulation changes or vital information that could prove to be devastating further down the line.
As well as a knowledgeable compliance team, businesses should also look to their L&D teams for support. Like any other training, delivery and awareness are important when it comes to implementing your corporate compliance training. L&D teams should look for ways to make delivery simple but effective. Since regulations change often, you don't want unnecessary time delays like having a difficult-to-navigate LMS or having to spend hours training employees how to use the system.
2. Implement The Correct Information
Offering up-to-date and relevant information is important to avoid any serious issues further down the line.
The key objectives of compliance training are to:
Ensure that staff are aware of their compliance responsibilities
Reduce risk
Remove legal liability from the organisation in the event of malpractice
Protect the organisation's reputation
Encourage a better workplace culture
Your corporate compliance training should cover your internal regulations as well as external laws. You should also conduct a risk assessment to identify areas of high risk so you can prioritise resources to tackle these first and ensure appropriate and sensible control measures are put in place.
Once you've accessed the high-risk areas, you can focus on the other compliance topics you must address. These could include:
Anti-harassment and discrimination
Customer service standards
Workplace violence
Workplace safety
Diversity
Conflicts of interest
Fair disclosure
Bribery
Reporting violations
It's also important to go over Health & Safety training to minimise any risks and ensure your staff are safe and informed.
Points covered here could include:
Employer contact information
Employer and employee rights and responsibilities
Sickness policies
Evacuation processes
First aid and reporting accidents
Workplace hazards
Keep your training materials engaging and personal to your employees. Focus on keeping the materials job-specific and relevant, and stress the importance of how serious your company takes their safety.
3. Make It Accessible
Employees are busy and taking them away from their working environment to do their corporate compliance training limits how often you can provide training and the positive impact it will have.
By making your content available online, you're able to provide 24/7 training, so your staff can keep up-to-date regardless of their location.
You also reduce the risk of regulation changes being missed as online training programs allow you to update content in real-time. As your practices and policies change, so can your resources. No more waiting around for updated handbooks or keeping employees out of the loop. You want everyone to be on the same page, especially with compliance. Remember, consistency is key.
4. Analyse And Improve
Monitor performance to ensure staff are where they need to be. Analytics that will prove most useful include:
Engagement rates
Best performing resources
Resources that need improving
Assessment results
Time logs
Employees that are performing well or under-performing
Which devices are used to access the platform
Satisfaction feedback
These are just a few of the points you should look at to determine the quality of your corporate compliance training materials. As well as easily pinpointing areas of concern, or where there may be a greater risk, analytics also gives both L&D and compliance teams the chance to improve existing training materials to provide more impact and value.
Creating an effective corporate compliance training program that addresses all of your organisation's requirements and is easily accessible will prove to be of huge value to the business. Your role should be to educate your employees to ensure they have all the information they need. By considering the points above, you're on the right track to ensuring the business is approaching training in an ethical and compliant way.