How To Launch A Cost-Effective Mobile Learning App For Online Training
Your employees expect online training resources that are accessible whenever, wherever. And rightfully so. After all, this is the digital era, where organizations should place a high priority on training accessibility. An LMS app gives you the power to deploy support tools on any mobile device, even when employees aren't able to get an internet connection. But how do you launch a mobile learning app without diverting funds from other essential business operations?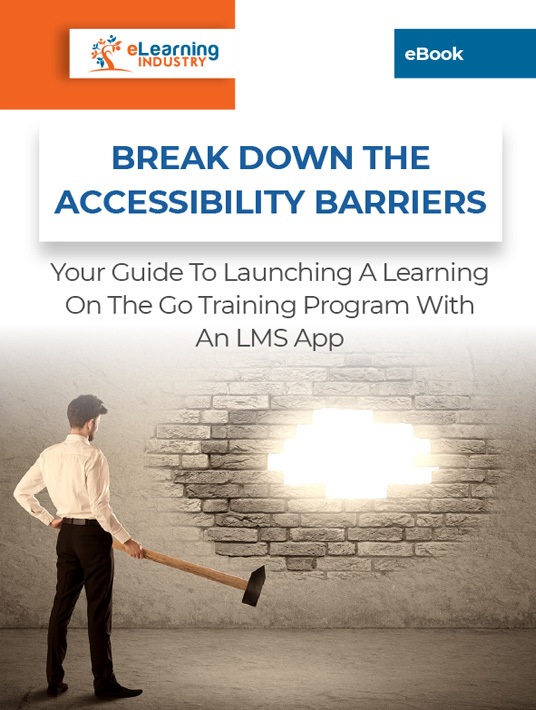 eBook Release
Break Down The Accessibility Barriers
Find out what LMS features and tools are crucial to the success of your mobile-friendly training, and more.
1. Identify Gaps In Your Current Online Training Strategy
Your mobile LMS app implementation plan should be prioritized. The goal is to quickly bridge the gaps left by your previous online training plan to improve ROI. You don't necessarily need to move your entire online training library to the app… yet. Conduct a Training Needs Analysis to see what needs have to be improved and how you can use the LMS app to address the issues. For example, your remote sales team needs on-the-spot product knowledge resources to improve the profit margin. Or your customer service employees must be able to access anytime, anywhere skill-building tools to boost satisfaction scores. Concentrate on the most pressing pain points to cut costs and launch your mobile learning app sooner rather than later, not to mention, cut implementation costs significantly.
2. Invest In Responsive eLearning Authoring Tools
Responsive eLearning authoring tools offer a multitude of mobile learning benefits. The first is that you can create a master version of the content that's accessible on any device. This means that your resource-strapped L&D team doesn't have to devote even more time and money to develop different versions. The second is that rapid and responsive eLearning authoring tools feature built-in assets, such as eLearning templates you can use to create mobile-ready serious games and simulations that improve engagement—even if your team doesn't have graphic design or coding experience. The authoring software makes it easier for them to develop on-the-go content on a tight budget.
3. Utilize Social Media
If your LMS is integrated with existing social platforms, you can spread the word there, too. It may be the tool you use to populate your digital brand assets. So it should be easy to create content related to the mobile learning app. You can start teasing your launch, getting the buzz going. Ask employees to share your brand posts. You can even design posts they can distribute in their various circles and groups. Another tip is to select curated fans as a beta test group. They'll explore the app before the general public and can be asked to review it. Use their eLearning feedback to tweak your app before the official launch.
4. Make It Competitive
LMS already has access to your entire staff plus any external partners. It might even have certain clients in its database. The average LMS has broadcasting tools. They're used to send memos, emails, and notifications to your staff. Send a message to everyone, informing them of the existence of your mobile learning app. Ask them to spread the word, and reward them for volumes. The staffer/partner who triggers the most downloads and/or purchases wins a prize. Because it's a tech-based system, every message that goes out will have its own unique code embed. This makes it easy to track which downloads originated from which partner or staffer.
5. Encourage Employee Participation
Many mobile LMS app solutions have built-in collaboration tools. For example, employees can upload product demos or task tutorials on their phone, then upload it to the online training library. This facilitates knowledge sharing and cuts costs, given that you don't have to develop these resources in house. Not to mention, employees are more likely to participate since there's a stronger sense of community. They know that they can contribute to the cause and help their co-workers continually build skills. Set some guidelines and appoint a moderator who reviews all the uploaded content. You don't want to get in hot water because an employee decides to share an inappropriate video on a whim.
Bonus Tip: Sell Your Mobile Learning App To Offset Costs
Another great way to stretch your mobile learning budget is to sell winning apps to offset the costs involved. But how do you spread the word and promote your new product online without breaking the bank? Getting an Oscar, Grammy, or Emmy is a pretty big deal. But if you've watched any trailers, you know celebrities can get mileage from nominations, too. Enter your app in as many relevant contests as possible. If you win or get shortlisted, it's a good marketing tool. But even the fact you're being adjudicated puts you in front of potential purchasers. You'll be reviewed on the competition website and possibly featured in their promotional materials. Some contests require an entry fee, but it's still cheaper than a paid marketing campaign, so go for it!
It's hard to tabulate the expense of building an app. The process can take months, sometimes years. You might look at the salaries of your development team, calculate their hourly wage, and use that figure. But it's not a number you can easily work with, because no single buyer would pay that much for an app. Still, while production costs are abstract, marketing costs aren't. The key is to get your employees actively involved in every step of the way. Encourage them to ''virally'' share on social media and upload their own content. You should also invest in responsive tools to create content that is accessible on any device. With these tips, you can launch an LMS app, even if you're strapped for cash.
Are you looking for an on-the-go LMS that provides anytime-anywhere support to your entire team? Download the eBook Break Down The Accessibility Barriers: Your Guide To Launching A Learning On-The-Go Training Program With An LMS App to discover secrets to use microlearning and mobile learning apps to improve knowledge retention on-the-go.