Personalizing Leadership Development Training Programs
Disruption to the working environment and the rapid pace of change in businesses have put training programs under pressure. This is especially true of leadership training as leaders are being asked to take on more responsibility and are expected to develop a wider range of skills. Take, for example, the challenge of managing teams that are geographically dispersed and working from home. Or how do you respond to employee diversity? How do you make sure your teams have the skills they require to meet change? How do you lead innovation? And how, as a leader, do you make sure you upskill to meet these challenges?
There's no single leadership course, no matter who's the instructor from whatever management institute, that will encompass all the leadership training topics modern leaders need to develop the necessary skills.  The one-size-fits-all approach no longer works, if it ever did. Today you need a comprehensive leadership training catalogue that covers a range of business and soft skills and that is flexible and capable of continuous expansion and adaptation to meet new challenges.
Leadership training needs to be customized and personalized to suit the needs of individuals who are at varying stages of their development and expertise. Personalization makes training more relevant and engaging.  It encourages learners to identify and take charge of their own learning needs. Personalization fosters an active desire and will to learn. These are the characteristics of a proactive leader. With personalization, leadership training moves from an instructor-led to a learner-centric model.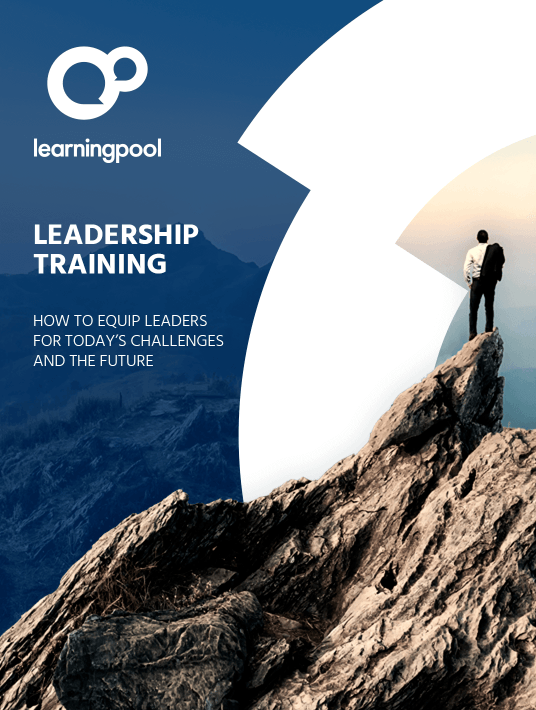 eBook Release
Leadership Training: How To Equip Leaders For Today's Challenges And The Future
Explore leadership competencies and reskilling and tips on leadership training strategies and activities!
Benefiting From Digital Learning
Modern leadership training needs to be diverse, flexible, agile, updatable, and accessible. That's a tall order and one that traditional training courses struggle to meet. So now instead, organizations are increasingly looking to e-learning to meet their leadership development needs.
E-learning is easy to update. It's accessible not only at the desk but also on mobile devices. It offers constantly available support and provides the bedrock for establishing a learning culture. It can be broken down into chunks of vital learning – microlearning –- that can be consumed at one go and just in time. It can be used to practice skills and is a quick, effective way of enabling reskilling and upskilling to close skills gaps. E-learning with its range of assets, courses, and resources, is designed for a new way of learning and working and provides a sustainable alternative to traditional training.
Upgrading Your Leadership Training With An LMS
A Learning Management System (LMS) offers seamless ease of access to leadership e-learning in a wide variety of formats – from full, immersive courses to just-in-time microlearning nuggets – across platforms and devices. The LMS connects people as well as information, making learning more engaging and productive.
But LMSs are more than just an efficient technical solution to leadership training. Standing at the center of a learning network, LMSs deliver social learning by allowing user-generated content where peers share their expertise or post constructive comments to improve the learning experience. Forums, discussion boards, and communities promote collaboration and teamwork using the LMS's communications dashboard.
The LMS supports individual learning at the pace and the level a learner requires. Personalized learning pathways map out an individual's learning journey. Managers can check the progress of individual employees and monitor trends.  A series of badges, awards, and certificates reward achievement and motivate learners. The LMS can be used for CPD recognition programs. It provides the data for reporting on development and potential and for performance reviews. The LMS can extend the scope of training by delivering learning in the workflow.
6 Trending Leadership Development Topics
Let's look a little closer at today's most relevant leadership development topics and see how they form part of a culture of learning.
Making Leadership Training Available For All
The complexity and diversity of modern business mean that leadership development training cannot be confined to the very few at the top of an organization. Extending the scope, breadth, and audience for leadership training allows you to identify and nurture potential and establish a leadership pipeline. Opening up leadership training to employees at different levels helps support career development and promotes initiative-taking and individual responsibility. This in turn leads to better participation and engagement and greater motivation.
Collaborating And Teambuilding
Modern leadership needs to be inclusive.  Leaders learn to listen actively rather than just direct. Problem-solving and decision-making are more effective if they can be achieved through consensus. Modern business requires a range of skillsets that can only be deployed through a collaborative effort. The success of a project lies with the effectiveness of the team and not solely the efforts of a few individuals. The challenge for the leader is to build that team and get it to work together.
Leading Remote Teams
The pandemic has only increased the trend towards more remote and distant working. Managing a team at a distance, across locations and time zones, presents a particular challenge for leaders. Technology, like the use of LMSs, can help reduce the gap, but ultimately it requires leadership skills to 'read' the mood and needs of remote teams and maintain levels of productivity and efficiency. Leaders need to think creatively, using ICT and a range of soft skills, to develop a connection between team members who aren't able to gather together in person.
Reskilling And Upskilling
As technology advances and organizations diversify a serious skills gap is emerging. Without critical skills, organizations can fall behind. So, a major leadership challenge is to reskill or upskill existing employees. And that applies to leaders too who need to be ready for change. The benefits of reskilling and developing employees' skill sets can be seen in better rates of staff retention and in making the business a magnet for external talent. Access to digital learning via an LMS makes reskilling and upskilling easier to manage and plan for.
Leading For Innovation And Change
Leaders can't rest on their laurels as the world around them moves on. Leaders need to be ahead of the curve and manage for change. Leaders should encourage their teams to think differently and reevaluate what they do to see if they can do it better. That means being aware of the latest technological apps on offer and examining the way they can be used to improve efficiency. And more than that, leaders should encourage the adoption of a growth mindset that views change and improvement as the norm and treats disruption as an opportunity for creativity.
Embracing Diversity And Promoting Wellbeing
Studies suggest that diverse and inclusive workplaces are more creative and productive. Diversity helps businesses thrive and improves performance. Leaders need to recognize the importance of diversity and learn how to promote it. It's part of the general drive to ensure the well-being of all employees. Leaders need to develop a healthy working environment in which employees flourish and perform to their maximum potential. Improvements in individuals' well-being will be reflected in the overall health of the organization.
Building A Culture Of Learning
Addressing these topical areas of leadership development can't be just a box-ticking exercise. They reflect ongoing challenges to the organization. Development and reskilling have to be part of a leadership ethos. Digital learning curated and delivered by an LMS can provide a cornerstone for leadership development training. It should be supported by a culture that considers learning as part of working and that provides it at the point of need, in the workflow.
A culture of learning treats learning as a right and training as something that is continuous, not episodic, and that sustains skills and personal development.  Agile, effective leadership combined with a culture of learning build an organization's resilience and make it fit and flexible for the challenges ahead.
Download the eBook Leadership Training: How To Equip Leaders For Today's Challenges And The Future to prepare your leadership team for what's to come and build a successful culture of learning.