How To Create A Winning Virtual Meeting Software RFP
Is a virtual meeting software RFP really necessary? I mean, don't most vendors provide free estimates to help you make the best buying decision? The truth is that RFPs never go out of style because they give service providers all the crucial project details, from your budget to tech requirements. In return, you get a personalized proposal that highlights their features, support services, and pricing plans, basically, everything that makes them stand out from the competition. So, how do you create a winning virtual meeting software RFP that gets responses? Here are 7 top tips to help you from start to finish.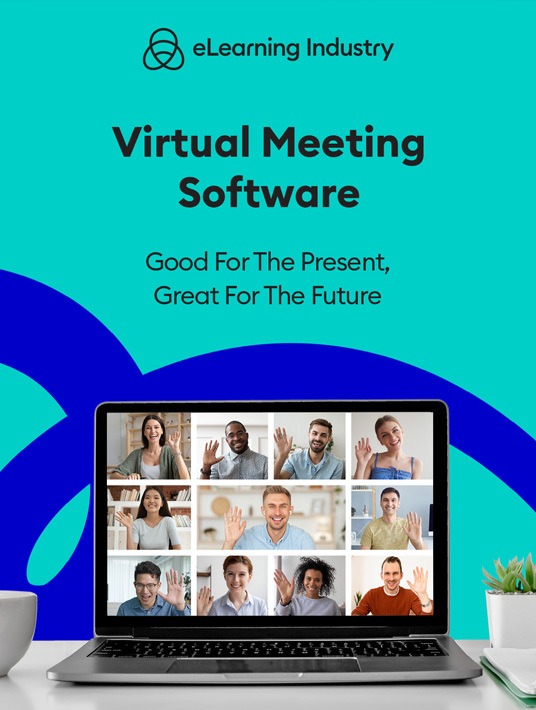 eBook Release
Virtual Meeting Software: Good For The Present, Great For The Future
Find the best virtual meeting software for your business.
1. Start With Clear Goals And Spending Limits
I don't recommend that you reveal your max spending cap because you need some wiggle room. However, you should include a rough virtual meeting tool budget so that vendors can determine if they're in your price range. You should also outline your key goals and online training objectives, specifically, which gaps your new virtual conference system needs to fill to improve ROI. Another great thing to include is your main L&D challenges. What are you up against and what are the risks involved? This way, vendors can explain how their product aligns with your needs and translate features into real-world benefits.
2. Outline All Your Must-Have Virtual Meeting Tool Features
Chances are, you've already set your sights on a few standout features. Outline all of them in your virtual meeting software RFP and clarify why they're so essential. For example, you need screen sharing because you're going to host VILT events for your IT team. They need to know how to handle software bugs, and hands-on experience is the best approach. Software providers can tell you if they offer that feature in the first place and how it supports your use case.
3. Clarify Support Expectations
Every organization has different support expectations. Of course, it's always best to opt for more support in case you run into a problem. However, you may have to compromise if your top choice has limited options. For instance, they only have an online FAQ and user community. Then again, your team may not need advanced support services, so it's a non-issue. Clarify your needs and if you're willing to pay extra for advanced options, like live chats and phone calls with a trained tech specialist.
4. Map Out Your Implementation Timeline
How quickly do you need to get your virtual meeting tool up and running? Unlike content outsourcing, you don't have to worry about scheduling conflicts. Unless, of course, the vendor offers one-on-one setup support to help you implement the tool. The implementation timeline is important because it allows you to streamline the process and budget accordingly. For example, you should plan on at least a day for install and setup. Then another week for the learning curve. All that comes out of your payroll. Then again, the virtual conference software provider might respond with a much shorter implementation timeline because their tool is cloud-based and user-friendly.
5. Explain How You Evaluate Virtual Meeting Software Vendors
Certain organizations use scoring systems to evaluate vendors. Others rely on checklists and internal voting after everyone has a chance to try the tool. Explain your assessment process and what you're looking for. To illustrate, you can judge every tool based on UX, CX, and support. It must also be compatible with your existing tools so include a list of your current software for reference. Finally, you're looking for a system that's updated frequently to stay on top of tech trends. You don't necessarily have to map out your entire scoring system but you should give them a general overview of your evaluation criteria.
6. Give Them A Deadline And Follow-Up Instructions
How quickly do vendors need to submit their proposals after they receive the virtual meeting software RFP? Should they expect a follow-up questionnaire or meeting? Some providers are happy to meet with you one-on-one to appease your concerns while others may be caught off guard by additional surveys and interviews. In fact, they may not even submit a proposal because they don't want to "jump through hoops." But that just means they weren't a good fit for your organization in the first place. Lastly, include a brief follow-up schedule. This is the deadline, and you'll contact vendors within two weeks. Then you'll make your final decision by this date.
7. Review Virtual Conference Software Proposals With Your Team
As the proposal starts to roll in, sit down with your team to review the submissions. You can either tackle them one by one or wait until you receive them all and schedule an evaluation session. Make sure everyone has the evaluation criteria so that they know how to score or compare virtual meeting platforms. One of the most effective ways to review multiple proposals is to highlight your top business priorities. Then make your way down the list. For example, price is one of your most important considerations. What are the various price points and licensing options? Is it within your budget or can you bend a little based on the extra features? Then move on to the next priority and compare proposals.
Conclusion
Now that you know all the RFP essentials, which vendors should you send them to? Finding the right virtual meeting software shouldn't be stressful. Kick things off with a Training Needs Analysis then head over to a niche-specific directory, preferably, one with integrated filters so that it's easier to narrow the options. After you compile a shortlist, verify their contact details, and submit your virtual meeting software RFP to the chosen few.
Our eBook covers all the virtual meeting software buying basics as well as the benefits it can bring to your business. Download your copy of Virtual Meeting Software: Good For The Present, Great For The Future today to improve team collaboration and remote employee engagement.