5 Crucial Guest Post Elements For Maximum Engagement
So, you have decided to write a blog post to promote your business. But how many times have you poured all your knowledge and expertise into a post only to see it get ignored? Similar to most things in life, you need to work smart instead of hard to get the best results. In this article, we will share the most crucial elements every guest post must have to attract readers and generate the most views and shares.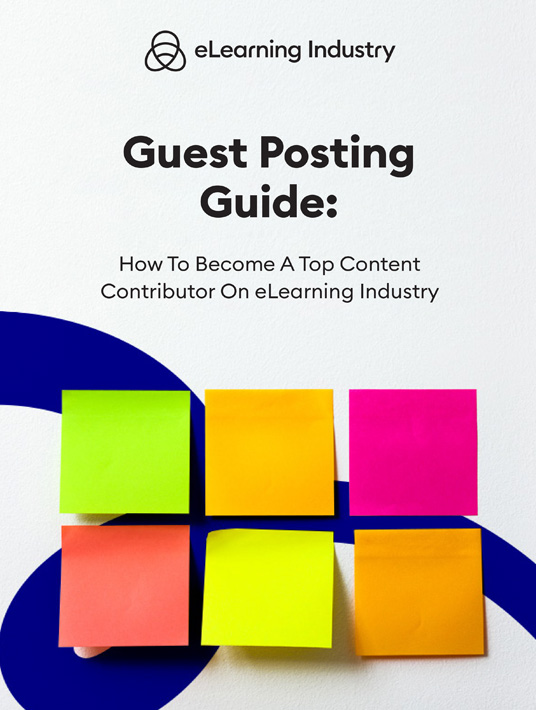 eBook Release
Guest Posting Guide: How To Become A Top Content Contributor On eLearning Industry
Discover what you gain by guest blogging and what are the basics of writing a guest post for eLearning Industry.
5 Tips For A Successful Guest Post
Blog posts differ from one another depending on the industry you're working in and your niche of choice. However, the most high-ranking and successful posts have the following important components:
1. An Attention-Grabbing Title
The title of your guest post is where it all begins. It's your one and only chance to make an impression on the reader who gets a fleeting look at your article while scrolling. So, before you start writing, take the time to make sure it's engaging! A good title must clearly reflect the idea of your post and what it has to offer to the reader. It must also be interesting enough to draw their attention and convince them to click on it. Try adding keywords or forming questions that elicit emotions of curiosity.
2. A Compelling Lead Paragraph
Now that you have your title, you need to figure out a follow-up. If your first paragraph doesn't manage to hold the attention of the readers, they will leave your page in a matter of seconds. But how can you achieve the crucial element of the hook? You can start your text with an interesting story, an engaging question, or a bold statement. Whatever you choose, get to the point quickly so that by the second or third sentence the reader has been convinced to read on.
3. Solid Writing
You might have great ideas and years of experience, but that doesn't change the fact that your writing skills are a crucial element of your guest post. They are the core of your content and the main thing that interests readers. So you will lose them if your post is complex and hard to understand.
Therefore, present your ideas in a simple manner and avoid using overly complicated industry jargon. Use clear subheadings and bulleted lists to organize your points and make your post more visually appealing. Break your ideas into small paragraphs that keep your readers scrolling down. And most importantly, proofread religiously to avoid typos and grammatical errors. You don't want to lose your credibility because you missed a "you're" that was supposed to be "your."
4. Keywords
As search engine machine algorithms get more complicated, keywords are becoming essential for your guest post to appear high on SERPs. However, many authors think that for their posts to be successful, they need to have a keyword every two sentences. As a result, they end up with hard-to-read articles that sound as if they were written by and for robots. Fortunately, search engines are advanced enough that they can understand what you're talking about, even with a limited number of keywords. So, don't overdo it and focus on keeping it natural.
5. A Call-To-Action
You've attracted the attention of your readers with a good title, maintained it with a compelling lead paragraph, and led them all the way to the end with your thought-out and well-written arguments. Now what? Now, you bring everything to an end with a call-to-action. Maybe you want your readers to share your guest post, or check out more of your content, or you can simply pose a question that starts a conversation in the comments. Whatever it is, this is the place to do it. Make your request clear and actionable, and you'll get the results you hope for.
Conclusion
It's not always easy to write a guest post, let alone a successful one. However, we believe that a few pointers are the best way to get you started. A compelling title and lead paragraph, a well-written main body, the use of keywords, and finally a call-to-action are the main ingredients of a perfect post. These 5 must-haves will help you become an effective guest blogger in no time.
Download our eBook Guest Posting Guide: How To Become A Top Content Contributor On eLearning Industry to learn what you can gain by guest blogging and what are the basics of writing a guest post for eLearning Industry.