Creative Incentive Schemes For Retaining Talents
You've tried all the usual schemes for retaining talents like gift cards, bonuses, and paid time off. There may even have been an interdepartmental contest or two. But those are all one-off rewards that temporarily boost staffer motivation. What you need is a long-lasting incentive scheme to recognize top achievers and boost job satisfaction. Then your employee retention plan will fall into place since staffers have the opportunity to unlock exclusive rewards and monitor personal growth. Here are 7 creative incentive schemes to help you reduce employee turnover and retain top performers.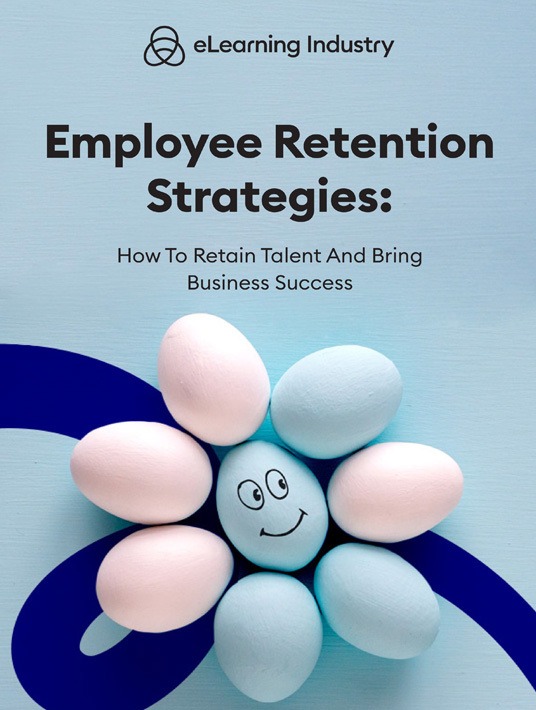 eBook Release
Employee Retention Strategies: How To Retain Talent And Bring Business Success
Learn all the insider secrets for retaining talents and creating a strong brand culture.
7 Crucial Incentive Schemes To Help You In Retaining Talents
1. Top Talent Badges
Give employees a virtual round of applause with top talent badges for notable achievements. They can also show them off on social media for bragging rights, but the primary goal is to recognize all their hard work and allow them to monitor personal progress. Yet another reason to launch gamification badges for employee retention is that it makes long-term goals more manageable. Staffers tackle one badge at a time on their quest to build their skillset and master job tasks. For example, there might be ten sales badges to collect and each ties into a different competency or skill. Try to make badges eye-catching or give employees the chance to choose from a few designs. You can even include a place for their name to enhance personalization.
2. Advanced Certification Paths
These are separate from certification courses that you offer to all employees as they're exclusively for top performers who want to take their online training to the next level. For example, they must complete a series of activities or modules to unlock a cert path. Another approach is to assess employees to create custom paths based on their strengths and weaknesses. Whatever route you choose, make sure staffers have something to show for it, other than amazing job performance. For instance, offer printable certificates or digital versions that they can post to their social media feed.
3. VIP Online Training Events
These events are by invitation only and they're reserved for employees who are at the top of their game. Maybe they hit their high sales targets or their recent customer service stats are above and beyond. These VIP online training events feature guest speakers and engaging activities that are challenging and immersive. You can also record the event and add it to a "top performer" library. The catch is that the reward needs to be worth the effort. Invite keynote speakers who pique their interest, like industry experts. Also, send them a notification a week or two before the event so that they can meet all the requirements in time.
4. Upskilling Knowledge Base
One of the most beneficial employee retention techniques for every member of your organization is an online knowledge base. Specifically, one that includes every skill in the book, or at least, skills that staffers need, based on their roles, responsibilities, and career goals. This is an ideal way to bridge existing gaps and prep employees for the future. As an example, one of your HR employees wants to get on the management fast track. They can use the library to assess their abilities, create an improvement plan, and expand their skillset.
5. Employee Spotlights
You can approach this employee retention strategy in several ways, whether it's highlighting one staffer per week on your social media page or dedicating a section of your company e-newsletter to the monthly top performer. You can even make it a daily thing if you have a large talent pool, whereby every staffer has a chance to share a personal story or notable achievement with their coworkers. The primary purpose is not only to retain talent but to create a corporate community. Staffers get to know their peers, plus they're motivated to be their best thanks to friendly competition. Just make sure you don't encourage rivalries that hinder the team dynamic.
6. Hosting Opportunities
In-house talent gets to guest-host their own online training webinar or workshop. This may seem like a rather odd reward given that it involves more work, like prepping the outline and tie-in activities. However, top employees often seize the chance to step up and discuss their professional passions with the group. This employee retention technique is most effective for staffers who want to share their insights. You also need to consider personality types and preferences. For instance, introverts may not want to host their own live event, but they might be willing to answer questions during the live social media Q&A.
7. Inspirational Leaderboards
An employee retention leaderboard makes the most of employees' competitive nature. However, it also prompts staffers to continually improve so that they can one-up their peers. The key is to inspire employees instead of making them feel discouraged. For instance, one of your staffers moves from number 2 to number 5. Follow up to see if you can offer additional support, or invite them to a peer coaching group to help them rise in the ranks again.
Conclusion
The tricky thing about retaining talents with incentive schemes is that rewards should tie into performance behaviors. For example, winning a gift card doesn't really help employees reflect on their habits or identify personal gaps. On the other hand, unlocking the exclusive VIP library recognizes their achievements and allows them to build vital skills. Finally, employee retention and outsourcing go hand in hand, particularly when your L&D team is already pushed to the brink and you need to fast-track your incentive schemes. So, consider hiring an eLearning content provider that specializes in gamification and employee retention techniques.
How do you hold on to your top talent? Download our eBook Employee Retention Strategies: How To Retain Talent And Bring Business Success for secrets to retain staffers and create a strong brand culture.