Content Is The Most Important Component Of The Virtual Classroom
Curating content for a virtual classroom is a crucial process that can make or break the entire program. It is vital to be on the same page with your learners and your SMEs because the quality of the material you are going to use will make a huge difference.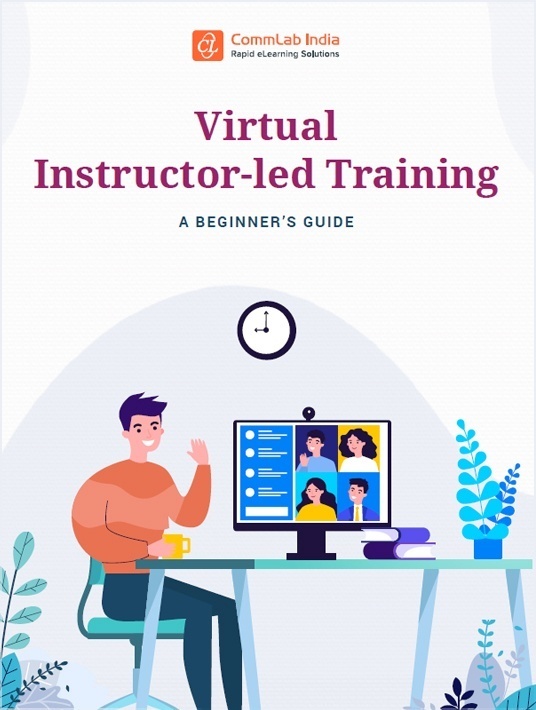 eBook Release
Virtual Instructor-Led Training: A Beginner's Guide
Explore the secrets behind successful Virtual Instructor-Led Training (VILT) or virtual classroom sessions.
Synchronous online training, such as virtual classrooms, requires both learners and the instructor to participate in the session at the same time, from any location. Asynchronous training, on the other hand, can be accessed by learners at their own time and pace—without the instructor. Synchronous online training offers learners all the benefits of human interaction of a brick and mortar classroom without the constraints of travel, logistics, and space.
Old Vs. New
If you have existing classroom training material, ensure you identify the right "need-to-know" content that needs to be included in the virtual session. It's important that classroom material is not used as is in the virtual classroom as we need to factor for the absence of the instructor and collaboration.
The key is to carefully configure content and activities into:
Pre-session activities to build rapport and trust
Effective instruction with the help of a variety of instructional activities (covered in detail later in the eBook)
Collaboration activities to be used throughout the session
The choice of the technology platform will dictate the kind of collaboration activities you can have. You can use multiple training formats such as existing microlearning courses, videos, quizzes, and other digital assets during the session.
If the VILT session is for a new training program, it pays to have a streamlined roadmap to:
Ensure the training program (session) is aligned with business goals
Identify the performance-based learning objectives of the training
The learning objectives will in turn help define the content to be included, the duration of the session, and the assessments and activities to be included. These objectives are:
Desired organizational results
What is the business goal to be achieved?
Desired performance
What is the gap that needs to be closed to achieve the set goal? Is training really the solution to close the gap? (Conduct a Training Needs Analysis)
Performance-based learning objectives
What should learners be able to do to improve performance?
Types Of Instructional Material
Whether you are using existing content or building a new VILT program from scratch, here are some instructional materials you need to have:
Facilitator guides
Participant guides and handouts
Reference material
Apart from offering cues on the content to be covered, facilitator guides will help instructors conduct activities by providing detailed instructions on each activity: the duration, the sequence of activities, the formats (is it a poll, an annotation, or a breakout room?), and more.
It is recommended to have a "host" or "anchor" who can support the facilitator in conducting the session and operating the technology (run polls, set up and monitor breakout rooms, answer participant questions on using the platform, help them participate in activities, collate and display results, and more).
Participant guides should be designed to help learners participate in the session seamlessly by providing clear instructions. Use participant handouts such as worksheets to help learners complete individual/group activities. Handouts could also include checklists, to-do lists, infographics, PDFs, and other handy job aids learners can take away and refer/reuse back on the job.
Finally, reference material can include:
A guide to help learners (and instructors too!) become familiar with the platform
Links to additional learning resources (internal/external)
PDFs such as glossaries and datasheets
Points Τo Note
You can conduct webinars for your learners (in groups) to help them become familiar with your technology platform so that they are prepared for the upcoming VILT sessions. Train trainers also on using the platform effectively. (More on these 2 points later.) You will also need to redesign the existing content and classroom activities for the virtual space. Partner with a vendor experienced in both classroom and online training to get the benefit of instructional material that is designed to be technically accurate and instructionally sound.
Virtual Classrooms Vs. Webinars
Here is a very popular misconception. Though also a synchronous training delivery format, a webinar is basically a one-way communication with the presenter doing much of the talking. Participants get to share their opinions, feedback, or answer questions through polls—which doesn't leave much room for collaboration. The main essence of virtual classrooms—collaboration—is missing in webinars.
On the other hand, virtual classrooms give participants the opportunity to:
Participate and collaborate actively
Engage in group activities
Share their learning
In a nutshell, Virtual Instructor-Led Training (VILT) is neither a webinar nor presenting classroom material in a video conference.
In Conclusion
There are many different aspects in VILT beyond the curation of content. Download the eBook Virtual Instructor-Led Training: A Beginner's Guide and gain the ability to collaborate through technology, train trainers, and motivate learners.
CommLab India Rapid eLearning Solutions
Working with multiple outsourcing vendors can be stressful, and a waste of time & money. With CommLab India Rapid eLearning Solutions, all your online training needs are taken care of, rapidly and economically.