How To Define Your Must-Have LMS Features Prior To Your LMS Consulting
Design by committee is the best way to achieve corporate democracy. Especially if you're trying to find the ideal LMS for every member of your team. But it's also the surest way for LMS admins/HR managers to go crazy, as they have to listen to everyone's views and collate them in a functional way. LMS selection should leave everyone content, but still result in a practical system that advances the organization's agenda. One way to minimize stress is to clearly chart the LMS implementation process from start to finish. Starting with defining your must-have LMS features. Develop a set of rules that should be applied when your staff is making their recommendations for essential functions/features. Then solicit their feedback to choose a tool that suits everyone's skills, experience, and expectations. Get this done before your free LMS consulting to ensure a more productive process.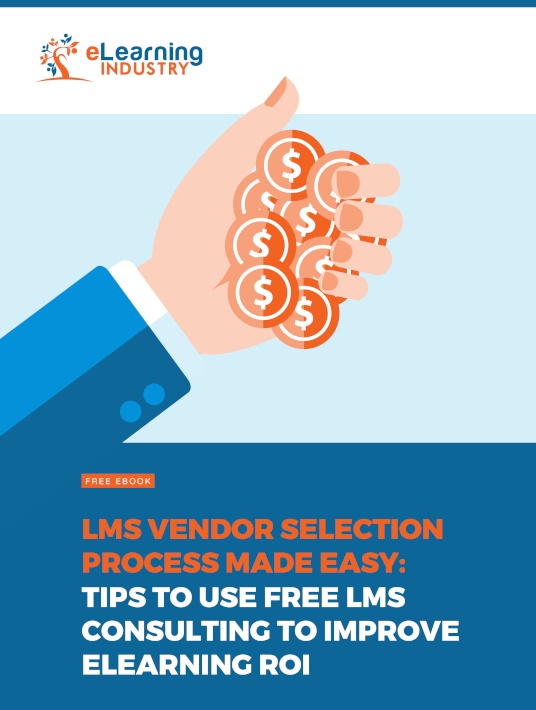 eBook Release
LMS Vendor Selection Process Made Easy: Tips To Use Free LMS Consulting To Improve eLearning ROI
Download this eBook to discover the top LMS vendor selection criteria and how LMS consulting can help you achieve the best value for money.
1. Review Your Currently Available Skill Set
What's your approach to online training? Does your L&D team have a vast amount of experience with LMS platforms? Or are they relatively new to learning technologies? How about your corporate learners? Check in with your staff. What skills do they currently possess and how should the LMS help with their everyday workflow? For example, an LMS with an intuitive User Interface and built-in templates is particularly useful for teams with less experience, as they don't have to spend months mastering the tool or developing online training courses from scratch. Look around the office and see if you can spot any departmental gaps. Would an in-house L&D team be more effective than your eLearning outsourcing partner? Do you have any team members with an interest in that sphere? Would it be possible to train them well without going over budget? It's crucial to find a system that aligns with your team's talents so that you can maximize efficiency and avoid lengthy learning curves.
2. Monitor Your Training Objectives And Goals
Why exactly do you need a new LMS? Does your business segment require routine compliance testing? Are you a seasonal business that regularly onboards new waves of employees? Is your online training work-related or are you more interested in individual employee development? Is the LMS a target in itself or is it part of a wider online training strategy? Are there any specific measures it's intended to meet? These factors will all influence the LMS must-haves you're seeking. For example, a compliance-heavy LMS must have certification and standardized testing. It may also need reference materials and 'practice assessments' to help employees prepare for their compliance quiz. Organizations that have large annual employee intakes will  probably need revision before each new batch of workers. This regular refresher may up the price, so you need LMS software that allows for affordable updates and scalability.
3. Peek At The Pain Points
The best type of LMS is one that directly addresses your team's needs rather than your C-suite's demands. Talk to your team about the LMS they're using at the moment. What works about it? What doesn't? If you don't have an LMS in place, ask your employees how it might benefit their work performance. What would they want to see in it? Are there any workplace gaps they'd like filled, and would an LMS plug the holes adequately? All this surveying could result in employees saying they don't want an LMS at all. So, if you insist on going forward, you'd have to find an LMS that surpasses their expectations and addresses all their needs. Of course, in-house marketing can also sway their opinion and get them onboard.
4. Location Matters Too
There are two main LMS models; a cloud-based system that corporate learners log into that requires live internet access throughout, or an app-based system installed on office computers, tablets, laptops, or mobile phones. They need some internet connectivity but often have modules that function offline. Your selection depends on your organizational needs. For example, firms with massive field teams may want to opt for an app-based system. And this, in turn, will determine must-haves like office-bought mobile devices, or routers and smartphone data bundles for remote areas. Depending on where those field offices are, it may also require translation modules. Of course, web-based platforms for international organizations might need multiple languages, as well. Will the LMS allow every member of your team to access crucial information, regardless of their preferred language? All these issues must be addressed during LMS consulting.
5. Evaluate Your Assets
You may already have tools on-hand that offer some of the LMS features on your must-have list. For example, you're happy with your eLearning authoring software and don't need to look for an LMS with built-in authoring features. Thus, you can save money and not have to worry about mastering a whole new eLearning platform. Evaluating your assets also gives you the opportunity to find an LMS that integrates with your current software and eases the data migration process. You can simply upload your existing online training content to the new system instead of dealing with formatting issues.
6. Identify Corporate Learner Preferences And Expectations
Your corporate learners are the ones who access the system to get the information they need to achieve the desired outcomes. Thus, the system must align with their preferences and requirements. For example, an LMS with responsive features gives them the power to log into the platform from anywhere in the world. Which is ideal for mobile users or remote sales teams. Likewise, you need to gauge their expectations to tap into their source of motivation and keep them fully engaged. For instance, invest in an LMS with gamification support so that they are more driven to achieve organizational goals.
Using the right LMS selection process ensures you don't waste a single moment of your free LMS consulting. It also results in a better LMS at the end of the process. Ask your team what skills they have and evaluate their work practices. Consider organizational goals and targets, and look into current pain points, both in terms of your online training strategy and the LMS you're looking to replace. Lastly, differentiate your requirements from desired outcomes. Some LMS functionalities may be nice to have, but is there room in your eLearning budget? And will they really offer your team practical benefits that warrant the added investment?
Get your free LMS consultation to find an LMS that offers the best value for money. It takes just a few minutes to input your key criteria and contact details. You'll receive an LMS recommendation list based on your desired LMS features, eLearning budget, and the scope of your online training project.
Defining your LMS must-have features is just one of the things you need to do when you are on the lookout for an LMS. Download our free eBook LMS Vendor Selection Process Made Easy: Tips To Use Free LMS Consulting To Improve eLearning ROI to discover how to make the most of free LMS consultation services, including how to avoid common mistakes during LMS consulting and how to determine your LMS price range.