7 Benefits Of Using LMS Consulting Services During The LMS Software Selection Process
The LMS software selection process is the first hurdle that organizations face when implementing a new online training strategy. It also happens to be the most critical, since the success of your entire online training program hinges on an effective LMS platform which allows you to develop online training courses, deploy them on a global scale, and track your initiatives. Many organizations hire LMS consultants to help them avoid buyer's regret, but is it the right route for your company? Here are 7 reasons why you should use LMS consulting services before investing in a new LMS platform.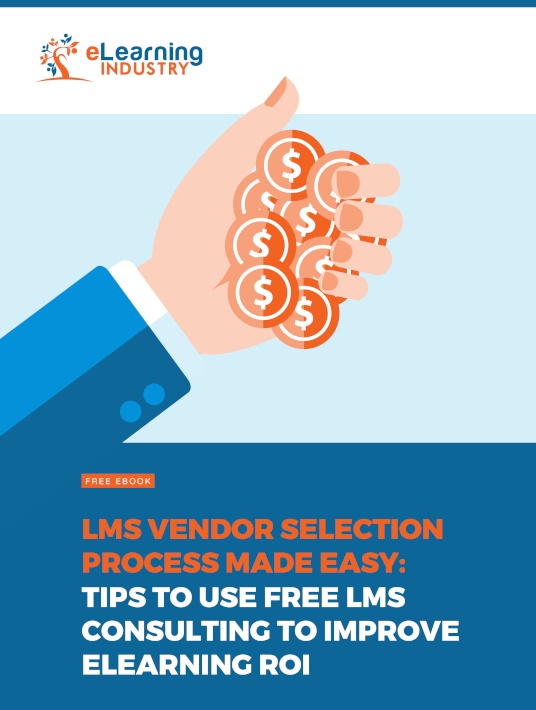 eBook Release
LMS Vendor Selection Process Made Easy: Tips To Use Free LMS Consulting To Improve eLearning ROI
Download this eBook to discover the top LMS vendor selection criteria and how LMS consulting can help you achieve the best value for money.
1. Expedite The LMS Software Selection Process
Using LMS consulting services helps speed up the LMS software selection process so that you can implement your online training strategy more rapidly. The consultant already has a vast database of LMS solutions. Along with research that allows you to vet the LMS vendors before setting up a consultation or free trial with them. Therefore, you're able to choose a system that meets your needs and falls into your budget in a fraction of the time, rather than conducting the research on your own, compiling a list, and contrasting/comparing features. The LMS consultant takes care of the initial research so that your team can concentrate on other pertinent tasks. Like preparing your online training content and marketing your online training course launch internally.
2. Find A System That Delivers Every Item On Your Essential Feature List
You probably already have a list of essential features and functions that your LMS must possess in order to deliver maximum returns. But it can be challenging to sift through all the LMS features available and determine which LMS vendor offers the total package. Unless, of course, you use an LMS consulting service that provides you with a detailed list of LMS vendors who meet your criteria. Namely, those who address nearly every item on your must-have list.
3. Choose A System That Scales With Your Organization
Many organizations consider the short-term impact of LMS implementation. For example, it will help you improve employee retention and adhere to compliance in the here and now. But a Learning Management System is a significant investment, and you should think about how it will help your organization achieve long-term success. An LMS consultant can help you with the LMS selection process. This way you'll choose an LMS that scales with your organization. Regardless of how many people you employ or how your needs evolve in the coming months or years. It all starts with an estimate of how many users you need to support. Then selecting a system that is flexible enough to evolve with your tomorrow's needs without putting you over budget today.
4. Improve eLearning ROI
A knowledgeable LMS consulting service can help you improve eLearning ROI by finding a system that addresses all your current gaps and pain points. They gather information about your organizational goals, project specs, and implementation details. Then use the data to compile a list of top candidates that offer the best value for money. It's all based on your specific criteria, rather than a generalized list that just features the most popular options.
5. Invest In An LMS That Aligns With Your Business Goals And Objectives
LMS consulting services give you the power to narrow your results by use case. Which means that you can focus on systems that already cater to your niche or training requirements. For example, Learning Management Systems that specialize in compliance or employee onboarding. Another benefit of this is choosing a system that aligns with your business goals and objectives, such as a solution that's able to give you all the advanced reporting and gamification features you need to implement online training in your specific niche.
6. Tap Into The LMS Consultant's Experience And Expertise
One of the reasons for using LMS consulting services during the LMS selection process is to tap into their vast experience. They stay up to date with the latest learning technologies and can utilize their expertise to find you the ideal LMS system. For example, they already know which software is best for academic learning or compliance online training in the healthcare sector. They have access to online ratings, reviews, and LMS vendor info that can be time-consuming to gather on your own. Not to mention, resource-draining. Consultants also have a behind the scenes look at the LMS vendor's philosophies, staffing, and industry knowledge. For instance, they know that a particular LMS company has been around for a number of years and has an impressive customer support staff on-hand. And that they always stay current with the latest trends and tech advancements, which is reflected in their top-notch product.
7. Receive Personalized Recommendations Based On Your Needs
Many websites and LMS consulting services simply provide you with an overall list of the top LMS options on the market. But they don't necessarily take your individual needs or training requirements into consideration. An effective LMS consulting service will go the extra mile to provide you with personalized recommendations based on your criteria. For example, how quickly you need to implement the system or how much you pay per user. You then receive a list of LMS suggestions and can follow up with further research, such as using the LMS directory to evaluate the LMS vendor's ratings, and support services. In addition, you have the ability to custom tailor recommendations based on the LMS pricing model, deployment type, and applications.
LMS consulting services speed up the LMS software selection process and minimize the risk of buyer's regret. You can get more for your eLearning budget and improve ROI, as well as find a system that supports your online training goals and desired outcomes. You can make the most of the LMS consultants' expertise with modern learning technologies and invest more wisely.
Get your free LMS quote in 4 simple steps. You'll receive a personalized LMS recommendation list based on your budget, use case, and essential features.
How can you fully benefit from your free LMS consulting? Is showing up enough? Download our free eBook LMS Vendor Selection Process Made Easy: Tips To Use Free LMS Consulting To Improve eLearning ROI to discover all the secrets to successful LMS vendor selection, from identifying that it's time for a new LMS to vetting LMS vendors after your LMS consultation. You will also learn which aspects of your corporate eLearning project and LMS requirements you need to figure out beforehand.