9 Essential LMS Vendor Selection Criteria To Consider
You're already armed with a list of LMS recommendations thanks to your free LMS consultation. However, that's just the beginning of the decision-making process. A starting point that allows you to narrow your choices based on essential features, budget, and training objectives. But what is really important when choosing an LMS vendor if you want the best value for money? What should you look for to avoid buyer's regret and ensure that the system checks all your boxes? Below are 9 LMS vendor selection criteria you can use to see how an LMS vendor stacks up.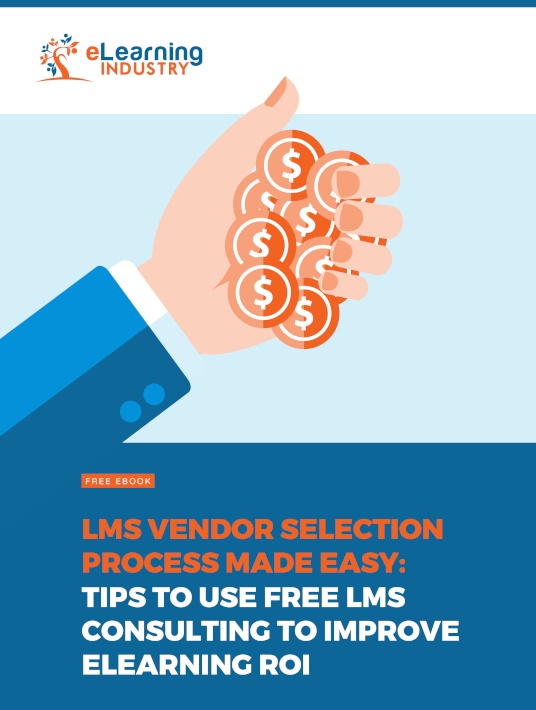 eBook Release
LMS Vendor Selection Process Made Easy: Tips To Use Free LMS Consulting To Improve eLearning ROI
Download this eBook to discover the top LMS vendor selection criteria and how LMS consulting can help you achieve the best value for money.
1. LMS Customer Experience
LMS Customer Experience covers every aspect of your interactions with the LMS vendor. From how they handle the sign-up process to their response times when you submit a support ticket. The LMS vendor should be able to address any questions you have and value every client that signs up for their service. No matter which pricing package they choose or their market share. For example, a start-up receives the same level of personalized service as a Fortune 500 company. The LMS vendor should know how important it is to build a rapport with their client base.
2. Value For Money
The LMS may be packed with features, but does it offer you the functionalities you need to warrant the investment? Likewise, it might be a low-cost option. However, will you end up spending more money over time to upgrade the platform and custom-tailor it to your requirements? You must consider the value for money during LMS vendor selection. Go beyond whether they fall into price range and ask what's included in the package.
3. Support Services
Every LMS offers some level of support. Even if it's something as simple as an online FAQ. The secret is to find an option that offers the support services you need to improve functionality and ROI. As an example, they provide one-on-one phone support and have an active online community. Their product is at the top of your price range. But the advanced support services will reduce the learning curve and give you the full benefits of the system. Another support option to consider is social media groups. Are the LMS vendors active and do they respond to their followers' comments quickly? Or was their last post a month ago and they failed to reply to users' questions and concerns?
4. Pricing Options
Of course, one of the most crucial criteria to consider is pricing. You only have so much room in your budget, but you still need to find an LMS vendor that lives up to expectations. Ideally, the LMS company should have flexible pricing plans that fit any budget. Such as basic monthly subscriptions that unlock all their core features but only include a limited number of users, as well as more advanced plans that allow you to scale the tool to meet your organization's future needs.
5. Available Features
Most organizations focus on the system's feature list long before they vet the LMS vendor and research the company's background. However, you should also broach this topic when meeting with the LMS vendor and evaluate their product. It's not a matter of which LMS features they offer, but how those features can help you deploy effective online training content and improve ROI. You should also analyze the scope of their features, and if there are bigger and better things on the horizon. For instance, over the course of the next few months, they're rolling out more robust LMS reporting or customization options.
6. Software Updates
How often does the LMS vendor update the software? Are they known for staying on the cutting edge of learning technologies? LMS software must be updated on a regular basis to maximize functionality. When the product falls behind, so does your online training content and outcomes. Ask the LMS vendor about their updating policies and whether it's included in the package. In some cases, you may have to pay extra to bring the software up to speed.
7. Track Record
The company is known for being customer-centered and has been around for years. They have a proven track record. Complete with favorable online ratings and reviews. This is the ideal scenario you want to run into during the LMS vendor selection process. An established LMS vendor who has proven themselves in the industry is more likely to give your organization the same experience. They have expertise in the field and they stand behind their product.
8. LMS Implementation Time
The LMS vendor should be able to work within your implementation timeline so that you can stick to your launch schedule. However, if the software is difficult to use, you need to set aside time to train your team and master the User Interface. Before making any decisions, ensure that the LMS vendor can dedicate enough time and resources to your LMS implementation.
9. Maintenance
Most organizations are already aware that they must set aside time and resources to maintain online training content. For example, update their eLearning course design to reflect new compliance laws. During the LMS vendor selection process, you must also consider LMS upkeep. Some Learning Management Systems require more ongoing maintenance than others. You must manually download updates and upgrades. Or iron out glitches on your own due to their lack of support services.
You may need to add additional items to your LMS vendor selection criteria based on your organization's requirements. Which is why it's best to conduct a training needs analysis and evaluate your current tool beforehand. This allows you to identify hurdles that you can resolve with a replacement platform and find the ideal system in your price range. For example, choose an LMS that addresses the lack of reporting functionality that plagues your existing software.
Get your free LMS consultation in 4 easy steps. We'll send you a personalized recommendation list of the top LMS vendors to suit your budget, use case, and must-have features.
Selecting the perfect LMS can be a long road, and you could definitely use some guidance. Especially if you buy an LMS for the first time. Download our free eBook LMS Vendor Selection Process Made Easy: Tips To Use Free LMS Consulting To Improve eLearning ROI to discover, among others, the benefits of LMS consulting services, tell-tale signs that it's time for a replacement LMS, and how to vet LMS vendors after employing LMS consulting services.