Trending eLearning Authoring Tools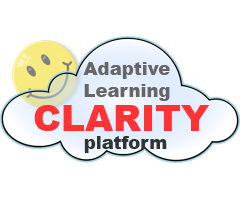 CLARITY Features
It is a Tool for visual Analysis>Design>Verification>Test-Drive of Courseware targeted at predefined Needs. Includes an Engine for run-time planning/running of reliably effective Adaptive Personalized Learning with a high Engagement and Success rate.
Who Uses This Software?
Our Tool empowers Analysts, Architects, Designers, and Developers of Courseware targeted at degrees, competencies, business goals. Our Instructional Engine empowers Learners with the Most Effective, Dynamically Adaptive Deep Learning with a high engagement and success rate.
CLARITY Features
Learn more about the features that differentiate CLARITY from the competition.
Administration
Access Controls/Permissions
Role-Based Permissions
Single Sign On
Communication Management
Alerts/Notifications
Collaboration Tools
Commenting / Notes
Contact Management
Employee Portal
Multi-Language
Student Portal
Content Development
508 Compliant
Activity Dashboard
Brand integration
Data Import/Export
Drag & Drop
Gamification
Interactivity
Content Management
Cataloging/Categorization
Content Library
Media Library
Search/Filter
Template Library
Integrations
API
Mobile App
Third Party Integrations