Trending eLearning Authoring Tools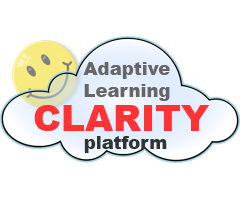 CLARITY Reviews
It is a Tool for visual Analysis>Design>Verification>Test-Drive of Courseware targeted at predefined Needs. Includes an Engine for run-time planning/running of reliably effective Adaptive Personalized Learning with a high Engagement and Success rate.
Who Uses This Software?
Our Tool empowers Analysts, Architects, Designers, and Developers of Courseware targeted at degrees, competencies, business goals. Our Instructional Engine empowers Learners with the Most Effective, Dynamically Adaptive Deep Learning with a high engagement and success rate.
CLARITY Reviews & Ratings 2023
Read CLARITY reviews and discover how other eLearning Industry community members have experienced the software.
Usefulness

Usability

Customer Experience

Likelihood to Recommend
Jul 2, 2020
Clarity is a great software for rapid design and delivery of the most effective Adaptive Learning.
What do you like best?
I like making online adaptive courses with CLARITY. It is simple, interesting, and leaves a lot of room for creativity. For example, an Authoring Tool provides an author with a clear framework and a strategy for rapid design of any lesson. The set of available templates for rapid design of learning and testing Tasks was also very helpful. In particular, I got to find out what computer intelligence is behind adaptive tests like MCAT. I made an adaptive test without programming experience.
What do you dislike?
Sometime the Tutoring Engine uses your content yet generates a tutoring process you did not expect. But often it is an evidence of gap in learning content, which you can find, correct, and get in agreement with the Engine again. In other cases, there is no mistakes yet the generated tutoring is different from your expectations. However, you always have some parameters to tune up the generated tutoring as you want it (of course until it drives a learner to success).
Jun 30, 2020
CLARITY is a platform for effective development and auto-delivery of Adaptive Learning
What do you like best?
In Authoring Tool: unified content framework, quality verification, clarity, flexibility, room for creativity, set of templates. In Learner Profile: the detailed display of learning progress, mastery, problem causes. In Instructional Engine: automatic planning and running the instructional process, root-cause diagnosing, precision remediation of learning problems, the option to start lesson from scratch or testing, the possibility to readapt and restart lesson or course at any time.
What do you dislike?
As a rule, Adaptive Personalized Courseware requires more educational resources for more different learners and situations than regular "one-size-fits-all" courses. However, manual design may be very labour consuming. Fortunately, automatic content generators can help. They already exist and can be build into the platform.