The Ultimate Guide To Learning In The Flow Of Work
The most powerful learning experiences often happen organically. But how can you incorporate learning in the flow of work into your current online training program? What are some of the most critical implementation errors that organizations make? This playbook shows you how to foster real-world experience, build vital skills, and bridge gaps without disrupting everyday tasks.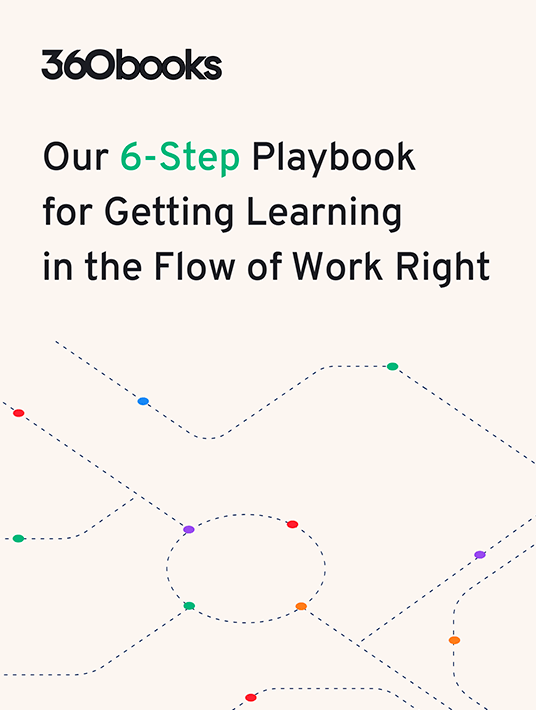 eBook Release
Our 6-Step Playbook For Getting Learning In The Flow Of Work Right
Discover how to incorporate learning into the flow of work and leverage the latest learning tech.
Why Learning In The Flow Is A Key L&D Ingredient
While structured training sessions and certification courses have their place in training programs, employees must also be able to learn in the flow of work to reinforce knowledge and address pain points on the spot. For example, access bite-sized support tools that allow them to tackle a challenging task or watch a colleague handle a customer complaint to see communication skills in action. One of the core principles of learning in the flow is that peers are a valuable training resource. Knowledge sharing and collaboration give your team a chance to explore problems from different perspectives and tap into other areas of expertise. However, you must first understand the needs of your learners and your training program's areas for improvement to launch a successful strategy. That's where this eBook steps in.
About This eBook
How do you embed L&D into employees' workloads? How can you get your internal SMEs actively involved? Here's a quick glimpse of what you'll find in this guide by 360Learning:
4 Common Flow Of Work Mistakes To Avoid
Identifying Evergreen Problems And Critical Points Of Failure
Focusing On The Needs Of Your Learner Cohorts
Recognizing And Engaging Your Subject Matter Experts
Leveraging Technology And Integrations
Get Your Copy
Download Our 6-Step Playbook For Getting Learning In The Flow Of Work Right today to avoid the common obstacles and leverage your in-house experts to the max.