Your Step-By-Step Guide To Develop A Skills-Forward Talent Strategy
Skills are a valuable commodity in your organization. But are you giving employees the tools they need to cultivate their talents? The modern workforce expects adaptive training that helps them achieve their goals and business objectives. This eBook shows you how to create a skills-forward talent strategy in 4 streamlined steps. You also discover how to embed skills development into your company culture and propel employee growth.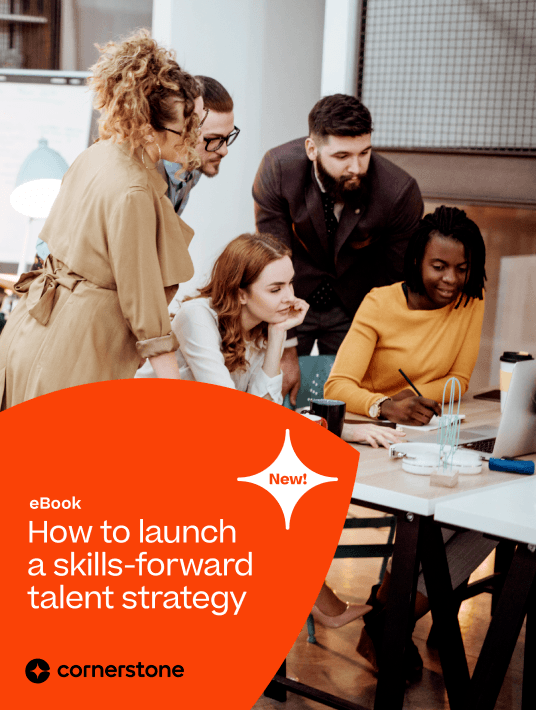 eBook Release
How To Launch A Skills-Forward Talent Strategy
Developing a skills-forward talent strategy can help you unite people growth with business success. This guide outlines four key steps involved in this strategy.
Skill-Building In The New Normal
Some organizations have switched to an entirely remote work model, while others have returned to the office with new protocols in place. Whatever the case, many employees now find themselves underprepared for new job duties, tasks, or responsibilities. Maybe they've changed departments or have been promoted due to unexpected vacancies. Their new place within the company requires new skills, expertise, and niche know-how. Does your current learning and development program offer the JIT support and personalized paths they need to tackle emerging challenges?
Why Every Organization Should Invest In Upskilling And Reskilling Programs
Many organizations, particularly SMBs and startups, assume that a holistic skill-building strategy is out of their reach. There simply aren't enough resources to launch a full-fledged talent development program for every member of your team, especially when they're geographically dispersed. However, building your L&D strategy with a skills-first perspective can help reduce spending and implementation time. For example, investing in an intuitive learning platform that allows you to customize skill-building paths based on individual strengths and areas for improvement lowers the learning curve and expedites your timeline. Here are just a few reasons why every business, regardless of their staff size, should launch upskilling and reskilling programs.
Boost Employee Motivation
Your workforce is more likely to actively engage in online training if it resonates with them on a personal level. They can immediately apply what they've learned on the job, which fosters self-confidence and self-assurance. They know that your organization values talent development that goes beyond check-the-box courses. A skills-forward talent strategy indicates that your business wants to see every team member thrive and that you're willing to invest in their professional growth.
Reduce On-The-Job Mistakes
This self-confidence leads to fewer work-related mistakes. Employees build the vital skills they need to get the job done, provide stellar service, and possibly take on new work responsibilities. As a result, skills-forward talent development can lower compliance risks and the penalties that come with them. Not to mention, cultivating certain soft skills can even foster a stronger team dynamic and make everyone more productive on the job.
Improve Employee Retention
Staffers who are satisfied with their training opportunities are more likely to stay with your organization. A skills-forward talent strategy hinges on knowledge sharing, ongoing support, and continual assessment. Employees can focus on their own gaps and goals, while still achieving the organizational objectives. All of these key ingredients are also hiring perks, which means that you can broaden your talent pool and attract qualified candidates.
About This eBook
Now that you know the "why," it's time to delve into the "how." Where do you even begin and what are the essential steps you can take to disclose gaps and bridge them rapidly? Here's a sneak preview of what you'll find inside this ultimate skill-building guide:
Turn skills into your organization's new growth language
Four steps organizations must take
Step 1: Embed learning and development into your culture
Step 2: Help employees identify new skills—and how they apply to your organization and industry
Step 3: Let AI do some of the heavy lifting
Step 4: Demonstrate organizational impact
Employees and companies must work together in the reskilling revolution
Conclusion
A skills-forward talent strategy should be part of your organizational and learning culture, not merely a one-off course for new hires. You must weave skills development into your brand beliefs and corporate mindset. Download the eBook How To Launch A Skills-Forward Talent Strategy for actionable tips to align individual growth with long-term business success.