5 Trending eLearning Topics We Want To Read About
The field of eLearning is constantly evolving and new topics are making an appearance more and more often. If you want to attract readers and establish your voice in the industry through your articles, you must remain on top of emerging trends. If you have no idea where to start, we're here to help! Here are 5 trending eLearning topics we would love to read your insights on in May 2022.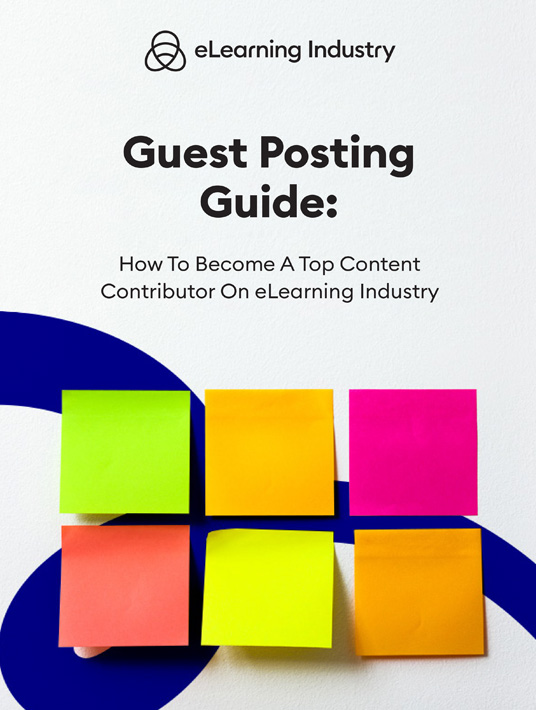 eBook Release
Guest Posting Guide: How To Become A Top Content Contributor On eLearning Industry
Discover what you gain by guest blogging and what are the basics of writing a guest post for eLearning Industry.
1. Industry 4.0
Industry 4.0 is an alternate term for the Fourth Industrial Revolution humanity has been experiencing since the turn of the century. It focuses on the idea that the way companies develop, manufacture, and distribute products has been revolutionized due to increased interconnectivity and smart automation. How has Industry 4.0 affected your professional life so far, and what further advancements should we expect to see in the future?
2. Upskilling And Reskilling
Working on your professional development is crucial in this rapidly evolving corporate world. Frequently, employees find themselves having to upskill to enhance their current skills and expand their responsibilities, or even reskill to take on completely new roles. But what makes reskilling and upskilling so crucial to employees? And how can employers offer effective and engaging training opportunities?
3. Sales Training
Another trending eLearning topic we would love to read about is your take on sales training. The rise of the internet and the events of the past few years have affected the way we purchase and sell tremendously. So, what new skills should employees in sales departments acquire? How can they utilize new technologies to maximize revenue and customer experience? Which eLearning training options will ensure maximum ROI?
4. Measuring eLearning ROI
Speaking of ROI, providing training opportunities is only one part of the solution. The other is actually measuring if your investment in training is bringing in the desired outcomes. Conducting a Training Needs Analysis or evaluating the performance of your employees on the job can help you assess how far your team has come and whether you have managed to create a culture that promotes learning and development.
5. Neurodiversity In eLearning
Online learning is opening up the world of education to everyone regardless of their location, funds, or background. But what about people who have different learning needs? The number of neurodiverse online learners is increasing, which calls for the creation of inclusive training options. What is the importance of programs that promote diversity, equity, and inclusion (DE&I) and how are they shaping the future of eLearning?
Feeling Inspired Yet?
There you have it! Here is your inspiration to create engaging articles on trending eLearning topics that will boost your thought leadership and online presence. Don't forget to submit them to the eLearning Industry website and reach a readership of almost 1 million!