3 Employee Satisfaction Survey Tips To Measure Employee Happiness At Work
Do you ever wonder how happy your employees feel about their employer-employee relationship or what they think of your organization? What about your employee's work-life balance? By leveraging an employee satisfaction survey, HR managers around the globe are trying to get answers to those questions.
Leaders in any industry can use all the help they can get when employees are unhappy in their jobs. In fact, according to our recent employee experience survey, 1 out of 3 new hires regret their decision to join a company due to bad onboarding. In addition, nearly half (46%) felt "extremely overwhelmed" by their most recent onboarding process. Also, another shocking stat was that 40% see communication or transparency issues with upper management. What about your business? Are your employees happy? Maybe there's a serious reason that their productivity is low...
In this article, I'll share the best tips for creating top-notch employee satisfaction surveys. Read on to learn how you can improve the employee experience by embracing feedback that your own people share.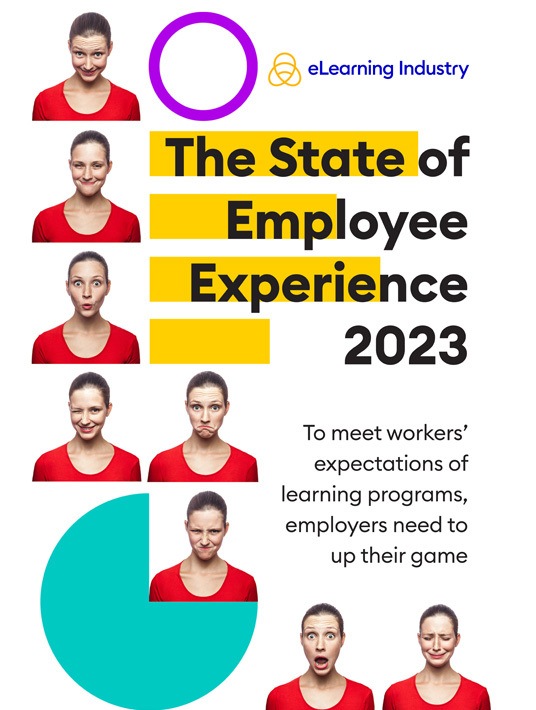 eBook Release
The State of Employee Experience Report Is Out NOW
Original research on employee satisfaction, training opportunities, and upward mobility. We asked 1,000 corporate workers in manufacturing, retail/hospitality, healthcare, technology, and finance/insurance in the U.S. to tell us how they feel.
Measuring Employee Satisfaction: Employee Survey Best Practices To Follow
Are you wondering why you should conduct an employee satisfaction survey? By conducting regular satisfaction surveys, leaders and managers can get vital data on how employees perceive company culture. Also, these surveys help HR professionals understand which issues have a deeper impact on employee engagement and productivity.
Apart from giving your workforce a voice, employee satisfaction surveys allow businesses to get ideas for improvement and implement new organizational growth initiatives. When upper management responds to organizational feedback, employees feel valued and tend to have more positive experiences. So let's dive into some tips so you can get what you need from your employee satisfaction surveys!
1. Signs That You Need To Survey Employees
Clearly, there are several reasons why you might have to conduct a survey. For instance, you might have noticed that there's a problem with your employee retention scores. Sometimes, you need urgent fixes, and waiting for the annual surveys might not be enough. Instead, running a customized survey can help solve the issue faster.
Watch out for these warning signs and act fast:
Sudden drops in productivity
Increase in complaints HR is receiving
High turnover rate or stunted organization growth
Employee behavioral patterns that are repetitive and unexplained
Putting company needs before employee needs creates a toxic work environment. Don't believe it? That's actually true, according to 39% of the respondents in our recent The State of Employee Experience Survey. Also, almost 60% of employees fear retaliation for bringing up negative issues, while 50% started a job search because of distress in the workplace. Measuring employee satisfaction isn't easy, but this is the feedback you need to be aware of if you want your business to succeed.
2. Employee Satisfaction Factors To Keep An Eye On
Measuring employee satisfaction is key if you want to identify where your system is failing. As a C-suite or HR team member, you can narrow down which reforms must be made. But what contributes to employee satisfaction? With an employee satisfaction survey, you can touch on all the factors and manage to monitor the right parameters. Here are the main employee satisfaction factors to consider:
Working conditions
Company culture and ethics
Recognition and reward
Adequate training programs
Career growth and promotions
Relationships with immediate supervisors
Effective communication
Role fitting and clarity
Teamwork
According to our recent employee experience report, 43% of respondents found their employer's training "outdated." Meanwhile, 1 in 4 (28%) believe their company's training content will not benefit them personally through professional growth and upward mobility within the organization. That says a lot about employee satisfaction and where things are headed.
You see, some people might find job satisfaction in good pay while others might prefer a peaceful work climate or working decent hours. It's not just about the money. Your people want to feel valued and well taken care of. Employee satisfaction surveys won't guarantee work engagement, but a high employee satisfaction rate can improve retention and help create customized compensation/benefits plans.
3. Common Challenges With Measuring Satisfaction And How To Overcome Them
Unfortunately, conducting your first employee satisfaction survey might be a bumpy road. However, knowing some common challenges will make things a bit easier for you and your HR team. Here are the common mistakes employee satisfaction survey mistakes and how to avoid them:
Unresponsiveness Bias
More often than not, there might be a portion of employees not participating in satisfaction surveys. And that's okay. That starts to become a problem when management neglects how different the absent points of view might be from the data at hand. For example, unrealistic response rate extensions might be to blame...
Retesting Reliability
Seeing improvement in your stats from your last pulse survey is exciting, but how reliable is it as an indicator? For example, if you run your first survey on a Monday, the employees that answered might have been particularly cranky. What if you run the second survey on a pizza Friday right after everyone had fun? Make sure that you avoid adding many variables to the equation to avoid ruining the measurement integrity.
My best tip here is to never jump to assumptions until you're done reviewing all the survey data. Another good idea is to replicate the same surveying conditions every time. That way, you can keep the long-term satisfaction level as the main variable.
Stretched Analysis Phase
If it's not clear enough yet, I can't highlight enough the importance of analyzing employee satisfaction surveys. Take your time analyzing the results, but also make sure to do something about it. Your employees want to see quick results. If you're postponing taking action, the next time your conduct an employee satisfaction survey, they are more likely to not participate again. That's something you want to avoid. The survey is meant to improve employee satisfaction, not make it worse.
So, make sure to extract the data as soon as possible. By doing so, you'll have the opportunity to enact changes on time. Also, that way, the answers you get from your next pulse survey questions can be a reliable measure. Meaning you'll see if the action plan you've taken between the two surveys was effective or not.
Generalized Inquiries
Don't make the mistake of grouping inquiries like pay and benefits into one question. Sure, they are relatable enough, but they might temper your results and not give you the answers you need. I understand it's tempting to hit two birds with one stone, but you need to identify what's working and what's not. Also, generalizing inquiries can leave employees confused. You see, they might have two different satisfaction levels for each of those inquiries. Instead, try to narrow down your questions to get the answers you need and improve your company culture and workplace environment.
Key Takeaway
You must have figured out by now that employee satisfaction has a direct impact on employee engagement, productivity, and retention. That, alone, makes it a critical component of organizational success, no matter your industry. Thus, employers and business leaders should conduct employee satisfaction questionnaires to get a better idea of what employees think and what employees want and expect from their business.
You can't deny the importance of employee sentiment in workforce planning. Thankfully, employee satisfaction surveys can help you pinpoint problems your employees may be having. After analyzing the data, you can create specialized solutions to boost employee engagement and satisfaction.
Want to learn more about how to improve your business? Make sure to explore these rising corporate culture trends!