Employee Training Software Features: What You Should Look Out For
Your employees are the most crucial part of your business. Investing in employee training software can help you give them the online training resources they require, no matter where they are or how far up the corporate ladder. Employee training software allows you to increase efficiency and workplace productivity. Here are 8 crucial employee training software features and functions that are bound to make your online training program a huge hit and boost your bottom line.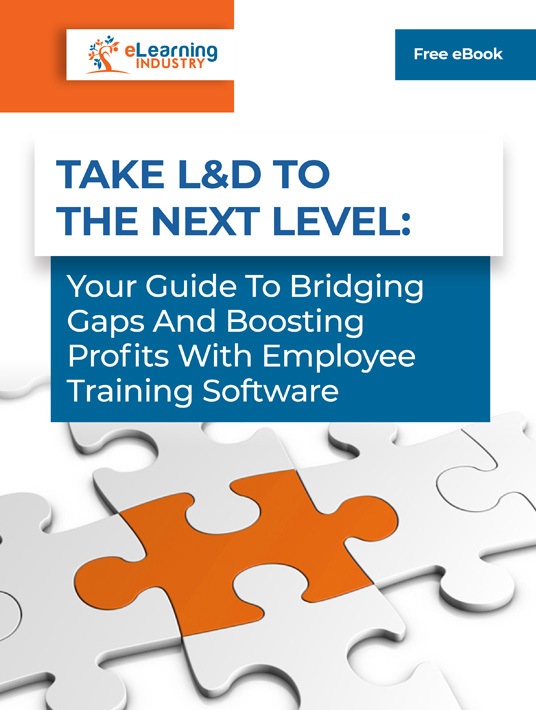 eBook Release
Take L&D To The Next Level: Your Guide To Bridging Gaps And Boosting Profits With Employee Training Software
Learn how to take your L&D to the next level with employee training software.
1. Assessment Engine
It is critical to ensure that the needs of your organization are met. It is at this point that the L&D manager needs to put on the detective cap. They need to conduct thorough research, internal surveys, and interviews. The core of a successful online training program involves understanding the needs of both the organization and the people being trained. Once the training need has been taken care of, you will be able to satisfy your customer's needs. Look for employee training software that provides a broad range of eLearning assessment methods, as well as question templates. For example, simulations and branching scenarios that serve as qualitative assessment tools while they also impart real-world experience and allow employees to learn from their mistakes in a risk-free setting.
2. Robust Reporting
Quantifying employee knowledge and performance is one of the most difficult online training tasks. However, you must identify the gaps so that you can provide suitable online training materials and align your online training initiatives with the desired outcomes. Ensure that the LMS metrics you use to develop the goals cover the complete picture. This includes individual performance, team performance, and the time it takes to complete the online training course. Among the essential employee training software features are data visualizations that allow you to evaluate the data with ease. Don't forget to monitor and review the progress that is being made on a regular basis. Many LMSs even have automated reports so that you can have data delivered right to your inbox. For example, every week you receive customized reports that enable you to track employee compliance and certifications.
3. Scalability
The online training course that you choose needs to grow with your company. Unlike in-person training which is expensive and very difficult to expand, your employee training software should allow for constant change. You can use mobile apps and the cloud to make the online training program easily accessible to your employees. It should also allow them to share their ideas on how to make the online training course better. Selecting employee training software that scales with your ever-expanding organization reduces the likelihood of having to purchase a replacement tool. You won't have to worry about vetting the LMS vendors and doing your homework again a year from now when your online training program needs change.
4. Accessibility
One of the most important employee training software features is the ease of access. Ensure that the online training course you create is easily accessible by your corporate learners anytime they need it. There would be no point in creating top-notch online training material that your employees are unable to reach. This is because they will forget most of the things they learn. Beyond the core training, you need to have supplemental learning materials that cater to their individual needs, such as a microlearning online training repository that gives mobile users the chance to brush up on skills and reinforce knowledge on their lunch breaks.
5. Feedback System
Once you have invested in online training, it is important to ensure that your employees are enjoying the online training program. Without the right feedback channels, it is difficult for you to know whether the online training program is worth the resources. Effective employee training software is equipped with a built-in feedback system that gathers and organizes the data. For example, you should be able to conduct surveys and view charts and graphs to identify training pain points.
6. Social Learning Integration
This employee training software feature includes social media integration and collaboration tools. Asynchronous training can be isolating for some employees, but social interactivity allows them to engage with their remote peers and facilitates knowledge sharing. This can be anything from group collaboration projects to live events that allow for real-time discussions. There should also be room for social media icons so that employees can quickly access relevant groups and pages.
7. Personalization Features
Every member of your team deserves personalized online training that focuses on their strengths, gaps, and preferences. As such, your new employee training software should feature personalized online training paths, customizable eLearning course maps, and other learner-centered features. Give your corporate learners the opportunity to concentrate on their own job requirements and responsibilities instead of having to participate in generic online training activities that diminish the overall value. Not to mention, your corporate eLearning ROI.
8. Brand Integration
You must be able to put your personal stamp on the employee training software so that it reflects your image and messaging. Thus, among the desirable employee training software features is full brand integration and customization. For example, you should be able to incorporate your logo into the dashboard and adjust the color scheme. During your free trial or demo, carefully examine the customization options. See how easy it is to modify the existing templates and User Interface to accurately portray your brand.
No two companies will require the same employee training software. But this article will help you choose software that's easily accessible and enjoyable for your employees. In addition, you must ensure that you get the right information in your system. If information is power, equip your team with valuable knowledge on all aspects of their work. This way they can learn about their positions and those of others in the business. Exceeding their expectations makes it easier for them to handle new responsibilities.
Download our eBook Take L&D To The Next Level: Your Guide To Bridging Gaps And Boosting Profits With Employee Training Software to discover how employee training software can take your L&D to a whole new level. We'll also offer tips to bridge performance gaps and enhance workplace productivity with your new software. Get your copy today to discover insider secrets to selecting the best employee training software for your organization.