7 Features To Look For During Your Employee Training Software Demo
Lots of products give you a "try before you buy" option. Usually, they're on the higher end price-wise and are driven by trust. They assume their quality is so convincing (and their commodities so personal) that you're unlikely to try and refuse to buy. Others are subscription services that let you swap and rotate options. The stakes are lower with training software, but you still want to maximize your testing experience. What should you consider during your employee training software demo or trial?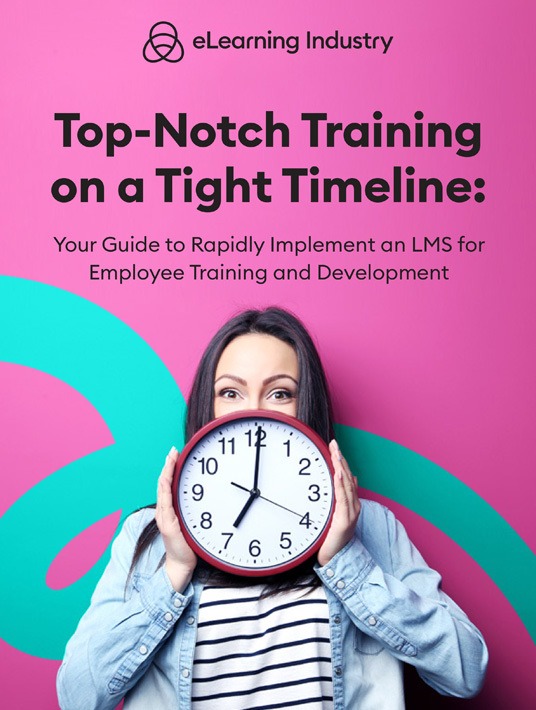 eBook Release
Top-Notch Training On A Tight Timeline: Your Guide To Rapidly Implement An LMS For Employee Training And Development
Don't let a tight timeline hinder your performance management strategy!
1. Reporting Features
Think about the type, of course, you're offering and the kind of reports it will require. The basics include trainee transcripts, completion certificates, and attendance sheets for synchronized classes. But you may want more detailed reports that cover time/place of training, course duration, and points of drop-off. You might want to review the heat map on a given page or evaluate modules that took a noticeably short/long time to get through. These are all cues on where and how your content can be improved. And if they can be generated automatically, they make training more efficient. If there's a specific report type you need, check its feasibility. You should also be able to specify the frequency of delivery and who receives which reports.
2. Interface
You want to see how easy it is to use the training platform. Assess how well it works for the differently-abled, e.g. sensory impairment or digital illiteracy. You should also test translation features for learners in alternate languages. Don't forget to check for motor impairments; certain employees may prefer voice-operated features. Check for adjustable font sizes, types, colors, kerning, text volumes, and other features that influence legibility. You can also test it on digital novices to see how quickly they learn to use it. Evaluate how intuitive the navigation system is. Find out whether trainees will need guidance on how to use the platform.
3. Scalability
Some software is billed per user. Others have a set price for "x" number of users and an additional fee for every top-up. How many staff members will actively, consistently use the software? Do some quick math to verify the cost. You want to see how easily you can raise or lower the number of users. More to the point, you want to find the cheapest user-to-fee ratio without compromising quality or features. Not just at the time of purchase, but for the next few years to come. And don't just focus on new hires. Check what happens to your list price if you suddenly have to downsize.
4. Compatibility
Ideally, you want software that runs equally well on desktop and mobile. This matters because some employees prefer to study outside the office. Smartphone learning is their best bet, though they can also use laptops or tablets. Thus, you want to be sure your training platform can cut across all those devices. You also want to test versions of mobile OS, processing speeds, and models. Start with a list of the phone and computer variations represented in the office. Note their range in specs, speed, and OS. Then test your prospective software on each device.
5. Vendor Support
Does the vendor stand behind their product? Do they provide online FAQs, online tutorials, or user communities? Can you contact them via live chat or phone when you run into a problem? These are all questions to ask during your employee training software demo. You may not think your team needs support now, but you never know when problems may pop up. For example, your admin isn't able to access reports, or you have user authentication errors. Test out their services by filing a trouble ticket or interacting with their user community.
6. Role Assignment
This is a back-end employee training LMS feature that can save your L&D team a lot of time, not to mention ensure that every member of your staff has access to personalized resources. Essentially, admins can assign roles or groups based on employees' titles, tasks, or objectives. For example, everyone in the customer service group is assigned certifications and courses that tie into their work responsibilities, or even shared gaps that need to be filled to improve workplace performance.
7. Authoring Tools
Some training software is canned, with all its content built in. In case you want to create your own training materials, you'll need something that comes with rapid authoring tools. Your L&D team will have to assess those tools. How easy are they to use? Do they require special coding skills or external staff? Are they aligned with the authoring tools you're using at the moment? Is it worth making the switch? If there are missing elements, is your vendor willing to offer them? Or are there add-ons and plug-ins that can be used in combination with this software? How do these additional scripts and mini-tools affect your overall training cost?
Conclusion
Free trials are an excellent marketing tool. But as a buyer, they're only as good as your testing strategy. If you wait and rush through the trial in the three days before it expires, you won't gain much. But if you plan carefully, you can test multiple training products within your shopping window. This ensures you get the best value. Take close account of reporting features, user interface, user experience, scalability, compatibility, and authoring tools. But don't forget to test less tangible features such as vendor support and role assignments.
How do your top LMS choices stack up in regard to support services? Do they deliver a user-friendly experience and value customer satisfaction? Our online directory can help you find the perfect platform and research user reviews. Weigh the pros and cons before you make your decision to get the best return on your investment.
Download our eBook Top-Notch Training On A Tight Timeline: Your Guide To Rapidly Implement An LMS For Employee Training And Development to expedite the implementation process and target individual performance issues with the right tools!