How To Use Mobile Learning For Skills Training
Mobile learning is the most preferred mode of learning in digital learning methods. It helps you deliver digital learning anytime, anywhere, and on any device. Mobile learning helps employees learn at their own pace by enabling them to access the courses or modules on their devices. Through repetition and smart pacing, learners benefit in terms of better understanding and increased productivity. We all know that employees spend ample time every day on their mobile devices. Why don't you use mobile learning to train your employees in learning new skills? You may wonder how mobile learning solutions can be used for specific "skill training," which generally happens within classrooms and ILT sessions. But certain methods help you achieve your goal.
In this article, we shall look at 4 examples of mobile learning that can be used for skill training that suits your requirement or that is appropriate for your employees.
Example 1: Use Mobile Learning To Provide Skill Training To Your Employees
To develop mobile learning courses for skill development, first, you should understand the mobile learning strategies well, from the design to technical considerations and user experience. By using impactful approaches and relevant interactions and gamification [1] elements, you can create the right mobile learning solutions for your employees to enhance their skills.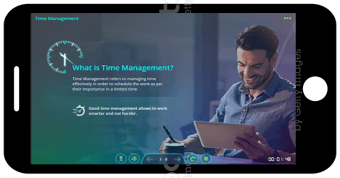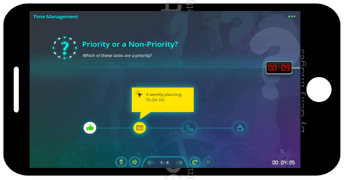 This is a mobile learning course on time management skill training (above). In this course, the importance of time management, both in professional and personal life, is clearly explained. How the learner can decide what is a priority task and what is not is explained well with the help of interesting interactivities.
Example 2: Keep The Duration Of Your Mobile Learning Modules Short
Mobile learning is an effective way of delivering essential learning content and providing skill training to your employees. It becomes effective when you keep the learning modules short, say one to five minutes. Many of us might have learned something, say, for example, cooking a recipe, a new skill, a different technique of doing something, from 1 to 3-minute short presentations posted on Facebook or YouTube. This is one way of providing training or learning content effectively. You can include interactivities in your mobile learning courses so that learners can rapidly digest short bursts of information as part of skill training.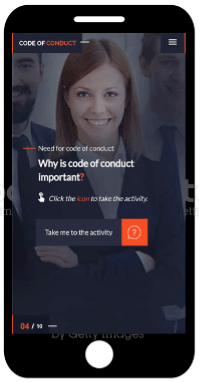 This 5-minute mobile learning course on Code of Conduct (above) is a part of behavioral skills training. This course was created to deliver a fully responsive solution to run on all mobile devices like smartphones and tablets. We have designed the course with compelling scenarios, interesting activities, and assessment questions. The seamless learner experience across all the devices helped in higher retention and better course completion rates.
Example 3: Use Interactivity For Engaging Experiences
Mobile learning courses and modules can appeal to all learners because of the media-rich content and environment. They can offer various content formats like images, audio and video files, animations, interactivities, etc., to drive learner participation and to improve the learning experience. Therefore, you can use an interactive training mechanism in your mobile learning to increase the learning effectiveness of your skill training and to provide an engaging experience to your employees. You can also include infographics and flip cards in your courses so that learners can get short bursts of information as part of their skill training.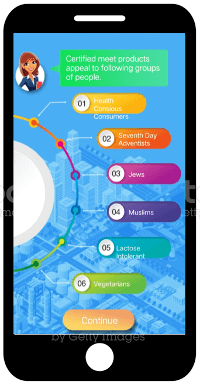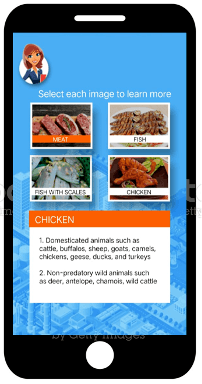 In this short mobile learning course (above), colorful infographics and flip cards provide additional information on certain concepts as part of skill training to employees in the food industry.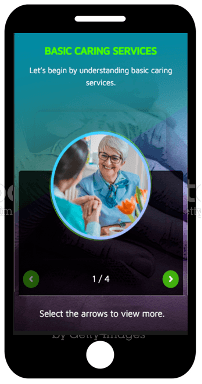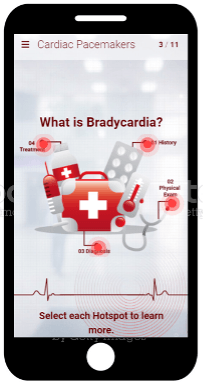 In these mobile learning courses (above) on skill training in the health care industry, interactive elements such as arrows and hotspots engagingly explain the concepts.
Example 4: Use Gamification In Mobile Learning For An Immersive Experience
Gamification in mobile learning integrates game elements with the existing content making it more enticing. Simple game elements like multiple levels or progress bars can act as a motivator for the learners compared to the plain look and feel of mobile learning content. Elements like points, stars, badges, or coins keep learners engaged and harness the very human instinct to collect more. Therefore, it is always better to use gamification elements in your mobile learning, where possible.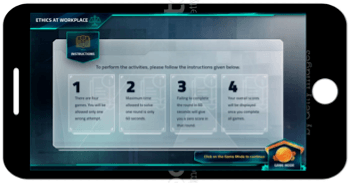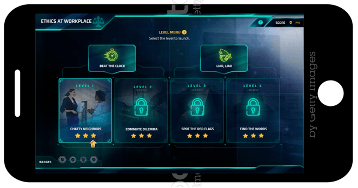 In this mobile learning on ethics at workplace behavioral training course (above), interesting gamification elements like levels, stars, and badges provide an immersive and thrilling experience to the learners and motivate them to take up the course and complete the course.
Conclusion
In mobile learning, learners can access courses on a device of their choice and learn at their own pace. This flexibility makes mobile learning for skill training more engaging and intuitive.
At Tesseract Learning, our learning and visual architects are constantly innovating and reinventing their approaches to design, develop, and deliver effective L&D programs. We are leveraging our powerful new microlearning platform, KREDO, to create efficiencies across the training life cycle and deliver optimal learning experiences. Also, the company develops mobile learning and training courses with engaging interactivities to enhance the learner's competencies and skills. To learn more you can contact me or leave a comment below.
References:
Sources:

Tesseract Learning Pvt Ltd
Tesseract Learning works with global organizations improve employee performance through spectrum of digital learning solutions. Solutions include eLearning, mobile learning, Microlearning, game based learning, AR/VR, Adaptive learning amongst others.