Win The L&D Bet By Focusing On Skills Training With Mobile Learning
Skills training requires learners to think independently and apply their knowledge. With the increasing demand for continuous learning, mobile learning is quickly becoming the go-to format for training in most organizations. Here are the most recent mobile learning trends that can help you deliver effective skills training.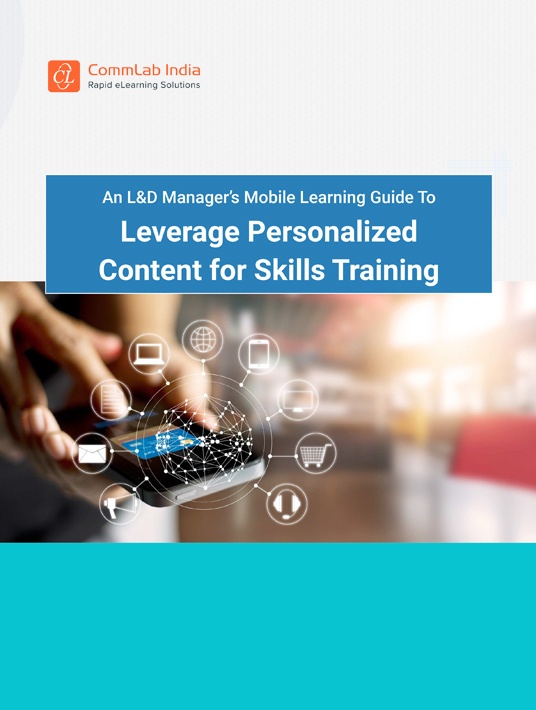 eBook Release
An L&D Manager's Mobile Learning Guide To Leverage Personalized Content For Skills Training
Explore how you can utilize mobile learning for skills training.
1. User-Generated Content For Peer-To-Peer Learning
On-the-job training is essential for any training, and more so for skills training. Most organizations include this as part of their training framework. But L&D teams have long struggled to provide continuous on-the-job training as it is almost impossible to ensure the presence of a co-worker or coach to guide the employee every time they need help.
Most of us go to Google to find out how to do a certain task, and employees at the workplace are no exception. According to a Docebo survey, almost 40% of employees do this, and that includes 1 in 3 millennials. And they prefer that to asking help from a co-worker.
Instead of Google or a co-worker, why not share User-Generated Content (UGC) through mobile devices for quick learning opportunities? UGC has evolved from social learning, and today, it enables learners to create content from their own experience and share it with peers. It is a mobile learning trend that is going to become very popular in the coming days to deliver effective skills training.
For example, if a learner is interested to learn about sales skills, wouldn't a quick video or notes from a co-worker or trainer be more effective than watching generic sales skills videos on Google?
L&D teams can quickly train employees on creating User-Generated Content and the different formats it can be delivered in. Let them know that it need not be 'amazing'. It just needs to be 'good enough' to help fellow employees complete their tasks at the workplace.
2. Mobile Apps For Active Learning
Did you know that almost 57% of today's employees prefer learning on the go? You can help learners 'sharpen the saw' by facilitating active learning through mobile apps—microlearning refreshers following instructor-led skills training or eLearning.
Create micro quizzes that can be quickly accessed by learners on their smartphones. One or two questions that pop up on their mobile screens every day at a set time is a great way to reinforce learning.
Native mobile apps can also help learners in remote locations or those on-the-move to improve their skills, even when there is limited Internet connectivity. Customized mobile learning apps are a great fit in the modern workplace where brand alignment is important. In addition to offering insights on learning metrics, they keep you informed on:
Downloads and installs of the app
Number of active learners using the app
Average duration of learning using the app
Number of users returning to use the app
3. AI Chatbots For Personalized Mobile Learning
We've all heard of learning chatbots that can answer specific questions. The chatbot can be transformed into a virtual coach by adding tools powered by Artificial Intelligence. Based on the skills that need to be developed, a virtual coach can recommend content or facilitate a personalized mobile learning journey for the learner.
AI chatbots transform mobile learning by:
Sending reminders to learners about the training
Guiding learners in the mobile environment
Interacting with learners, just as an instructor would
Delivering relevant information, according to a learner's need
Providing feedback in the learning journey
With 43% of Gen Z preferring an independent and self-directed learning approach, there is an increasing demand for personalized learning experiences. And when this learning is offered on their favorite mobile devices enabling anytime, anywhere learning, high completion rates are a given.
This mobile learning trend will continue to evolve along with the research on AI learning, offering the learner more and more benefits.
4. UX For Next Generation Mobile Learning
One mobile learning trend that's fast becoming popular is focusing on User Experience (UX) to deliver enhanced learning experiences on mobile devices. Mobile learning content can be offered as a microlearning course, blogs, articles, videos, podcasts—the options are many!
UX in mobile learning plays an important role in:
Enabling learners to access information at their moment-of-need
Providing uninterrupted learning with a provision for offline learning
Facilitating the quick exchange of knowledge 
What Does UX In Mobile Learning Mean For Designers?
Minimal page-loading time through reduced content and images
A visual strategy that works well on small screens
Maximum visibility with color and contrast
No clutter and good readability of text
It's important to remember that not all content for skills training can be dealt with by a mobile-first strategy. Instead of designing 'mobile-first', think 'learner-centric', what's best for the learner. Sometimes, it's just not possible to cut down content for a crisp, responsive mobile learning solution that addresses your objective of upskilling or reskilling learners.
If you feel lengthier pieces of content (irrespective of the format) will be more effective for training, go for it. Mobile-friendly content that can be accessed on a range of devices including laptops and desktops is very much in trend!
5. Augmented Reality For Immersive Mobile Learning
Augmented Reality (AR) allows digital elements to be added to a real-life environment. If you've used the IKEA mobile app that lets customers place IKEA furniture in their homes (virtually) before actually purchasing it, or played Pokémon GO, you've already had a feel of what AR is.
AR can be used to provide immersive mobile learning experiences. And it can certainly make skills training interactive and engaging. For example, an employee working to repair a malfunctioning part of a machine can simply point his mobile at that part of the machine and get step-by-step instructions to repair it.
In the field of healthcare AR is being increasingly used for surgical training—not only to train but also to assess the surgical skills of trainee surgeons. AR simulators combine real-life objects with computer graphics, providing surgeons an 'X-ray' vision to increase surgical precision. Surgeons can also use 'telementoring' (an AR application) that allows experts to see what the surgeon is looking at and provide guidance.
AR can also be used in warehouse management to help staff locate products quickly. Order picking, a cost-intensive task that requires a lot of practice, becomes simple with AR-based Smart Glasses.
5 Ways To Help Your Workforce's Skills Training
Gone are the days when you had to spend a lot of time and effort looking for a tutor. Now you simply whip up your smartphone—and voila!! There's Duolingo, Memrise, Babel—all mobile learning apps that can help you learn a new language.
Learning a new language or for that matter, any type of skills training has never been so easy!
What Are Mobile Learning Apps?
Put simply, mobile learning apps are applications developed using mobile technology to provide learning experiences on mobile devices.
Mobile learning apps are becoming increasingly popular in the corporate world, not just as tools for self-learning but as formal and informal learning tools for knowledge sharing and skills training. You have the option to choose from a web app, a native mobile app, or the more recent hybrid mobile app.
Your choice of the app would depend on the business need, resources available, expectations from the app, and development timelines.
A web app on a smartphone is a software program that's accessible on a web browser. It's usually created in HTML, CSS, or JavaScript for multi-browser compatibility. Web apps are your best option if you're looking for a learning app that can be:
Rolled out quickly
Developed within a low budget
Compatible across multiple platforms
The only problem is that most web apps require Internet access and may not work well for offline learning.
Native apps are installed on the smartphone through an app store and more expensive than web apps; designed specifically for one platform. Native apps are ideal when you're looking for:
Responsiveness and speed
Offline access to learning
Platform-specific mobile apps (e.g., iOS for Apple, or Android for Samsung smartphones)
Integration with third-party applications
Hybrid apps combine the features of both web and native apps. Though they are easier to build and have a shorter development cycle as compared to native apps, they require third-party tools to ease communication between the native platform and the web view.
What Are The Benefits Of Using Mobile Apps For Skills Training?
It is interesting to examine mobile learning trends with all the perks they offer for skills training. For example, let's explore these mobile apps for skills training:
1. Encourage Active Learning
Keeping learners engaged in learning is a major challenge for most training programs. Active learning with learner engagement is an integral part of classroom training. But what about the times when learners are outside the classroom?
With mobile apps, it's possible to send 'push' notifications to learners—reminders to complete a module or answer a quiz, etc. Consider the example of workers in a restaurant chain or a retail outlet. They cannot afford to spend long hours in the classroom as that would affect productivity.
A gamified quiz or a bite-sized microlearning nugget that's quick, engaging, and easily delivered through a mobile app works very well to train them on customer service skills, by engaging them in the learning process.
2. Support Offline Learning
Limited Internet connectivity no longer means learning interruption—not anymore!
For example, training on negotiation skills (as part of sales training) need not be confined to the classroom. It can be done outside the classroom too with interactive simulations. And it's not necessary to have Internet to access the training modules.
With mobile apps supporting offline learning, it is possible to complete skills training with eLearning or microlearning at the learners' convenience, even with limited Internet connectivity.
3. Track Learners' Progress
Many of us are still under the misconception that learning can be tracked only when done within the organization, not outside. That is no longer true as with a mobile LMS, learners can start training on one mobile device and continue it on another. Another mobile learning trend that shouldn't go unnoticed.
With so much flexibility in learning, is it even possible to track learners' progress?
Absolutely! It is possible to track learner progress as mobile apps ensure the syncing of data with the organization's LMS. With offline learning, results are synced as soon as Internet connectivity is restored. With customized mobile apps, it is possible to even track the learners' usage of the mobile app.
Managers or supervisors can access customized dashboards for a quick overview of their team's performance and study the metrics they're interested in, enabling remedial actions if necessary.
4. Offer Personalized Learning Interventions
Mobile apps offer learners control over their learning experiences by delivering personalized learning effectively. (Modern learners do love to have complete control over their own learning!)
You can use mobile learning to deliver personalized learning for skills training:
That is aligned to business goals
For the current job role
To prepare for future roles
Personalized learning paths can be delivered using mobile apps, with the paths configured based on the learners':
Preferred language
Roles in the workplace
Level of proficiency (gauged through pre-assessments)
Mobile apps also allow learners to search for online courses, videos, and podcasts based on recommendations from colleagues. Integration of collaborative learning makes it much easier to quickly seek help from an expert or complete a group activity. 
5. Optimize Performance Support
Providing performance support at a learner's exact moment-of-need was unheard of before mobile learning arrived on the L&D scene. But now, it has become a major reason for organizations adopting mobile learning.
For example, service technicians out in the field can use their smartphones to quickly access videos on troubleshooting a machine, go through a digital maintenance manual, or browse through a knowledge library curated by experts in the team. This comes in handy as an on-the-job performance support tool.
Bite-sized learning nuggets in the form of microlearning can be accessed by learners for Just-In-Time training or simply to refresh their knowledge, making it a great strategy to reinforce skills training.
Catering to beginners as well as experts, mobile learning apps can be used to deliver a variety of skill-based training making learning on-the-go a reality and making these apps every instructor's best friend!
Mobile technology is greatly affecting how we live, work, and learn. To get further insights into the amazing world of mobile learning, get the eBook An L&D Manager's Mobile Learning Guide To Leverage Personalized Content For Skills Training and explore how you can utilize mobile learning for skills training.
CommLab India Rapid eLearning Solutions
Working with multiple outsourcing vendors can be stressful, and a waste of time & money. With CommLab India Rapid eLearning Solutions, all your online training needs are taken care of, rapidly and economically.