How To Use Top Mobile Apps For Employee Skills Development
Gone are the days when you had to spend a lot of time and effort looking for a tutor. Now you simply whip up your smartphone – and voila!! There's Duolingo, Memrise, Babel – all mobile learning apps that can help you learn a new language.
Learning a new language or for that matter, any type of skills training, has never been so easy!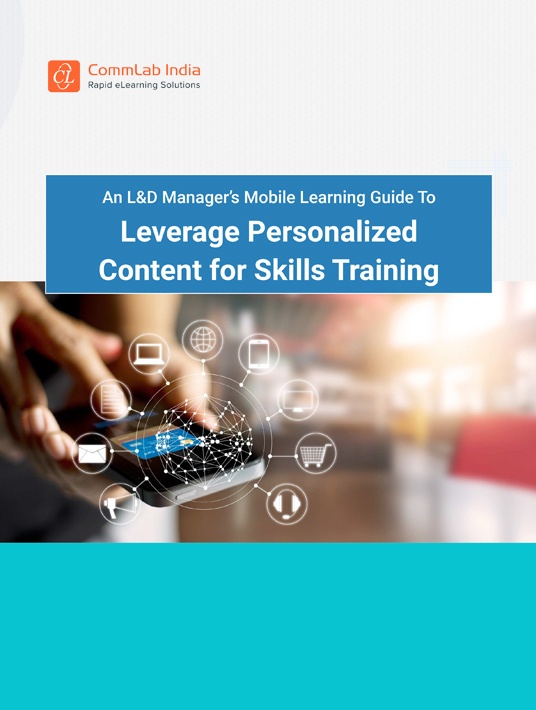 eBook Release
An L&D Manager's Mobile Learning Guide To Leverage Personalized Content For Skills Training
Explore how you can utilize mobile learning for skills training.
What Are Mobile Learning Apps?
Put simply, top mobile learning apps are applications developed using mobile technology to provide learning experiences on mobile devices.
Mobile learning apps are becoming increasingly popular in the corporate world, not just as tools for self-learning but as formal and informal learning tools for knowledge sharing and skills training. For example, you have the option to choose from web apps, native mobile apps, or the more recent hybrid apps.
Your choice of the app would depend on the business need, resources available, expectations from the app, and development timelines.
A web app on a smartphone is a software program that's accessible on a web browser. It's usually created in HTML, CSS, or JavaScript for multi-browser compatibility. Web apps are your best option if you're looking for a learning app that can be:
Rolled out quickly
Developed within a low budget
Compatible across multiple platforms
The only problem is that most web apps require Internet access and may not work well for offline learning.
Native apps are installed on the smartphone through an app store (Google Play or Apple's App Store). They are more expensive than web apps and are designed specifically for one platform. Native apps are ideal when you're looking for:
Responsiveness and speed
Offline access to learning
Platform-specific mobile apps (e.g., iOS for Apple, or Android for Samsung smartphones)
Integration with third party applications
Hybrid apps combine the features of both web and native apps. Though they are easier to build and have a shorter development cycle as compared to native apps, they require third party tools to ease communication between the native platform and the web view.
What Are The Benefits Of Using Top Mobile Learning Apps For Skills Training?
1. Encourage Active Learning
Keeping learners engaged in the learning is a major challenge for most training programs. Ensuring active learning with learner engagement is an integral part of classroom training. But what about the times when learners are outside the classroom?
With mobile apps, it's possible to send 'push' notifications to learners – reminders to complete a module or answer a quiz, etc.
Consider the example of workers in a restaurant chain or a retail outlet. They cannot afford to spend long hours in the classroom as that would affect productivity. A gamified quiz or a bite-sized microlearning nugget that's quick, engaging, and easily delivered through a mobile app works very well to train them on customer service skills, by engaging them in the learning process.
2. Support Offline Learning
Limited Internet connectivity no longer means learning interruption – not anymore! For example, training on negotiation skills (as part of sales training) need not be confined to the classroom. It can be done outside the classroom too with interactive simulations. And it's not necessary to have Internet to access the training modules.
With mobile apps supporting offline learning, it is possible to complete skills training with eLearning or microlearning at learners' convenience, even with limited Internet connectivity.
3. Track Learners' Progress
Many of us are still under the misconception that learning can be tracked only when done within the organization, not outside. That is no longer true as with a mobile LMS, learners can start training on one mobile device and continue it on another.
With so much flexibility in learning, is it even possible to track learners' progress?
Absolutely! It is possible to track learner progress as mobile apps ensure syncing of data with the organization's LMS. With offline learning, results are synced as soon as Internet connectivity is restored. In fact, with customized mobile apps, it is possible to even track the learners' usage of the mobile app.
Managers or supervisors can access customized dashboards for a quick overview of their team's performance and to study the metrics they're interested in, enabling remedial actions if necessary.
4. Offer Personalized Learning Interventions
Top mobile learning apps offer learners control over their learning experiences by delivering personalized learning effectively. Since modern learners do love to have complete control over their own learning!
You can use mLearning to deliver personalized learning for skills training:
That is aligned to business goals
For the current job role
To prepare for future roles
Personalized learning paths can be delivered using mobile apps, with the paths configured based on the learners':
Preferred languages
Roles in the workplace
Level of proficiency (gauged through pre-assessments)
Mobile apps also allow learners to search for online courses, videos, and podcasts based on recommendations from colleagues. For instance, integration of collaborative learning makes it much easier to quickly seek help from an expert or complete a group activity.
5. Optimize Performance Support
Providing performance support at a learner's exact moment-of-need was unheard of before mLearning arrived on the L&D scene. But now, it has become a major reason for organizations adopting mobile learning.
For example, service technicians out in the field can use their smartphones to quickly access videos on troubleshooting a machine, go through a digital maintenance manual, or browse through a knowledge library curated by experts in the team. This comes in handy as an on-the-job performance support tool.
In short, bite-sized learning nuggets in the form of microlearning can be accessed by learners for just-in-time training or simply to refresh their knowledge, making it a great strategy to reinforce skills training.
It's A Wrap!
Catering to beginners as well as experts, top mobile learning apps can be used to deliver a variety of skill-based training making learning on-the-go a reality and making these apps every instructor's best friend!
Are you ready for more insider tips to maximize mobile learning for skills development and online training personalization? Download the eBook An L&D Manager's Mobile Learning Guide To Leverage Personalized Content For Skills Training to examine the benefits, use cases, and secret mLearning formulas. You can also join the webinar to discover how to tap into mobile learning for sales teams and talent cultivation.
References
CommLab India Rapid eLearning Solutions
Working with multiple outsourcing vendors can be stressful, and a waste of time & money. With CommLab India Rapid eLearning Solutions, all your online training needs are taken care of, rapidly and economically.