Must-Have Features And Functions For Your Next Blended Learning Software
When you're thinking about your blended learning approach, you're probably not considering tailored software. Far more likely, you're focused on existing training content and how you can compile it in-house. Your working assumption is to create a communal workspace portal to upload content. Then you may call departmental heads and company experts to give Friday afternoon lectures on relevant training topics. Well, that's the analog approach. A more contemporary version is to buy blended learning software that's customizable so that you can achieve your training outcomes. How do you determine which platform has the best blended learning features for your organization?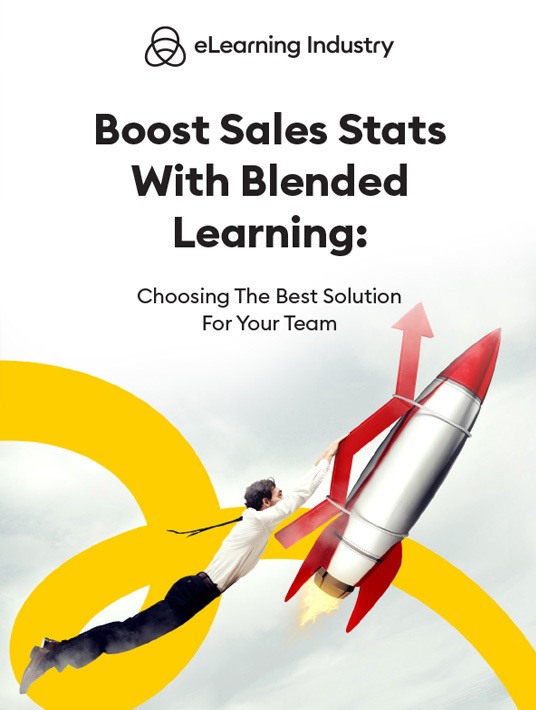 eBook Release
Boost Sales Stats With Blended Learning: Choosing The Best Solution For Your Team
This guide can help you choose the ideal system for your needs to hit sales targets and improve stats.
5 Blended Learning Software Features To Look For
1. Reports You Can Automate
Which elements of training data are you interested in? You might want to know how quickly a trainee completed a module and what they scored in tests. You may be curious about the uptake rate. How long did they wait between the course launch and their first day of study? Which assessment exercises had unusually good (or bad) results? Blended learning software offers a plethora of Big Data. So, it helps if your training system has built-in tools to help you make sense of it all. Customizable reporting tools go a long way in this direction. You can use templates to generate basic reports, or you can swap out fields to print something more targeted. It makes work easier for report writers and quality assessors. This also allows you to specify which team members receive relevant reports and how. For instance, your customer service supervisor will get weekly emails to help them pinpoint top performers and those who need follow-up.
2. Collaboration Tools Built In
In today's workspace, many of us default to social media communication. It's not as formal or secure as corporate email, for example. But we're so attuned to our smartphones and mobile devices that we'll open a text message while ignoring our Outlook inbox. Opening a notification is almost a reflex. So, it becomes the easiest way for bosses or colleagues to reach you with "urgent" messages. In the training space though, social media may create the risk of security breaches. Corporate policy probably discourages instant messaging for corporate communication. It has no official mandate or paper trail. But if you can, invest in blended tools with built-in messaging tools. It could be a happy compromise for everyone. Plus, the learning curve is non-existent.
3. Social Learning Support
Simply having social media tools doesn't mean your trainees will use them or even that they'll use them in a meaningful way. This is why your blended learning LMS needs targeted support tools. They could take the form of moderated trainee groups. The facilitator will ensure the group retains some element of serious learning, even as it gets flooded with memes. Another support tool is a chatbot programmed to both feed from and add to your FAQs. Using search algorithms and keywords, it can automatically pull relevant responses from elsewhere on your website, app, or corporate content cache. If the bot encounters a new or unfamiliar question, it can ping a human assistant. They'll give a more tailored response. This answer can then be added to your library of reference content. It may also be helpful if your canned, blended software has a direct line to 24/7 emergency training support.
4. Recording And Playback Tools
For the online portions of your blended learning strategy, playback is important. Unfortunately, it's something that's easily overlooked. Vendors sometimes prefer to use their own video/audio hosting platforms or plug-ins. But these platforms may not have the ease of use that, say, YouTube has, especially if they're accessed via mobile. So, whichever streaming tool you embed, check that it's easy to skip back or forward in the feed and to pause. At the same time, your blended learning software should make it easy to record the offline portions of your training course. Whether it's a face-to-face seminar or an extended video call, it helps to record it for future reference. These recordings can be watched as they are or restructured into a series of different lessons. You can even break off task-based cut-outs and use them as JIT tutorials. So, ensure your blended software makes it easy to craft, find, and use these recordings.
5. Self-Paced Training Support
This is a broad category of blended learning features that encompasses everything from personalized dashboards to self-paced paths. Your employees must be able to log in to the system and sign up for courses on their own or at least select which resources are relevant to their titles and tasks. This is particularly essential in blended learning environments since many organizations use the software as a support tool. Employees use the system to supplement their training knowledge after ILT sessions or live events, which means they must be able to go at their own pace and train when it's most convenient.
Conclusion
Buying blended learning software has a few extra steps beyond typical software shopping. For one thing, your tools and features list has a few added elements. These include customizable reports, built-in collaboration tools, social learning support, and easy editing options for recording and replaying training content. Start with these and build your list as you go. It's also a good idea to conduct a training needs analysis to see which features your system currently lacks or what's missing from your ILT sessions. Then use the data to customize your own shortlist of blended LMS must-have features.
Which blended LMS has the features and functions you need to offer the best returns? An online directory can help you select the ideal system for your budget and training requirements. You can filter results by features to quickly find your top choices and start vetting the vendors.
Download the eBook Boost Sales Stats With Blended Learning: Choosing The Best Solution For Your Team to discover which blended learning LMS is a wise investment for your organization.