7 Features That Distinguish Blended Systems From Traditional Platforms
In the training space, especially on the issue of blended learning, traditional learning could have 2 meanings: It could refer to conventional classroom learning, in a face-to-face set-up led by an instructor, or it could even refer to typical online learning. The blended learning LMS combines the features of eLearning with techniques from the class-based methodology. But what are the real differences between blended learning platforms and training tools that are either purely online or strictly offline? Here are 7 features that set blended learning LMS solutions apart from traditional platforms.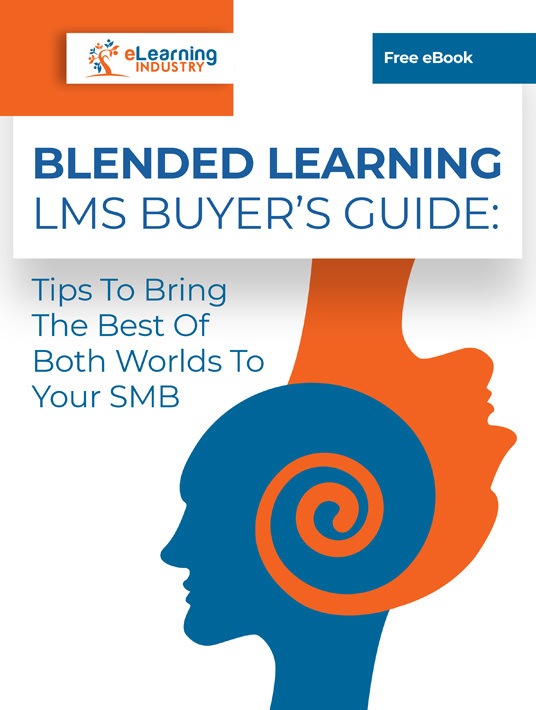 eBook Release
Blended Learning LMS Buyer's Guide: Tips To Bring The Best Of Both Worlds To Your SMB
Discover how to remedy traditional training gaps and bring the best in your SMB using a blended learning LMS
1. Mobile Access
Your LMS can be used to create and deploy a course, but it might have other functionalities, too. For instance, tracking employee performance so that you can quickly identify trouble spots and provide follow-up resources automatically. However, a blended learning LMS combines online and offline access, so your system has to be accessible via laptops, tablets, and smartphones. It differs from other traditional software, which doesn't always have a 'portable' component, and from traditional face-to-face learning, which needs no online tools at all. Ideally, it should be responsive so that every member of your team can access online training tutorials, videos, and other resources on any device, without your L&D staff having to manually create different versions of the online training content.
2. Live Web Tools
Sometimes, the offline component of a blended learning course can be done in person, at a chosen time and venue. But in terms of a blended learning LMS, even the social sections of the class happen online, meaning synchronized webinars, or one-on-one video calls. You might use existing software, like Skype, WhatsApp, Telegram, or FaceTime. But for corporate confidentiality, you may have to develop your own in-house system. Whatever blended learning LMS you buy or build, it needs the ability to host live teleconferencing, which is the primary tool for 'face-to-face' sessions using your software.
3. Separate Log-In Tiers
Online learning is beloved for its flexibility and convenience. Employees pick their own pace and study without guidance from an instructor. Blended learning has a more direct element of oversight. You may have an assigned instructor to actively walk you through online training modules which also mark your open-ended assessment tests and may have face-to-face, or screen-to-screen feedback sessions. Your blended learning LMS, therefore, needs separate 'permissions' for the instructor and the learners and need different sets of tools, so they can't access the same areas of the blended learning LMS. Blended tools require these segments, for data security and efficiency.
4. Social Media Integration
I've mentioned public social networking platforms lack the security levels of in-built systems. However, creating those in-house platforms takes extra time and money, and you don't always want to re-invent the wheel. If your blended learning software allows easy integration, you can link it to popular social media sites around the office. Tie it to the most common ones -  YouTube, Facebook, Instagram, Pinterest, WhatsApp, Snapchat - and then use your blended learning LMS to create closed groups, for online training, or for general communication. You can use them to set-up leaderboards, share group memos, or organize offline training activities.
5. Relevant Reporting
All online systems have some kind of metrics, but they're not always what you need. A blended learning system requires analytics for both its online and offline elements. For example, GPS functionality on the mobile LMS can help you manage remote assets and plan for offsite sessions, but you can also build location-specific content. Automated report generation can make admin tasks much easier, and email or memo linkage can make it easy to distribute these reports among your staff. Blended learning LMS with a good dissemination system can even be used to design eLearning templates. You can build attractive, easy-to-understand LMS reports that your staff will actually want to read. And you can use analytics to see which email or report was actually opened, and at what stage they stopped reading which can help you design future online training content.
6. Downloadable Content
A key feature to look for in your new blended learning platform is offline access and downloadable content. Employees may not always have the luxury of logging into the system after an ILT session to broaden their comprehension, or they might need to access crucial support resources on-the-go. Thus, a blended learning LMS should allow them to download the content they require and view it whenever necessary. You might even consider an LMS that includes a built-in app.
7. Supports Auto-Enroll
Many Learning Management Systems now feature auto-enroll functions, which allows employees to sign up for online training courses, certification programs, or events that pertain to their goals and gaps. For example, they can choose from an online course catalog and automatically start the first module. They don't have to wait for a manager to approve their request and can quickly address personal performance issues on their own.
Blended learning combines techniques of both online and offline learning. So, what are the true differences between blended learning systems, offline and online systems? Blended learning Learning Management Systems have mobile capabilities, so you can train remote workers and administer offline sessions. Social media integrations help with this as well. It requires live web tools for real-time video-calls, and separate log-in levels for online learners, instructors, and administrators. Automated LMS reporting helps, too, especially if you can design the type of summary employees will enjoy looking at, and, therefore, read to completion. After all, these reports are a form of training, as well. Finally, give employees the ability to enroll themselves in online training courses or certification paths so that they feel more empowered.
How is conventional training problematic, and how can the blended learning approach fix it? Is there any way to convince employers blended learning software is the way to go? Download our eBook Blended Learning LMS Buyer's Guide: Tips To Bring The Best Of Both Worlds To Your SMB and discover how to remedy traditional training gaps, leverage your blended learning platform for managing online training, and how to bring the best in your SMB by using a blended learning LMS.