Top Blended Learning Management Solutions
Do you find it hard to pick the best blending learning LMS solution for your business needs? Worry not because after this list, you'll know how to make the ideal LMS decision. As a method, blended learning combines a traditional instructor-led approach and online learning. Meaning, you can have it both ways, thus enabling learners to have more control over their training.
By implementing an LMS for blended learning, training managers can streamline and simplify tasks. At the same time, they can still deliver a targeted and flexible training program. Most importantly, they can customize the training program to the needs of different learners because of this flexibility.
It's well known that a blended learning strategy is often the favored method of companies wishing to train their employees effectively. While blending learning can work well for most industries, it has proven particularly valuable for industries like manufacturing and healthcare. What's more, it is also an efficient method for sales training.
Explore eLearning Industry's list of top blended learning tools to:
Find LMS platforms that meet your budget
Explore top LMS features for blended learning
Evaluate blended learning platforms and check user reviews
Compare LMS solutions for a mixed learning approach
Find the most suitable LMS via a demo or a free trial and test its UI
Our eLearning experts have selected the best learning management systems for blended learning in this hand-picked list. However, if you're interested in a specific LMS use case, please visit our complete LMS directory.
The Best LMS Solutions For Blended Learning In 2022
Compare The Best Blended Learning LMS Solutions
Reduce training costs, create personalized training experiences, and track employee performance and skill development with the industry's top LMS software.
Top List Ranking: eLearning Industry's LMS Selection Criteria
Globally recognized LMS experts, including C. Pappas and our editorial team, did a thorough review of each vendor's eligibility and relevant published content (articles, eBooks, webinars). Our committee ranked the top LMS software for blended learning training based on the following 9 criteria:
Customer support
Customer experience
Software features
Software innovation
Customer reviews
Economic growth potential
Customer retention
Employee turnover
Social responsibility
One thing is sure: Blended learning makes training and education more accessible. Using apps, games, or measurable programs to teach concepts allows learners/students to engage with the material at their own pace. Plus, you can promote deeper learning, reduce stress, and increase learner satisfaction.
Now that you've checked the rankings of this top list, please focus on our tips and insights below. Find out what you need to know before purchasing the best blending learning LMS for your needs.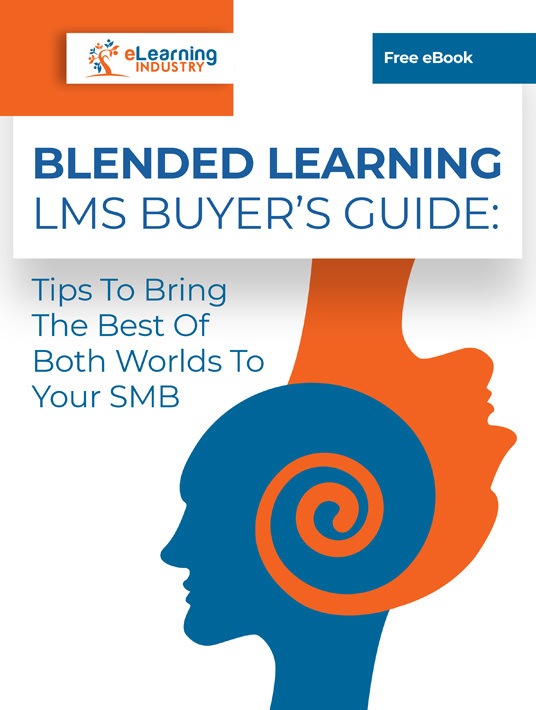 eBook Release
Are You Looking For The Best Blended Learning LMS Buyer's Guide?
Discover how to remedy traditional training gaps and bring the best in your business using a blended learning LMS.
Benefits Of Blended Learning Management Software
So, what type of training should you choose? Online training or traditional learning? One way to figure out the best training approach is to get to know your audience.
For example, if your employees are mostly made up of millennials, you shouldn't be surprised if they'll expect or demand an eLearning solution. On the other hand, maybe some of your learners want a more traditional approach. If you have a real mix of people who want different things, why not find a solution that covers everything? This is when you might want to consider a blended approach that will work for everyone. Just ask them and see what they would like.
What's more, for some training subjects, instructors that use a blended learning management system can leverage real-time in-person training. The above allows trainers to convey all the subtleties of a physical task. Plus, it helps them demonstrate particular techniques and engage in a live discussion with their learners. As a result, they can evaluate learners' dexterity in real-world conditions.
Here are some top benefits of utilizing a blended learning management system:
Individualized learning
Immediate learner feedback
Real-time learner performance evaluation
Asynchronous and synchronous training scenarios
Varied modes of learning
Collaboration
Attainment of future work skills
Modern LMS solutions like the ones we have highlighted on this list let you have the best of both worlds. You can take advantage of web- and mobile-based online learning for the bulk of your courses.
Blended Learning Models: What's The Right Mix?
There are plenty of factors that drive the growth of blended learning models. These include economic advantages, a personalized and customized curriculum, convenience, efficiency, and effectiveness. In short, blended learning models work and appeal to both educators/trainers and learners.
Of course, there are several ways to formulate blended learning programs. For example, learners can rotate from online to in-person training for several cycles throughout the program. Or, you could keep it more flexible and allow learners to come together occasionally for in-person activities. You might even allow them to request face-to-face time with instructors on an as-needed basis—if they need tutoring support, that is.
Another option is to offer a la carte blended learning. In this case, learners can request face-to-face instructional support through virtual means, like real-time online chat forums or a Skype video call. Finally, you can offer enriched virtual blended learning by supplementing face-to-face instruction with various online options. Hence, you'll manage to enhance in-person learning while at the same time keeping the mix of media types fresh and diverse.
At the end of the day, it always comes down to how your learners want to learn and what's the best way to deliver the required training. When you choose a system that can combine traditional and online training, you've got so many options you'll never run out of ideas to implement new initiatives!
Next Steps: LMS Comparison And Evaluation Of Learning Management Systems For Blended Learning
A blended learning platform in corporate training can help bring growth to your business. Once you start allowing eLearning to complement other traditional learning projects, you'll be able to bring in a huge variety of materials. For example, videos, podcasts, gamification, animations, enhanced slide presentations, and more can bring your eLearning to the next level.  In this way, everyone ends up getting at least a healthy dose of what they like best in terms of learning delivery.
But how do you make the right blended learning platform choice?
Here are a few significant features and capabilities to consider when choosing an LMS for blended learning:
Instructor-led training (ILT) management
Virtual classroom event management
Customization
Social learning
Learning paths
Tracking and reporting with learning analytics
Scalability and support
The above are only some of the most critical aspects of eLearning platforms to consider when deciding to use a blended learning strategy. If you can find an LMS with these elements, you're going to be able to better streamline training. Meaning, you'll be able to move between the classroom and an online format, thus ensuring you're getting the most from your investment.
So, are you ready to put the best solutions to the test? Before you make your decision, make sure to read LMS reviews and check out which tools have received recognition through the years.
Visit our directory to start your own blended learning LMS comparison!