Opting For The Best eLearning Authoring Tool For Your Organization
Rapid authoring tools, with their inbuilt templates, themes, and animations, allow you to create rich and interactive eLearning courses, with minimum technical expertise and effort. Further good news is that they no longer stretch budgets or require you to hire people with a programming background. As you might be aware, there are many authoring tools available in the market. Here is a quick review of the top 4 which may help you find the right eLearning authoring tool.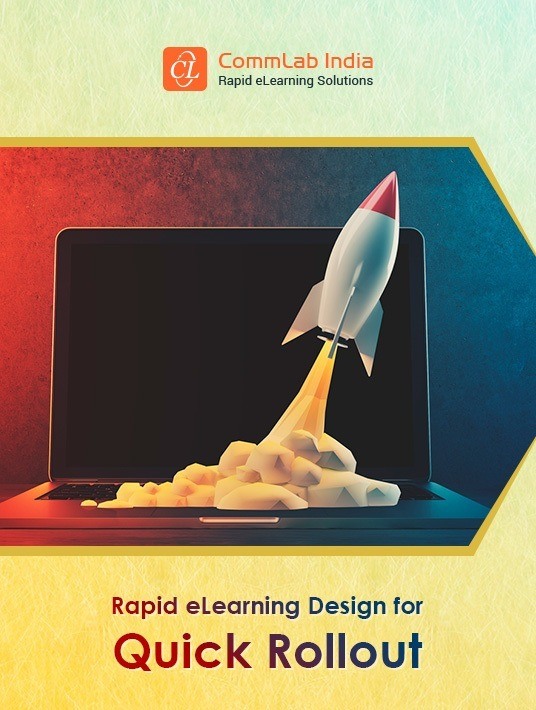 eBook Release
Rapid eLearning Design For Quick Rollout
Learn how to design instructional material at cosmic speed.
| | |
| --- | --- |
| Authoring Tools | Good For |
| Articulate Storyline 360 and Rise | Articulate 360 has everything you need to develop an eLearning course, right from kick-starting course development to collaborating with stakeholders in order to review the course. Storyline 360 is part of Articulate 360 and lets you create compelling interactions. You can build and publish your eLearning course to the responsive player with a single click. Rise is a fully responsive web-based authoring tool and is a part of Articulate 360, too. |
| Adobe Captivate | Adobe Captivate 2019, the latest version of the tool, has made designing immersive learning experiences a reality. It is possible to import a 360-degree image or 360-degree video into a Virtual Reality (VR) project in Captivate. Add text labels and interactive hotspots to the screen. |
| Lectora Online | Lectora Online is a cloud-based authoring tool that harnesses the power of a desktop-based authoring tool and also has collaborative features that enable the creation and review of eLearning content anytime, anywhere. |
| iSpring | iSpring Suite is one of the most popular authoring tools to convert PowerPoint decks to eLearning. The biggest advantage offered by this tool is that it is integrated within PowerPoint and that makes it simple and user-friendly. |
Parameters To Map In Your Authoring Tools For Easy Instructional Design
Before choosing which authoring tool is right for you, check for these 6 parameters.
Ready-To-Use Templates
Responsive Output
Quick Authoring
Easy Translations
Accessibility
Online Review
Does the tool offer responsive templates for different screen layouts, interactivities, and assessments?

 Layouts
Welcome screen, learning objectives screen, summary screen
 Interactivities
Click-on images/tabs/numbers, slideshow, sliders
Assessments
Drag-and-drop, multiple select, sorting/matching

How easy is it to develop responsive courses using the tool?
Does it just offer a responsive player or a fully responsive output?
Does it enable quick authoring through its inbuilt asset library? What are the graphical assets available? How frequently is the library updated?
Does the tool offer translation-friendly features? How does it ease the translation process?
What features does the tool offer to develop accessible courses? How easy are the features to work with?
Does the tool offer scope for online reviews? How easy is it to be used by facilitators and SMEs?
Standardizing And Scaling Up: It's Better To Make Long-Term Plans For eLearning Design And Development
This will help you stockpile the resources you can reuse, building a library of assets. There are 3 main components that will help you do this.
1. Style Guide
Have a style guide capturing your organizational standards in terms of both text and visuals. This will ensure your courses are standardized, with a uniform look and feel.
| | |
| --- | --- |
| Specifications of textual elements | Specifications of visual elements |
| Size of headers, body text, instructions, bullet style, and font | Branding colors |
| Formatting and alignment specifications | Logo color and placement guidelines |
| Grammar and preferred English usage (American vs. British) | Preferred fonts |
| Usage of abbreviations, acronyms, dates, units of measurement, and currency | Colors to be used for backgrounds, instructions, hyperlinks, accent colors |
2. Templates
Even if you use templates offered by authoring tools, customize them over time. Personalize them and build a library of reusable assets for different screen layouts, interactivities, and assessments. Just plug and populate these templates with the content, replace images, and you will be good to go for all projects.
3. Check The Outsourcing Option
If you lack resources for in-house development and/or are unable to meet your requirements for a quick turnaround of eLearning courses with existing resources, outsource the development effort. A vendor proficient in leveraging authoring tools will ensure your timelines are met. However, check for a good vendor with a strong background in training and Instructional Design.
These are some aspects you can outsource to save time:
Course development from production-ready storyboards
Legacy course conversions, including Flash to HTML conversion
Development of media assets such as animations and videos
LMS administration and support
eLearning translations
Find The Right eLearning Authoring Tool Is Just The Beginning
There are many challenges that come with being a professional Instructional Designer. Our long experience has allowed us to learn the ropes and refine our procedures. We understand better than anyone how important it is to work fast and effectively. The path of an Instructional Designer is the fine line between succeeding in the world of business and thriving in the world of education, and you will often find yourself collaborating with people that deal in one of the two possible extremes. It is your job to build bridges over these gaps, and guide your organization toward the realizations of their goals by using engaging design strategies.
This is quite an intimidating task. This is the reason we have compiled a guide that showcases the methods and techniques we use, which we developed through our many years of experience. Hopefully, it will be useful to both beginner and veteran IDs. Download the eBook "Rapid eLearning Design For Quick Rollout" and find out for yourself.