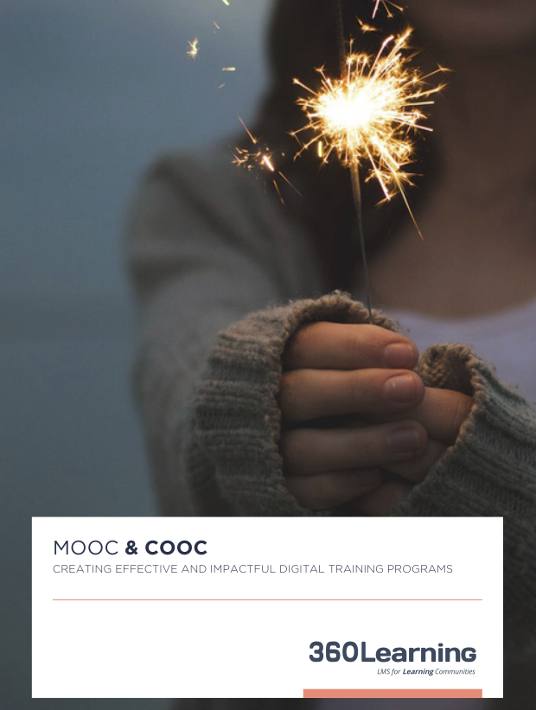 eBook
MOOC & COOC - Creating Effective And Impactful Digital Training Programs
eBook
MOOC & COOC - Creating Effective And Impactful Digital Training Programs
by 360Learning / Published: Aug 08 2018
What it's about
Discover the key principles of Massive Open Online Courses and how to create effective and impactful digital training programs.
Key chapters
Introduction

MOOC, MOOC, MOOC, it seems that everyone is talking about MOOCs. Massive Open Online Courses continue to intimidate the media, politicians, educational institutions and professionals alike. Historically, MOOCs have two founding pillars, one technical and the other ideological.

What's A MOOC?

Massive Open Online Courses are available online, often free of charge, and provided by recognizable institutions.

COOCs

- External COOCs
- Internal COOCs
- MOOCs for training organizations

Structuring A Corporate MOOC: What Added Value?

Let's go in to more detail about what makes up a corporate MOOC. Programs last on average 4 to 8 weeks with 30 minutes to 4 hours of weekly coursework.

Creating A MOOC Or A COOC: Step-By-Step Guide

How you go about creating a MOOC/ COOC will depend on the company's goals and resources made available to the team in charge of the project.

Example MOOCs

- What different course formats
- A Typical Case Study
- A Typical Course Exam Module
- What about MOOCS?

COOCs With 360Learning
---
Recommend this read to your friends and #shareknowledge!
Get your copy now
---
Join other professionals like you, who have downloaded the eBook!
Other resources by 360Learning