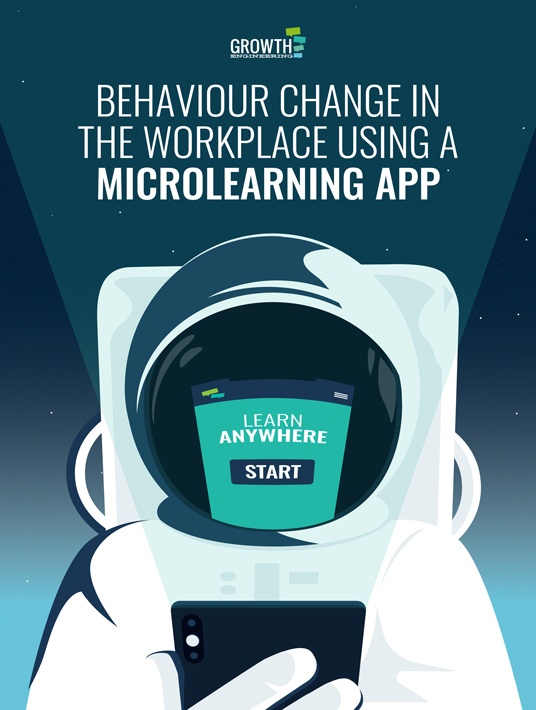 eBook
Behaviour Change In The Workplace Using A Microlearning App
eBook
Behaviour Change In The Workplace Using A Microlearning App
by Growth Engineering / Published: Jun 25 2019
What it's about
Want your training to impact your business? If so, it's impossible to overstate the importance of employee behaviour change. In this eBook, you'll uncover the science of behaviour change and learn how you can use it to supercharge the impact of your training!
Key chapters
What is Behaviour Change and Why is it Important?

In this section, we examine what the research says about behaviour change. We then look at why employee behaviour change is critical to the success of your business.


Six Myths of Behaviour Change

As with all important topics, there are plenty of myths surrounding employee behaviour change. We overview six that are certifiably false.


The Six Stages of Behaviour Change and The Journey From Knowledge to Behaviour

Researchers have created insightful models to help you understand employee behaviour change. In this chapter, we help you apply these models.

The Impact of Behaviour Change in the Workplace

Changing learner behaviour will have immense consequences on your organisation and help it reach its business goals. In this chapter, we overview three of the biggest advantages.

Strategies for Successful Behaviour Change

In this chapter, we give three practical strategies to help you turn training into changed behaviour.

How to Use a Microlearning App to Drive Employee Behaviour Change

We've created a model to help you drive behaviour change using a microlearning app. It's laid out in clear steps and will help your training impact your business!


Learning Activities to Include in Your Behaviour Change Journey

In this chapter, we bring everything together. Here are the best activities you can introduce to your team to successfully implement a change in employee behaviour.


How to Create and Track KPIs which Facilitate Behaviour Change

You can use KPIs to help maintain a change in behaviour. In this chapter, we tell you everything you need to know to do it well!

---
Recommend this read to your friends and #shareknowledge!
Get your copy now
---
Join other professionals like you, who have downloaded the eBook!
Other resources by Growth Engineering