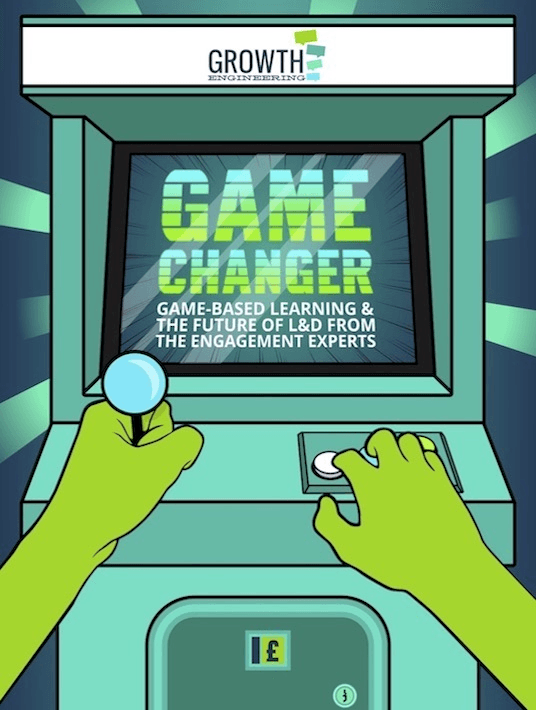 eBook
Game Changer: Game-Based Learning And The Future Of L&D From The Engagement Experts
eBook
Game Changer: Game-Based Learning And The Future Of L&D From The Engagement Experts
by Growth Engineering Ltd. / Published: Jul 06 2018
What it's about
Learning games are the key to unlocking maximum engagement from your training content. Instead of subjecting your learners to passive eLearning, learning games demand interaction at every point.
Key chapters
Introduction

If you're not getting the kind of results you expect from your training, maybe your content is just a little too boring (sorry, somebody had to tell you).

Learning Games Aren't For Me

Game-based online learning is taking the training world by storm and changing the way L&D professionals think about instruction.

Who Are Learning Games For?

Learning games have been popular in schools for decades, but the potential of game-based learning is gradually being realised by the wider learning and development sphere.

How Learning Games Appeal To Your Changing Workforce

The world is changing all of the time. Technology is advancing, society is evolving and a whole new breed of employee is taking over the workforce.

5 Case Studies That Prove Learning Games Work

Since game-based learning is a relatively new approach to instruction, research into the efficacy of learning games isn't very widespread.

How Gamers Learn: The Game Player's Brain The Neuroscience Of Learning

If you're embarking on your first game-based learning odyssey, you might be wondering where to start.

The Neuroscience Of Learning Games

In most game-based systems, users earn badges for completing tasks and these are usually housed in a prominent badge cabinet or an achievements area.

5 Things That Make An Awesome Learning Game

Now that you know the effects that games have on the brain, you need to think about how to get the most out of them.

Where Do You Start?

If you're excited about the idea about adapting a game-based approach in your training programme, it's tempting to jump straight in and start planning your next big hit.

Ways To Implement Game-Based Learning

By now, you must be pretty excited about building a game-based training solution. You might think that learning games are out of your reach, but there are several options available.

The Effects Of A Good Learning Game

So, let's say you've followed all of the advice in this white paper so far and you've created a learning game – how will you be able to tell if it's any good?

The Future Of Game-Based Learning

Technology is shooting ahead faster than we can keep up with it and the world of learning games is no exception.
---
Recommend this read to your friends and #shareknowledge!
Get your copy now
---
Join other professionals like you, who have downloaded the eBook!
Other resources by Growth Engineering Ltd.