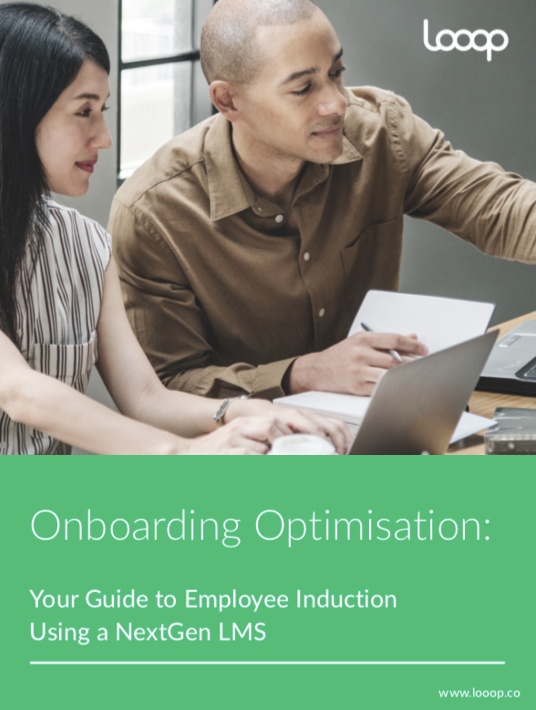 eBook
Onboarding Optimisation: Your Guide To Employee Induction Using A NextGen LMS
eBook
Onboarding Optimisation: Your Guide To Employee Induction Using A NextGen LMS
by Looop / Published: Nov 21 2018
What it's about
Employee onboarding is an extremely important process for businesses. When done correctly, it offers new employees valuable insight into the organisation and is often the deciding factor as to how long they stay within the company. This eBook looks at why employee onboarding exists, what your onboarding programme should include, and how a NextGen LMS can support the organisation.
Key chapters
The Importance of Choosing the Best LMS for Employee Onboarding

There are a wide range of LMSs on the market, so finding the right one for your company can be daunting task. This chapter explores how an LMS can help set your new starters up for success.

The Benefits a NextGen LMS Will Bring to the Employee Onboarding Process

Designed with the user in mind, this chapter looks at some of the ways a NextGen LMS can support your organisation's Onboarding.

Choosing the Right Software

This chapter looks at what all organisations should consider when choosing their Onboarding software.

Features Every Onboarding System Should Have

The Employee Onboarding System exists to make your Onboarding process better not only for the organisation, but also for your employees.

Common Obstacles and How to Overcome Them

Many organisations are still getting Induction wrong. From content-dumping on the first day, to just leaving new starters to 'get on with it', many businesses are finding not doing Induction properly to be both expensive and ineffective.

Activities to Include in Your Onboarding Training

This chapter looks at the activities we think all Onboarding Training should include to quickly get your new starters up-to-speed and really excited about joining your company.

Topics to Cover

Hiring a new starter can be nerve wracking, both for them and for the company. You can't control how well an employee will succeed within your organisation, but you can put in place the best possible start by putting together a great Online Induction Training programme.

Creating a Realistic Budget

How much should you be prepared to pay for your learning software? This chapter explores how to create a realistic budget for your Onboarding software.


Metrics to Look for

Understanding what is and isn't working is vital to providing the best possible training, but what should you actually be measuring?

LMS Implementation Mistakes to Avoid

This chapter outlines common mistakes to avoid to ensure you're up and running as quickly as possible.

Overlooked Advantages of Ongoing Online Training

It's important to understand that online training doesn't end after the Onboarding process. Training should be incorporated into the workflow; an ongoing process that supports employees at each stage of their employment.
---
Recommend this read to your friends and #shareknowledge!
Get your copy now
---
Join other professionals like you, who have downloaded the eBook!